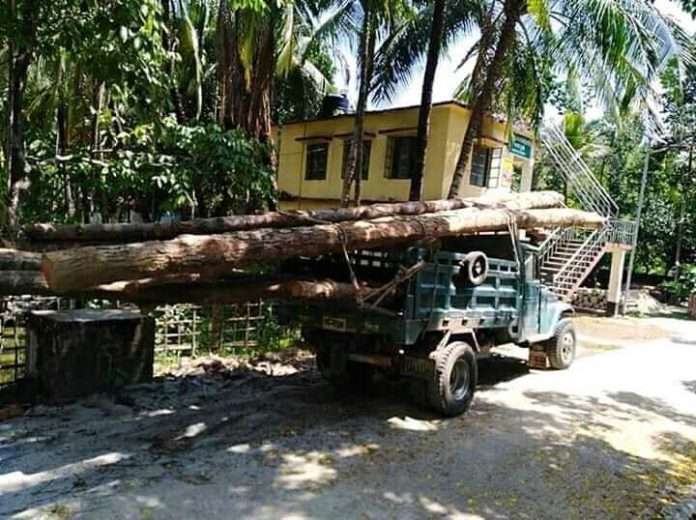 Hill Voice, 15 May 2020, Bandarban:  Mother Tree Gorjan and Telshur trees were seized while being smuggled from Bumu Reserve under Lama Forest Department in Bandarban district in the dark of night.
Some syndicates of Bumu Bilchhari Union and some members of the ruling Awami League of Bumu Bilchhari Union are trafficking 70 years old these rare mother trees by road and Matamuhuri river by deception of the eyes of the administration.
On May 15, 2020 Friday at 2.30 pm, the Forest Department and the army have arrested a vehicle driver along with two jeeps loaded with Gorjan and Telshur wood while stealing trees from Kulaikhyajhiri of Bumu Reserve.
At the request of the Forest Department, an army team from Lama sub-zone took part in the operation to seize the trees. License numbers of the seized jeeps are LOT No. 38 and LOT No. 220.
Lama Forest Department Sadar Range Officer Md. Noore Alam Hafeez said there were allegations that a timber syndicate had been smuggling valuable timber from the Bumu Reserve for a long time.
At night, on the basis of secret information, the operation was carried out with the help of the army and some officers and employees of the forest department led by Md. Noore Alam Hafeez.
During the night raid, two jeeps loaded with timber were seized. Among them there are 3 mother tree Gorjan and 2 Telsur trees. Approximately two hundred cubic feet of timber has been seized.
At this time a vehicle worker named Md. Sumon has been arrested. The cutting Mother Tree Gorjan and Telshur trees are over 45 years old and the trees are 5/6 feet in size.
The Plant Research Center of the Forest Department used to collect seeds from this mother tree. Preparations are underway for a POR case against those involved in the matter.
Md. Noore Alam Hafeez added that in two separate raids on April 14 and April 20, two more mother trees over the age of 60 were seized and a POR case was filed (POR Case No. 21, dated 14 April 2020 and POR Case No. 22 dated 20 April 2020).
Eleven people have been accused in these two cases. In these two raids, 123 cubic feet of valuable Gorjan timber was seized. These mother trees of the Bumu Reserve are used in Forest Department arboriculture, and such fast-growing Gorjan and Telsur wood are now rare.
S M Kaisar, Divisional Forest Officer of Lama Forest Department, said, "I got the news at night and seized the timber along with the vehicle with the help of the army." Regular case preparation is underway.