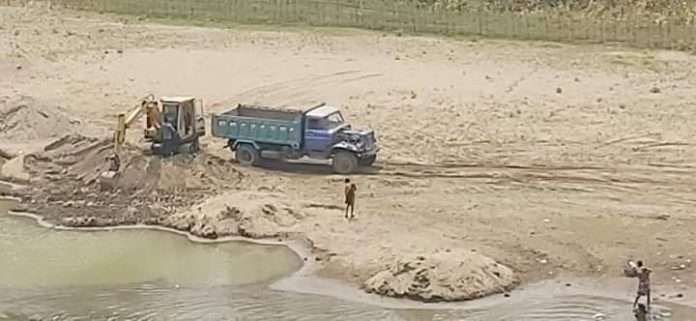 Hill Voice, 15 May 2020, Bandarban:  A mobile court has fined two traders including ruling Awami League Tk 20,000 for illegally extracting sand from the Sangu River near the Sangu Bridge in Thanchi upazila under Bandarban district.
Today, May 15, 2020, Friday, the Upazila Executive Officer (UNO) Ariful Haque conducted the operation through a mobile court.
According to local sources, sand has been being extracted illegally from the Sangu River in Thanchi for a long time in the name of road development and in the name of security forces.
Heavy machinery (excavator) is being used for sand extraction. The UNO conducted the operation in the area on the basis of such allegations by the locals.
Meanwhile, a mobile court fined Ubamong Marma, Senior Vice President of the Upazila Awami League and former UP chairman and Anu Mian of Lohagara upazila in Chittagong, a fine of Tk 10,000 each and a total of Tk 20,000.
SI of Thanchi police station Anup Kumar Dey said the excavator was not found on the river bank.
Locals alleged that several villages along the river, including the Sangu River Bridge and the Thanchi Health Complex, were under threat due to heavy sand mining.