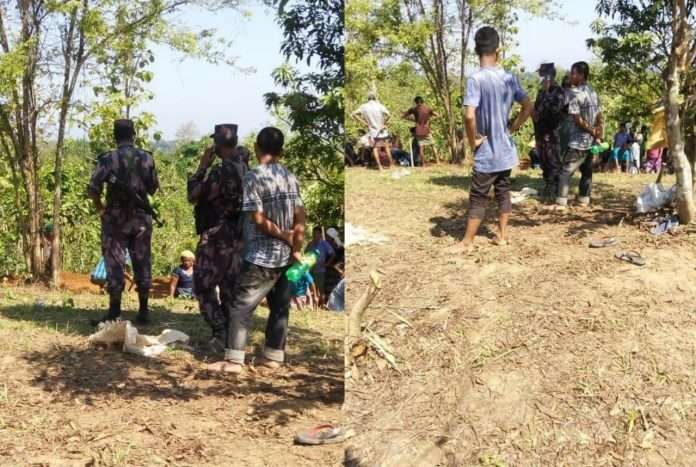 Hill Voice, 15 May 2020, Khagrachhari:  It has been alleged that BGB members obstructed the construction of a Buddhist Temple (Bihar) by the local Buddhist Jumma villagers in Matiranga Upazila under Khagrachhari Hill District. Villagers have been forced to stop construction work in Bihar due to threats from BGB members.
The incident took place at Abhya Mouza in Ward No. 9 of Matiranga Sadar Union under Matiranga Upazila.
According to local sources, on May 12, 2020, a group of BGB members from Ramgarh Lacharipara camp in Ramgarh upazila bordering Matiranga upazila came to the village while the villagers were cleaning the site of the Buddhist Bihar. At that time, when the BGB members asked the villagers about the construction of the monastery, the villagers informed them about it.
But even after the villagers informed everything, the BGB members continued to make various excuses. At one stage, the BGB members wanted to know with whose permission this Buddhist Bihar was being built. Since the no permission was taken from BGB authority to build the monastery, the BGB members announced that the construction of the temple would be stopped from today.
One Pahari Subhash Chakma wrote on his Facebook status, "BGB members have stopped the construction of a Buddhist Bihar in Abhya Mouza under Matiranga upazila on the Ramgarh-Matiranga border in Khagrachhari district by creating obstruction and intimidation."
Pahari Subhash Chakma further wrote in his status, 'Today, 15 May 2020, when the villagers went to work for the construction of a Buddhist monastery with the permission of the Headman of the Mouza, BGB members suddenly appeared there and attacked the villagers. At one stage, when the villagers asked why they came there with gun point, the BGB members got angry with the villagers. The BGB members then left the place with giving various threats.'
Pahari Subhash Chakma further mentioned, 'A few months ago, a local villager donated his land to the monks' association for the purpose of practicing Buddhism and defending own religion. Since then, the villagers have taken the initiative to build a Buddhist Bihar on the donated land.