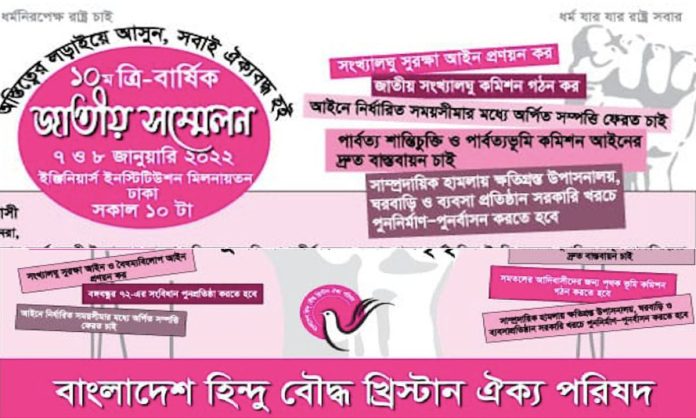 Hill Voice, 6 January 2022, Special Correspondent: Two-day national conference of Bangladesh Hindu Buddhist Christian Unity Council is going to be held in Dhaka from tomorrow.
A press release signed by Monindra Kumar Nath, joint general secretary of Bangladesh Hindu Buddhist Christian Unity Council issued on 5 January says that the 10th triennial national conference of Bangladesh Hindu Buddhist Christian Unity Council, an anti-discrimination on religious-ethnic affiliation and human rights organization, will be held on Saturday, January 7 and 8, 2022 at Engineers' Institute auditorium in Dhaka.
The opening ceremony of the conference will begin on Friday, January 6, 2022 at 10:00 AM. Renowned historian Professor Syed Anwar Hossain will inaugurate the event. The rally will start after the inauguration.
The inaugural session will be held on the same day at 3:00 pm. Obaidul Quader MP, General Secretary of Bangladesh Awami League will be present as the Chief Guest.
Prof. Dr. Gowher Rizvi, Advisor to the Prime Minister on International Affairs, Leader of the Opposition in Parliament and Chairman of Jatiya Party GM Quader MP, President of Parbatya Chattagram Jana Samhati Samiti and Chairman of CHT Regional Council Jyotirindra Bodhipriya Larma (Santu Larma), President of Workers Party of Bangladesh Rashed Khan Menon MP, President of Jatiya Samajtantrik Dal Hasanul Haque Inu MP, Chairman of Bangladesh Tarikat Federation Nazibul Bashar Maizbhandari MP, President of Communist Party of Bangladesh Mujahidul Islam Selim, Former Advisor to Caretaker Government Advocate Sultana Kamal, Former Chairman of Bangladesh National Human Rights Commission Dr. Mizanur Rahman, Researcher Professor Dr. Abul Barkat, President of Ekattar Ghatak Dalal Nirmul Committee Shahriar Kabir, heroic freedom fighter Major General Mohammad Ali Sikder, heroic freedom fighter and playwright Nasiruddin Yusuf Bachchu, eminent economist Dr. Debapriya Bhattacharya, Dr. Sarowar Ali of Liberation War Museum will be present as guest speakers.
On the second day, January 8, 2022, the council session will be held at the same place at 10:00 am on Saturday. The conference will continue throughout the day, mentions in the press release.