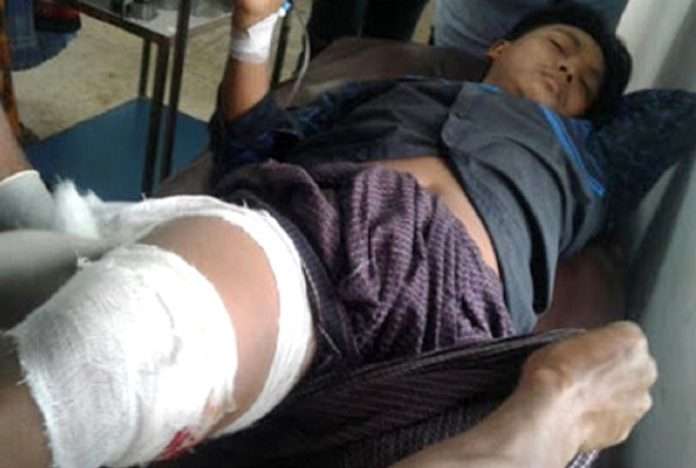 Hill Voice, 30 July 2020, Khagrachari:  It is alleged that Usha Marma, 26, was arrested by the police while he was undergoing treatment for bullet injuries sustained in the terrorist attack instead of arresting the terrorists involved in the armed attack in Laxmichari of Khagrachhari district.
It may be mentioned that on the morning of 18 July 2020, army-backed Reformist armed terrorist group made attack on Tantulya Para in Ward No. 3 of Laxmichhari Sadar Union. Usha Marma, son of Kanchairi Marma, a resident of the area, was shot in the right leg by the terrorists.
He was later admitted to Chittagong Medical College Hospital with injuries. He was undergoing treatment there. But on the morning of 29 July 2020, a group of police arrested him from the hospital and took him away holding handcuffs. He is currently being kept at Manikchhari police station.
However, the reason why he was arrested is not yet known. Family sources said that he was not fully recovered yet.
Meanwhile, there has been anger and dissatisfaction among the locals over the role of the police. Several dignitaries in the area, who did not want to be named, expressed outrage, saying police should have arrested the attackers and brought them to justice.
But they said it was not clear why the police did not arrest the victim instead of attackers. They said the terrorists who attacked Usha Marma are openly walking around at the police. What kind of justice system, they questioned.
So, they demanded the immediate release of Usha Marma, proper treatment and arrest of the assailants.