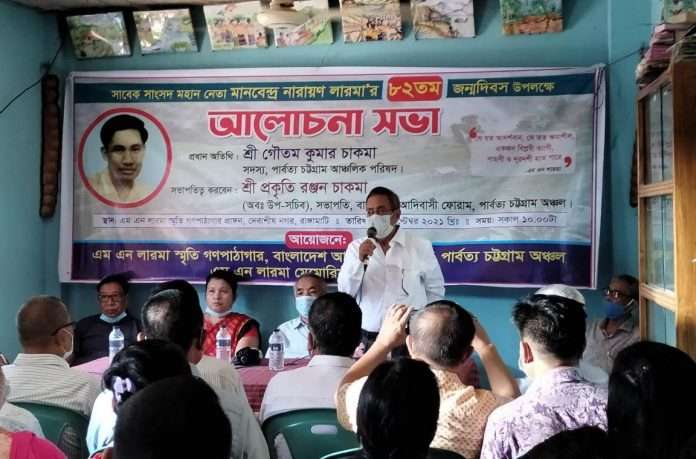 Hill Voice, 15 September 2021, Rangamati: On the occasion of the 82nd birth anniversary of Manabendra Narayan Larma (MN Larma), the speakers at a discussion meeting organized at Devashishnagar in Rangamati district said, MN Larma is a soldier of the revolutionary ideology who loves the liberation of hardworking people all over the world and is a true patriot. He did not just talk about the rights of the hill tribes, but he was vocal in raising the issue of the rights of all the workers, peasants and hardworking people of the country in a fearless voice in Parliament and the streets.
The discussion meeting was held at 10:00 am today at the premises of MN Larma Memorial Public Library in Devashishnagar of Rangamati jointly with Chittagong Hill Tracts (CHT) Branch of Bangladesh Adivasi Forum, MN Larma Memorial Foundation and MN Larma Memorial Public Library.
Member of CHT Regional Council Gautam Kumar Chakma was present as the chief guest at the discussion meeting which was chaired by Prakriti Ranjan Chakma, President of CHT Chapter of Bangladesh Indigenous Peoples Forum. Conducted by Intu Moni Chakma, the discussion was addressed by retired representative of CHT Citizens Committee Professor Madhu Mangal Chakma, General Secretary of Sambodhi Welfare Society Indu Lal Chakma, Joint Secretary of Rangamati branch of Bangladesh Hindu Buddhist Christian Unity Parishad Panchanan Bhattacharya, joint secretary of Rangamati district committee of Mahila Samiti and former upazila vice chairman Rita Chakma, general secretary of Hill Women's Federation Shanti Devi Tanchangya, cultural activist Indra Dutta Talukder and others.
Speakers at the meeting also said that a difficult situation exists in the CHT region now. In order to overcome this situation, the student-youth of the CHT must move forward and play the most pioneering role, adhering to the principles of MN Larma.
The speakers said the CHT Accord was signed in 1997 to solve the problems of the CHT through political and peaceful means. But even though it is 24 years since the agreement was signed, the Accord is not being implemented yet. There is no alternative to full implementation of the CHT Accord to ensure peace, harmony and development in the region.
The speakers urged the government to implement the CHT Accord expeditiously and fully.