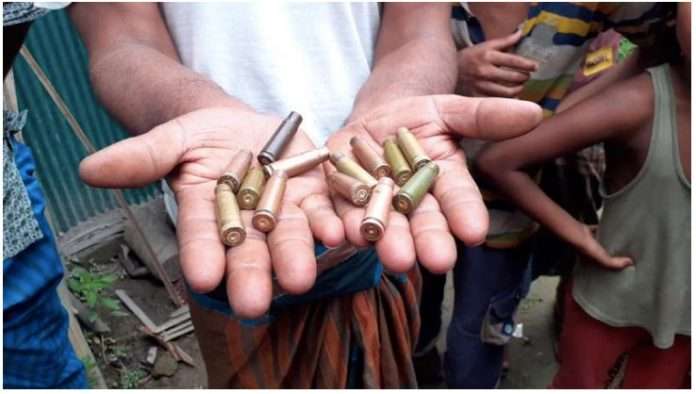 Hill Voice, 15 August 2020, Khagrachari: A gunfire was reported at the base (hideouts) of army-backed Reformists and UPDF (Democratic) armed terrorists Settler Guchhagram in Babuchara Bazar area of Dighinala upazila in Khagrachhari district. Abdul Malek's wife Morsheda Begum, 45, was killed and her son Mohammad Ahad, 10, was injured in this gunfiring.
The incident took place on 15 August 2020 at around 1:30 am at the house of Abdul Malek in Babuchara Settler Guchhgram of Babuchara union.
Locals suspect that the shootings may have been caused by infighting between the terrorists or some other reason.
It may be mentioned that on 18 March 2020, in the dark of the night, the army took a group of Reformists and UPDF (Democratic) armed terrorists from Dighinala Upazila Sadar to Babuchara Setller Guchhagram with a tight security cordon around their vehicles. Terrorist hideouts were set up at the house of settler Abdul Malek.
The distance from this terrorist hideout to the Babuchara army camp is about 500 yards. On the other hand, there is a check post of Babuchara army camp within 200 yards.
Locals alleged that the terrorists have set up a hideout at Abdul Malek's house and are carrying out various terrorist activities in the area, including murder, kidnapping and extortion. Despite publicly conducting armed exercises, neither the administration nor the army took any action against them.
Regarding the gun firing, locals said the incident took place very closed to Babuchhara army camp and checkpost. There is no chance of anyone from outside going there and shooting. This shooting can happen to the terrorists themselves who have set up hideout there, for some reason.