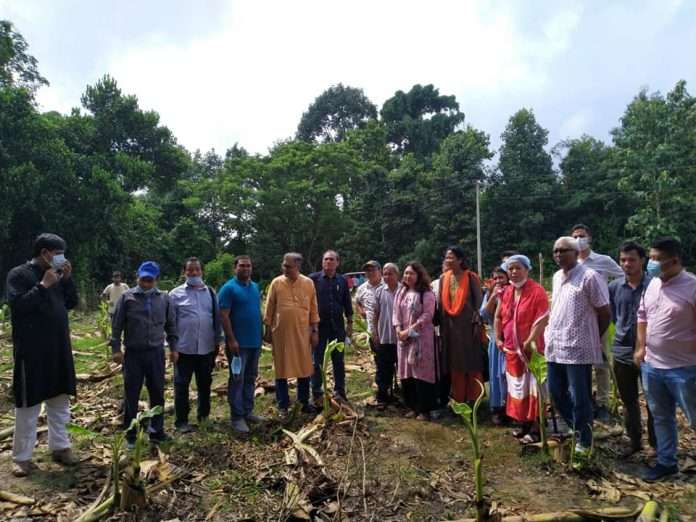 Hill Voice, 26 September 2020, Tangail: At the initiative of Bangladesh Indigenous Peoples' Forum (BIPF), a civic delegation from Dhaka visited the site of the destruction of banana plantation of Basanti Rema by the Forest Department in Madhupur.
The citizen delegation include General Secretary of BIPF Sanjeeb Drong, teacher of Dhaka University Professor Robayet Ferdous and Zobaida Nasrin, eminent writer and translator Aditi Falguni, Chief Executive Officer of Nagarik Udyog Zakir Hossain, Information and Publicity Secretary of BIPF Dipayan Khisa, teacher of Maulana Bhasani University of Science and Technology Zahurul Islam, Tariq Mithul of Jana Udyog National Committee, Ujjwal Azim of Kapaeeng Foundation, Bulbul Ahmed of ALRD and Coordinator of the Bangladesh Indigenous Women's Network Falguni Tripura.
During the on-site visit, a public meeting was held in the premises of Basanti Rema's house in Pegamari village of Madhupur. Speakers at the public meeting said that indigenous people have been living in Madhupur forest for ages. They have been living here since time immemorial, being intimately involved with the forest. Indigenous people are the real custodians of the forest. The speakers expressed the view that Basanti Rema should become a symbol of the resistance of the indigenous people in the future.
The speakers further said that the Constitution was drafted in 1972 at this Dokhala area in Madhupur. If Bangabandhu had survived till today, he would have shocked seeing sufferings of Basanti Rema. It is unthinkable that such a frenzy can be done by a state institution. The government is encouraging agricultural production. But the forest department has destroyed the plantation. Today, the destruction of Kalabagan means killing the indigenous people.
Alik Mree, General Secretary, Bangladesh Adivasi Chhatra Sangram Parishad, conducted the gathering, while Zakir Hossain, chief executive of Nagarik Udyog, John Jetra, president of Bangladesh Garo Chhatra Sangathan, Zahurul Islam, teacher of Maulana Bhasani University of Science and Technology, Tariq Mithul, member of Jana Udyog National Committee, writer and translator Aditi Falguni also spoke at the demonstration. The gathering was also attended by local Garo and Koch indigenous leaders and the general public.
On 14 September 2020, the local forest department cut down the banana plantation of 0.40 acre of the land owned by Garo woman Basanti Rema in Madhupur without any prior notice. Since then, the local forest dependent indigenous people have been cordoning off the forest department's office in Pegamari village of Madhupur in Tangail.