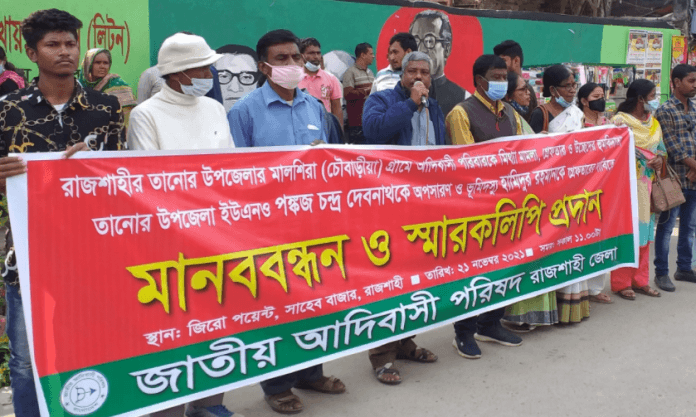 Hill Voice, 22 November 2021, Rajshahi: Rajshahi district committee of Jatiya Adivasi Parishad (JAP) organised human chain at Sahebbazar Zero Point in Rajshahi demanding removal of UNO Pankaj Chandra Debnath who files false case against, threatens arrest and evicts indigenous family of Makshira (Choubariya) village of Tanore upazila and arrest of land grabber Hamidur Rahman on Sunday (21 November) at 11:00 am. After the human chain, the indigenous people submitted a memorandum to Rajshahi Deputy Commissioner Abdul Jalil.
President of Jatiya Adivasi Parishad Rajshahi District Bimal Chandra Rajowar presided over the event while Joint General Secretary of Jatiya Adivasi Parishad Central Committee Ganesh Mardi, Rajshahi District General Secretary Sushen Kumar Shyamduar, Central Member Bibhuti Bhushan Mahato, Rajkumar Shao, victims of Malshira village Debem Murmu, General Secretary of Central Committee of Adivasi Chhatra Parishad Tarun Munda, Vice-President Sabitri Hembrum, President of Rajshahi University Committee Ratish Topya, Member of Adivasi Juba Parishad Uttam Kumar Mahato and others spoke in the protest. Besides, Kalpana Roy, President of Bangladesh Mahila Parishad and Vice President of Rajshahi Human Rights Alliance also made solidarity speech.
Speakers at the human chain demanded the immediate removal of Tanore Upazila Nirbahi Officer (UNO) Pankaj Chandra Debnath and the immediate arrest of Hamidur Rahman, a land grabber who tried to attack, vandalize and seize land. The speakers strongly demanded the security of the affected indigenous families of Tanore and the indigenous family of Malshira village. It also demanded a proper investigation into the distribution of allotments for indigenous peopels in Tanore upazila.
On 17 November, UNO Pankaj Chandra Debnath called the victim of indigenous family in the name of resolving the issue and on behalf of land grabber Hamidur Rahman, and falsely threatened, the victim Deban Murmu to file case, to arrest and to evict. Murmu said addressing to UNO Deben that you are the liar, conspirator and told Hamidur to file a case against victims and order the police to arrest victims. Indigenous people of the area including the families of the victims are living in insecurity.