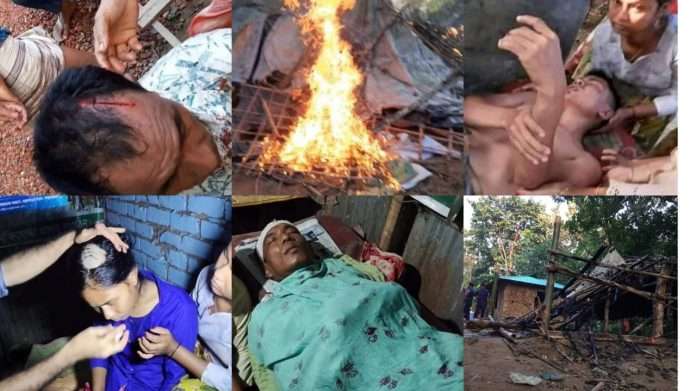 Hill Voice, 24 October 2021, Teknaf: It has been reported that local Muslim youths and workers of Bangladesh Chhatra League (BCL), student wing of ruling Awami League, attacked and set fire to a Buddhist monastery named Aronya Bouddha Bihara at Katakhali Chakma Para in Huaikeng Union of Teknaf Upazila under Cox's Bazar district.
The incident took place on Sunday (October 24, 2021) at 4:00 pm. At least 15 men and women of the Chakma people, including three attacking Muslims, were injured.
According to local sources, the attack was made by 20 people under the leadership of Tofail Samrat, president of the local ward president BCL and his brother Kaiser.
Although the identities of all the injured were not immediately known, 10 men and 5 women were among them. They are undergoing treatment at Cox's Bazar Sadar Hospital.
Among the injured whose names have been found are Boli Chakma (35), son of Jyoti Chakma of Huaikeng Katakhali, Aposh Chakma (24) and his daughter Biki Chakma, Bobal Chakma (28), son of Jodil Chakma, Mongbuchil Chakma (30), son of Kajal Chakma, Selim (28), son of Md. Kalu, Manik (20), son of Abdul Majid and Rashid Amin (19), son of Abdul Shukkur.
According to local sources, some local Muslim youths including activists of the BCL got into an altercation with Chakma youths on Sunday morning over the eve-teasing of Chakma girls.
Later, a settlement was reached with the local leaders of both the parties. But at one stage of the quarrel between the two groups at the arbitration meeting, BCL activists and local extremist Muslim youths attacked Buddhist temple and the homes of religious minorities.
According to eyewitnesses, while local Buddhists were trying to prevent attacking Muslims during the attack in Bihar, the extremist Muslims chopped the Buddhist villagers with local weapons and injured them seriously. Among the injured villagers, the condition of the three was reported to be very serious and critical.
Confirming the incident, Mahbubur Rahman, in-charge of Huaikeng police outpost, said, "I rushed to the spot after receiving the news. Some members of the Chakma community have been beaten there. The rest I am not aware of."
Teknaf Upazila Nirbahi Officer (UNO) Parvez Chowdhury said the attack was mainly taken place centering the eve-teasing. The place where the arson took place is a part of the Buddhist monastery. However, it is being investigated who set on fire.
Local Buddhists are said to be in a state of panic after the incident.