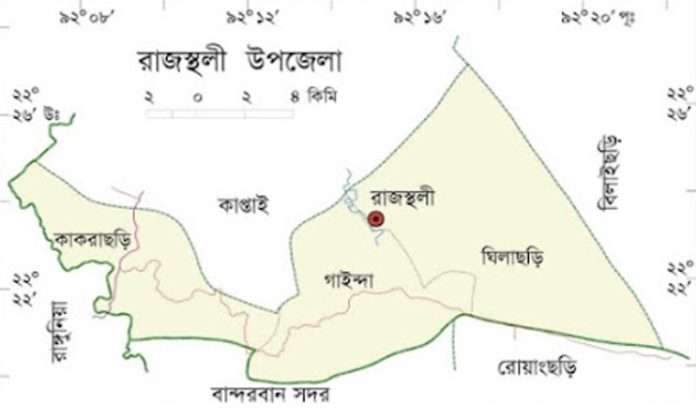 Hill Voice, 25 October 2021, Rangamati: It has been alleged that two independent chairman candidates of Ghilachari Union and Gaindya Union have been abducted by army and Mog Party in Rajsthali Upazila of Rangamati District.
According to local sources, a group of army from Rajasthali army camp along with four armed members of the Mog Party surrounded the house of Ghilachhari Union chairman candidate Ujjwal Tanchanga (38), son of late Rupamoy Tanchangya at Bazar Para of the upazila at 4:00 pm last night.
They entered the house and took away Ujjwal Tanchangya without saying anything.
When the abducted relatives contacted the Mog Party today, the Mog Party members are denying the abduction of Ujjwal Tanchangya. Ujjwal Tanchangya is a Karbari (village head) of Bazar Para village.
On the other hand, at 12:00 last night, a group of army from Rajsthali camp and the Mog Party members picked up Kalamong Marma (40), a rebel chairman candidate of the Awami League in Gaindya Union from Tanjong Para in the upazila. He is said to have been detained at a Rajasthali army camp.
It may be mentioned that according to the schedule of the Union Parishad elections announced by the Election Commission, the submission of nomination papers of the Union Parishads under Rajsthali Upazila has started from yesterday. After submitting the nomination papers, the two chairman candidates were taken away by members of the army and the Mog Party.
A local UP member, who did not want to be named, said that the two candidates were picked up by members of the army and the Mog Party with an aim to win the ruling Awami League's chairman candidates without a contest. On the other hand, the UP member said that collection of ransom from the kidnappees was also one of the motives of the Mog Party members.
The UP member further said that the army and the ruling Awami League-backed Mpg Party have announced that each chairman candidate will have to pay Tk. 200,000, male ward member candidate Tk. 100,000 and reserved female member candidate will have to pay Tk. 50,000.
The extortion money of the Mog Party was distributed from the local army camps to the higher echelons of the 24th Infantry Division of the army, the UP member added.