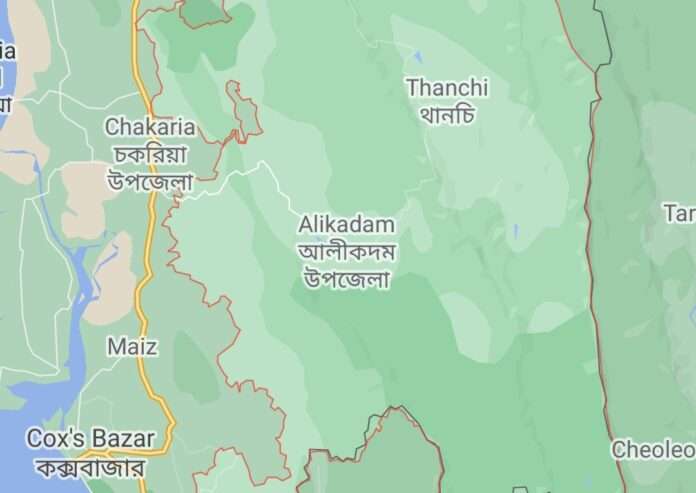 Hill Voice, 14 May 2021, Bandarban: The army has reportedly detained 45 Myanmar Rohingyas during a recent incursion into the Bandarban Hill District.
The arrest took place on Sunday morning, May 9, 2021.
The detained Rohingyas were reportedly trying to enter Bandarban in the Chittagong Hill Tracts in search of work as laborers. However, they were detained at two army checkposts and handed over to Alikadam police station in Bandarban Hill District.
Sources said the detained Rohingyas were trying to enter Alikadam Upazila and Thanchi Upazila in Bandarban by truck in search of work as laborers. On arrival, 26 Rohingyas were detained in the first phase and 19 in the second phase at two army checkposts. Later 1 more person was arrested.
It is learnt that in the first phase, 26 Rohingya workers were detained from the check post of Kanamajhi army camp on Alikadam-Chakaria-Phansiakhali road. In the second phase, the army detained 19 more Rohingya workers from a 26-Kilo check post on the Alikadam-Thanchi road at the entrance to Alikadam upazila from Thanchi. The army also detained Md Rubel Hossain, the driver of a truck transporting Rohingya workers at the entrance of Alikadam from Thanchi and his Chattametro Dha-110673 truck. Later, another Rohingya was detained at Kanamajhi check post on his way to Alikadam Sadar.
Earlier in the day, the army handed over the detainees to Alikadam police.
It is learnt that a source informed the army that Rohingyas were entering Bandarban and the army detained the Rohingyas from the check post.
According to local sources, Rohingya workers often come and go in Alikadam and Thanchi upazilas. They come there for work and when the work is done they go around different areas. At present, the army is working on the construction of Poyamuhuri road in Alikadam and the mega project of construction of Baklai road in Thanchi upazila. Rohingya workers come to work there through contractors and the contractors make them work for less money.
According to a source, the detained Rohingyas came to Thanchi for work one month ago.
It is learnt that on the basis of secret information, the army led by Imtiaz Zaman Chowdhury, Deputy Commander of Alikadam Army Zone and Zonal Staff Officer, conducted raids at the two checkposts and arrested the Rohingya workers.
Alikadam Police Officer-in-Charge (OC) Kazi Rakib Uddin said the Rohingyas detained from the army checkpost were sent to the Kutupalong Rohingya refugee camp in Cox's Bazar.