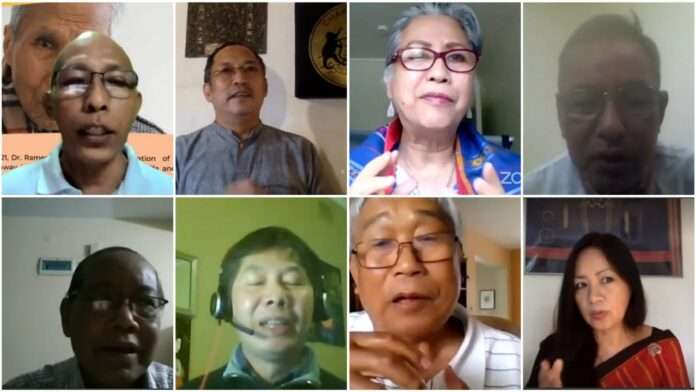 Hill Voice, 26 July 2021, Special Correspondent: An online International Commemoration Discussion titled: "Dr. Ramendu Shekhar: Our Brightest Star in the West" was organized in remembrance of recently departed Dr. Ramendu Shekhar Dewan under moderation of Pradhir Talukder Rega at 06:00 pm on Sunday, the 25th July 2021. The discussion began with observation of silence for one minute in memoirs of Dr. R S Dewan.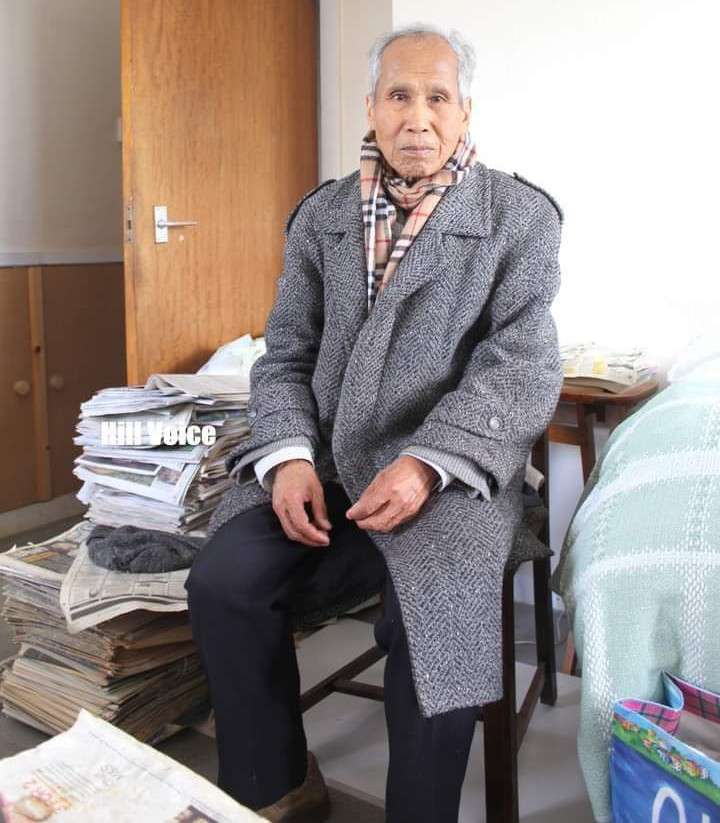 Speakers in the discussion opined that Dr. R S Dewan was an ambassador of the Jumma People's movement for establishment of their right in Chittagong Hill Tracts (CHT). He was the first man to raise the CHT crisis in the platforms ranging from the UN to other podiums of the international arena. He was a personality endowed with virtues of selfless and firm conviction – an uncompromising revolutionary. He was habituated with leading a simple life and a soldier of relentless campaign. He was a source of inspiration – a bright star in the struggle of the Jumma people.
Raja Barrister Devasish Roy, the Chakma Circle Chief contributed the opening and concluding speech of the event from Bangladesh. The participants as speakers were –Rajkumari Chandra Kalindi Roy from Norway, Goutam Kumar Chakma, member of CHT Regional Council and Central Committee member of Parbatya Chattagram Jana Samhati Samiti (PCJSS), Dr. Subrata Chakma, his classmate of school days, from Bangladesh, Dr. Chiranjib Talukder, Dr. Aditya Kumar Dewan and Priti Bindu Chakma from Canada, Nantu Chakma and Ujjayini Roy from UK, Kulottam Chakma from Australia, Niranjan Chakma, poet and literateur from Tripura state of India, Professor Mong Shanoo Chowdhury, Santosita Chakma Bakul, General Secretary of CHT Jumma Refugee Welfare Association and Prof. Madhu Mangal Chakma from Bangladesh.
Besides, the individuals remained connected round the live hours were – Gautam Dewan, President of CHT Citizens Committee, Shanti Bikash Chakma from Tripura state of India, Priti Bindu Chakma from Canada, Binotamoy Dhamai, member of EMRIP of the UN, from Australia and Bablu Chakma from Germany, many others were connected to the live event. The commemoration event was directly aired from the Facebook page 'Rega Connect' and 'Dhuduk Agartala' of Tripura, India.It was learnt that the Rega Facebook Page was viewed by 1200 viewers, shared by 271 and liked by 484 viewers. However, hundreds of Netizens complained of troubles with getting connected to the Rega Connect. Consequently, many could not watch the Live event – the sources added.
He rendered services as an ambassador: Raja Devasish Roy
Raja Barrister Devasish Roy began his opening speech with thanking to Pradhir Talukder and expressing honor in remembrance of R S Dewan and presenting his best complements to all.
Raja Devasishsaid: "Face-to-face meeting with Dr. Dewan took place for once or twice earlier. But there was correspondence. He has left several land marks for the Jumma people and indigenous peoples. To us, he is a role model in some domains. First, we know, Jummas' steppingin and speaking for the Jumma people in the United Nations–it was Ramendu Babu (Dr. R S Dewan) to performthe maiden task.He was the pioneer to carry the CHT issue to the international arena. Here, stays Rajkumari Chandra Roy, my elder sister, she knows better than me. I hope she would speak out.In 1984 or before, he was the first to speak on Jumma people of CHT at the Working Group on Indigenous Populations. Immediately after this, there went Rajguru Aggavamsa Mahathero and then Venerable Bimal Bhikkhu after which, of course, Raj Kumari Chandra Roy to have gone there. Many went there; the PCJSS leaders went there. Also, I go there; Binotamoy Dhamai stays there as a member of EMRIP. That was the time since when Ramendu Babu went there and the others go there from then on.
He continued saying that the second point to say, he was PCJSS spokesperson in Europe, the responsibility of which was entrusted to him by honorable President of PCJSS, Santu Larma. Besides, he was not only representative of PCJSS, but may also be ascribed to have served as an ambassador of the Jumma people, indeed.
He said: Lord Avebury of who we have just spoken. It says, there would not be enough space in the Almirah; Dr. Dewan would send a report to Lord Avebury once in a week; he would send reports to various individuals and authorities including my Dad, Raja Tridiv Roy.
Further he said: Lord Avebury was the Vice-Chairman of Parliamentary Human Rights Committee. It was this Lord Avebury with whom he would maintain correspondence and would hold the problem of CHT Jumma people to him. Later on, it was the same Lord Avebury who became Co-Chairman of the International CHT Commission. Lord Avebury would also go to Prime Minister Sheikh Hasina for, while Sheikh Hasina would also go to him when she was the opposition leader. This Lord Avebury, as he worked for human rights of Bangladesh so he did work also for the Jumma people of CHT. Our friendship that got established with Lord Avebury, I think, it was none other than Ramendu Shekhar Dewan to have knotted the relationship.
Raja Barrister Devasish Roy further said: I haave in mind, in 1980 otherwise by some other time, Raja Tridiv Roy and me – father and son, went to pay a visit to Lord Avebury. His residence was adjacent to Briston. Showing Ramendu Shekhar's letters to us, he said: see is Ramendu Shekhar's letter. He (Ramendu Shekhar) was what is said in English, just a "selfless,"- a person dedicated to working for the interest of others – by no count working for own interest.
Further he said: this person possessed PhD degree. If he had engaged himself in a job, would he have run short of money? Whereas, he would live in that of a small room. I did not visit his residence but I heard to be so. My intermediateaunt, Rajkumari Moitree Hume says that she had visited him. She wanted to buy him a computer but he declined. Afterward, he was said to have been made agree to accept proposal of buying him a typewriter and a typewriter was bought for him. He would prepare his write-ups with that typewriter. He would always decline in taking money, if offered to him. One has to apply insistence to make him agree to take money. In 1980, when I happened to meet, he would get unemployee allowances with which somehow, he would pass his days. Now, he is no more. I do not know what sorts of documents relating to his writings are left. Those who are living in UK, they should preserve those documents for the Jumma people.
He continued: In 1980, when we got together with my father, my father gave some money to me. Most probably, they had a talk in that morning.But probably he could not give the money to him. My father said, you would have to there to give the money but he would not be agreed to take the money. You would have to put it in the pocket. I was a student by then. But I had already assumed my office as the Raja. When we met in London, as I had an effort to give the money, he declined saying: no, no, no.I insisted saying: you work for the nation and it is for that very cause, my father had sent the money to be used for the nation. The event, still I bear in mind.
Raja Devasish Roy continued to say: The Working Group on Indigenous Populations does not exist by now and there is no the Commission on Human Rights now. Right now, the Permanent Forum on Indigenous Issues has come into being; Expert Mechanism on the Rights of Indigenous Peoples has appeared; and the Human Rights Council has undergone a change. But by then he would speak for the Jumma people at Working Group on Indigenous populations. It was Prof. Dr. Ms Erica-Irene A Daeswhom we address as 'mother' or 'granny' of Indigenous peoples, was the Chairperson by then. It is said that during her tenure, Ramendu Babu, once getting the microphone, would not want to leave it; he would continue to speak for the Jumma people. I heard people saying, the Chairperson would say: Dr. Dewan, this is not a complaint chamber. Please make the speech short. But he would not stop speaking for the Jumma people until getting the microphone switched off.
He is the source of inspiration to us all, like a star along the path of our journey: Rajkumar Chandra Kalindi Roy
While thanking to the organizers, Rajkumari Chandra Roy said: My first communication with Ramendu Babu took place when I was a student studying law. In a letter, I wrote: Ramendu Babu, I want to work for my country. You are the Champ among us, would you be able to cooperate me? He advised me by saying, no, not right now, you first complete your studies, we would need lawyers; only after that you would come down to work.
She said: my first meeting with Ramendu Babu took place in Geneva – most probably in a UN session. Whenever I would go there, I happened to meet Ramendu Babu. Ramendu Babu composed a 3-page beautiful statement. Ramendu Babu came in the morning and enlisted my name as a speaker. First, he brought me a big size sandwich and said to me, have it and get yourself strengthened, then you get to work. Then I got into the UN for the first time. I felt a bit nervous as soon as I entered into the auditorium. Many people were there. He got me seated in a chair and said: sit here and do not move from there.
Chandra Roy memorized: he said, in the UN, when your name will be called, if you unable to speak, by then your opportunity will be passed away. He said: you know English well, just go on reading it out. He sat behind me to observe if my disadvantages, if any. Though he instructed me to keep reading out in speed but it was not possible to complete within five minutes. So, I summarized the text in my saying. It was for the first time that our CHT representative was not interrupted to stop – I came to know later. Right before it, interruption would take place each time. But Ramendu Babu could not derive satisfaction out of engaging me for, I could not read out the statement in full. As you know, as his one-page writing is densed so is flawless. That was my first meet with Ramendu Babu and my reverence towards him got rooted since then.
Chandra Roy further said: he had a close contact with my father. Each time my father would go to London, he (my father) would call on him. He was always a source of inspiration to us all, which may be ascribed to be like a star along the path of journey, especially, in perspective of working for our nation and land.
She said, it is for all of us and good fortune for our nation that we had a great personality like him. It was none but he was the man who brought forth the name of CHT internationally. It was he who brought the name of CHT to Survival International and the UN for the first time.
Further she said: one of the great works of Ramendu Shekhar is, as you all know about the research work of Martinez Cobo in the UN. The research work with the indigenous peoples was the first book published in 4 parts. Ramendu Babu sent written information relating to CHT there. The CHT issue that appeared in the Book Part-I of Martinez Cobo, had been included just for the cause of Ramendu Shekhar Dewan.
He would say, if united, establishing right to self-determination is possible: Nantu Chakma
In his discussion, Nantu Chakma said: the first meet with him took place in Bonn of Germany. I would often hear of him. I used to reside in Liver Pool. It is only one and a half of hoursjourney from Manchester. I/we would go to meet him. He used to live in a small house.  There were only two rooms.  Even he would not use heater.
Nantu Chakma further said: He (R S Dewan)would say, we, the Jumma people, if we remain united, then, establishing right to self-determination for the CHT people would be possible. He would assert that so long he would live he would continue to work for the nation.
He added: he would take his food mostly without cooking. He would often take soaked peas, fruits and milk and lead his life that way. Sometimes, we would bring cooked food there and feed for him.
Nantu added further: He would abide in us all the time. Now, we have to employ our effort to materialize his dream, the right to self-determination.
His news of death transmits shock wave: Dr. Subrata Chakma
Dr. Subrata Chakma said: R S Dewan was my classmate during my school and college life. But we had no opportunity to meet any more in the next life. By then he would stay at the residence of M N Larma and Santu Larma, to study in Choto Mohaprum School. The school was known as a good academic institution. We both obtained primary scholarship. He got scholarship from Standard-VI to Standard-X from Mohaprum School and I would receive the same from Rangamati Government High School.
Dr. Subrata further said: R S Dewan was always the first boy till Standard-X. He earned district-level scholarship at Class-X. Later on, we both went to Chittagong for admission in Chittagong Government College. Afterward, I got admitted in Dhaka Medical College in1954. Ramendu Babu got admitted in Ahsan Ullah Engineering College, Dhaka. He could not complete Engineering. Later on, he passed Masters Degree in Chemistry from Dhaka University. Afterward, he joined as a junior scientist in a Science Laboratory. He served there for some years. During this time, he got scholarship to study in UK. After his going to London, we had not meet each other. I feel very shocked to hear the news of his death.
He left so much work done but never articulated: Dr. Chiranjib Talukder
From Canada, Dr. Chiranjib Talukder said: I knew Ramendu Babu since 1968 during my days in London. Although I was busy there yet we both met for many times. Ramendu Babu has sacrificed his life. He was a teacher teaching Chemistry in the Salford University. He gave up doing job and offered his whole life in helping the Jumma people and disseminating their tale of suppression and oppression in the international domain.
Dr. Talukder continued to say: I had the opportunity to meet Lord Avebury for many times. The last meeting with him was 2 years before his death. Even by then he showed me his (Ramendu Babu's) reports. Ramendu Babu did also send me many reports on human rights violation situation of CHT. Those are yet lying with me. I gave many of those reports to Kulottom Babu. He brought them to Australia. I will arrange to make the reports lying with me easily available to the Jummas.
Further he said: Ramendu Babu's leading life was extremely simple. The place where he would live was ridden with austerity. I extended financial support to Ramendu Babu for many years. He would decline to receive money if offered. But I was not sure whether he would get the money sent by post, but the money would not get redirected. He had a broken typewriter. His English write-ups are too good to read – the bold-type British English by all counts.
He further added: I am grateful that we are in a position to commemorate Ramendu Babu. That he had done so huge amount of work about which he had never let people come to know. He was a highly modest person.
None before him to raise the CHT crisis in UK and Europe: Ujjayinee Roy
Thanking to Pradhir Talukder and Priti Bindu Chakma for organizing the excellent international webinar on Dr. Ramendu Shekhar Dewan, Ujjayinee Roy said: we shall never forget him. As a campaigner, Ramendu Babu's contribution is unthinkable. The reason is that it was none but he was the person to extol the CHT crisis in UK and Europe in such manner. It was an immeasurable contribution that he had rendered. The reports that he would send to various organizations and institutions would not contain mere one or two pages but a complete package full of information with data. By then (pre-digital era), doing all those was not at all an easy job. He would do the typing, himself and send the reports at own expense.
She further said: He had a very good tie with many members of our royal family. There was good contact with me, too. He was a man of unique personality. Very gentle and modest. And he was a person with highly liberal nature. I hope we would be able to translate his dream unitedly. He was highly optimistic of liberation of the Jumma people. He would say, something positive would surely take place by next year.
He would always dream liberation of CHT Jumma people: Dr. Aditya Kumar Dewan
Dr. Aditya Kumar Dewan said:I came to contact with him in 1991 or 1992, I just cannot remember. Joyati Grace might have helped me come to contact. I can see Joyati here. We attended the 3rd CHT Conference together. It was held in Germany. I participated in the conference from Canada. Dipankar Talukder and Rashed Khan Menon also went there. We placed written statement in the meeting. Also, many others participated in the meeting. My first meeting with Ramendu Babu took place there. Afterwards, too, whenever I would go to England, I met him 2/3 times there. I would go to his residence together with Indu Da (Dr. Indu Lal Chakma), by then Indu Da was there.
He continued to say: In short to say, in the history of struggle of CHT, it was he who built the the very base of the struggle. Raja Babu and Chandra did also mention that the Working Group on Indigenous Populations, which has now become Permanent Forum in the UN in which Ramendu Babu was involved. Thereafter, he came to contact with Anti-Slavery Society and many other human rights organizations including Amnesty International, IWGIA, Watch Group for Indigenous Peoples, etc. Once the Conference in which we used to attend was under CHT Commission, organized by Wolfgang May. Firstly, I would say that Ramendu Babu ventilated out the CHT related campaign movement to the international arena. Secondly, I would say that Ramendu Babu had two aspects. One was his mission while the other was his vision.
Dr. Aditya further added: His mission was to forge ahead campaign on CHT issues outside CHT and Bangladesh and he was always with it. He would always dream liberation of the Jumma people. This I would like to compare with the even when social rights movement in America began, Dr. Martin Luther King would say: 'I have a dream.' Similarly, Dr. Ramendu Shekhar Dewan would also cherish a dream of freedom of the Jumma people.
I find resemblance mostly to that of Ho Chi Minh: Kullottam Chakma
Kullotom Chakma said: When I first came to Australia in 1989, I wrote him a letter. He promptly replied to my letter and since then on, he would always write me on CHT human rights situation related letters. As you know, he would send letters to many at his own expense. That the extent he was dedicated is beyond expressible.He began working for us just when we were in our hard time. Atrocities upon us began in 1975 and continued to happen up to 2010. If he had not documented our tales of agony, probably, they would have got lost or would have remained unknown to the world people.
Mr. Chakma further added: his documents belong to genre of quality documentation of which nothing remains to say. He would process documentation in such a manner. He would document the data on victims that would include ranging from age, village, parents, etc. I would say that the documents he left for us constitute our national asset. We need this asset, if we want to earn sympathy of the outer world, the documents will serve our purpose to a great extent in the days to come. As the case with the Jews people, who had been able to show that Hitler had killed them; when they formed the Israel State in 1948, most of the nation states in the world stood by them and that they could establish the Israel state. Probably, by some day, we would be able to attain support of the outer world by merit of Ramendu Babu's documents.
He said: it reminds me most another one of his contributions. It was the time when the Chengi Valley Project was being implemented, the Australian government inaugurated a 4-lane Highway from Khagrachari to Dighinala. It would have been disastrous for our indigenous communities if it had been constructed. He got the project cancelled by sending a letter to the government of Australia. Bangladesh government intended to declare more areas under reserve forests upon implementation of which would have brought in enormous peril to the Jumma people, many would have lost their lands, got evicted – the initiative also, he got stopped by writing a letter.
He further added: his extent of contribution is manifold. He would deliver his speech at podiums of Amnesty International, Survival International and in Oxford University. He would go to Korea to speak for us, many other events are found in his documents. Whenever he would speak for CHT, his speech would not stop – much more he would want to say. We have to preserve his documents. We have to continue our efforts to fulfill the dream that he dreamt.
Kulottam Chakma further said: I find him resembled most to that of Ho Chi Minh. Ho Chi Minh also went to France from Vietnam at the age of 25 – to work for Vietnam. So was the case with Ramendu Babu, when he had leftour country for abroad in 1967-68, he might have been as old as 30 years. Afterwards, he had been working for us during the last 50 years. He did never come back home. Ho Chi Minh, on the other end, came back to his country after 30 years. Upon his return, the dream he dreamt to liberate Vietnam, he could rescue only a half of his dream country – the North Vietnam during his life time. He died in 1967 and after 7 years of his demise, the Vietamese people have been able to liberate the whole country.
He would advise to study to acquire knowledge: Prof. Mong Shanoo Chawdhury
Prof. Mong Shanoo Chawdhury said: So far I can remember, I had seen him 2/3 times during my studies in Dhaka University. He would always encourage our Jumma students to study – not for passing sake but to gather knowledge.
He said: He (Dr. R S Dewan) was the pioneer among those who have worked for the CHT at global level. The magnitude of commitment that could make it possible – he is the only illustration. He would dream liberation of the Jumma people and had a belief in it.
Mong Shanoo Chawdhury further said: Being in exile, the struggle that he waged for the national right for which he has sacrificed his life – I am not sure of organizing event on him anywhere. Also, I do not know if there is any name list of those who have struggled for our rights.
Nirnajan Chakma, renowned poet and literateur from Tripura state of India:
After concise memorization, Mr. Chakma read out the Chakma poem titled: "Ek Achanak Rajputra" (A Surpriser Prince)
A Surpriser Prince
Unseen, unheard and unknown −
All of a sudden, from beneath the root
Of London's Queen Elizabeth College;
Arose a Surpriser Prince – Ramendu Shekhar Dewan,
In golden crown, riding white horse, holding a pen –
Alike lightning sword, as red as fire.
Striking once, pennedin the air toQueen Elizabeth,
"You snatched off Hill Chadigang, my land – an unjust and by might,
On way back, youreturned not to us intact,instead–
Gave to the Evils of dirty minds −why?"
Stunned a little, the Queen voicedin tone so sweet and humble:
"Forgive the fault, that's irreversible – no way."
Soon, in a thunder roar got spread the Rangamati battle zone,
Down along the streets of London.
Ramendu Shekhar Dewan, our Prince,
Leaving the white horse in agony,
Down came to London Street and since,
Walking along the streets of UK and Europe,
With a pen inhand −
Alike the Buddha, closing all doors of desires,
Renouncing the earthly pleasures and attachments,
For the Jumma people, fought he –
Along the world streets till breathing for the last.
Role of SK Chakma and RS Dewan in the international domain was foremost: Goutam Kumar Chakma
Goutam Kumar Chakma said: The time during which Dr. RS Dewan took birth in January 1932, the world was passing through an economic recession, which led to the World War-II. Afterward, the country was parted in 1947. After partition, he observed the oppression and suppression meted out by Pakistan authority. On the other hand, during his early student hood, he studied under Chitta Kishore Chakma, father of our departed leader Manabendra Narayan Larma and present leader Jyotirindra Bodhipriya Larma. It is learnt that Chitta Kishore Chakma was not only an institutional teacher but also had initiated him on political line for which he was involved in political activities since his student hood. It was for all this reason, our RS Dewan went to London. He went to London, primarily, to work for the Jumma people of CHT.
Mr. GK Chakma further said: When M N Larma paid a visit to London to attend the Commonwealth Conference, he called on Dr. R S Dewan and requested to work for CHT. He did accordingly. He was a hermit of struggle. We find another man in Tripura, Sneha Kumar Chakma (S K Chakma) by name. If he had not gone to India during the partition, there could have occurred many undesirable incidents. Also, he played a role in getting international assistance in the movement of CHT. On the other hand, the role played by RS Dewan prevailed with prominence throughout the Europe. Also, many are there, many have worked for the same cause but the role played by the duo was prominent and reckonable as the trendsetters.
He continued that the aim and objects for which Dr. RS Dewan worked – I think, he achieved the success. I do think, he attained the extreme endof his hermitic struggle. Though not applicable to the whole, behind the capability that led us to signing the Accord, the role of Sneha Kumar Chakma and RS Dewan has been worthy to be mentioned.
Goutam Kumar Chakma further said: The death message of RS Dewan reached us when Nantu Babu and other went to see him. It came one day later. Afterward, I met our Leader Santu Larma who confirmed the message to have been a fact. Now, the issue of organizing the ritual event, though many have arranged religious functions, according to Buddhism, the relatives are to perform the ritual, which has been accomplished by his relatives available, in the mean while.
He said thatthe very purpose of this commemoration event lies in the reason: that he has sacrificed his life; and that he has performed life-long absorption in struggle: so that our next generation can memorize following this event; and so that they can get juvenated in our struggle, having learnt from the event. An archive can be made with his documents of which Raja Babu also emphasized. The other aspect is that whether a Book of Memoirs on him can be undertaken. If it is done a bi-lingual of Bengali and English, would be nice – I suppose.
He added: not only with Ramendu Babu, an initiative can be taken to retain the memoirs of those who have contributed and to preserve their data and information so that the up-coming generations can remember for the ages together. For this, library, museum, etc. may be established. But all I can say that there is no conducive situation in CHT to go for doing so.
Goutam Kumar Chakma said: That the death of Ramendu Shekhar Dewan who worked as the Spokesman of PCJSS in Europe, has become an issue. So, in that count a responsibility falls upon PCJSS to organize a gathering in commemoration of RS Dewan. But in CHT, there prevails such a situation for which it is not only the central office of PCJSS but also all its offices at district and thana levels, etc. have already got closed. Because, repeated cases have been filed against each of the members – all have become fugitives due to fabricated cases. It is for the same reason, the danger has not yet passed away for the PCJSS, if it goes for organizing any event. I happened to meet with the President of PCJSS some days back. He said that the situation was still non-conducive to organize any occasion. So do I want to say that the situation is too hostile to organize any event. If there remains any flaw, I would request all, so that they place the matter under consideration. He said that Aditya Babu spoke about organizing a committee – it is a good proposal. Today, it may not be possible. But Prodhir Babu, Pritibindu Babu and Kulottom Babu may be entrusted with the responsibility.
Goutam Kumar Chakma further added: The hermitic aspiration of RS Dewan should not let go spoiled. Here, in this event, the Jews issue has appeared. Leo Tolstoy has said: Time and patience combined together is the greatest war. As a child does not come out from mother's womb until the time, so is the movement or struggle does not yield in success. The Accord that was entered upon in 1997 has been a success. If it is to implement the Accord, we have to stride forward in the struggle. The CHT Land Commission Act was formulated in 2001and ittook 15 years in getting amended in 2016. There is a lot of virtues in R S Dewan to be imitated. He was a man endowed with self-confidence, braveness and believer in protracted nature of struggle. He was a pure Jumma nationalist.
Man, as such, can only be heard in the fictions: Devasish Roy in his concluding speech
In his concluding speech, Raja Devasish Roy further said: Ramendu Shekhar Dewan was such a personality alike who, the narratives can be heard only in the fictions. Let it be that all the information and documents of that figure are preserved, so that the new generation, the up-coming generation, can come to know, so as to enable them to work for the nation, for goodness of the society. He thanked and conveyed his gratefulness to Pradhir Talukder and Priti Bindu for undertaking the initiative of organizing an event in commemoration of such a personality.