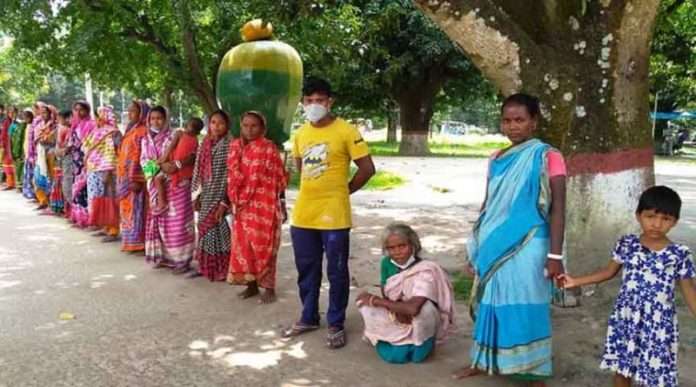 Hill voice 13 September 2020, Rajshahi: Indigenous people staged a sitting program in front of the Deputy Commissioner's Office to protest the attack and torture on indigenous people at Tongpara in Chapainawabganj district. Indigenous people took part in the procession at 11:30 am on Saturday (September 12).
Indigenous leaders Kutila Rajowar, Kalpana Rajowar and Sufala Rajowar addressed the protest procession and sitting program.
Speakers at the protest procession said the indigenous peoples of Rajowar community have been living on khas land in Tongpara of Nachol upazila of the district for hundreds of years. In provocation of the fraud group, Abu Russell Khaleq gang has long been involved in various conspiracies, attacks, lawsuits, torture, indecency and attempts to seize the pond.
The speakers further complained that an application was made to the Deputy Commissioner and Superintendent of Police on September 7 to inform them about these incidents but no action has been taken so far.
On Saturday morning, Abu Russell Khaleq came to put a sack of husk inside the house. They were then stopped and then they tried to harass Kalpana Rajowar sexually.
They urged the administration to take legal action against the fraudsters without delay.