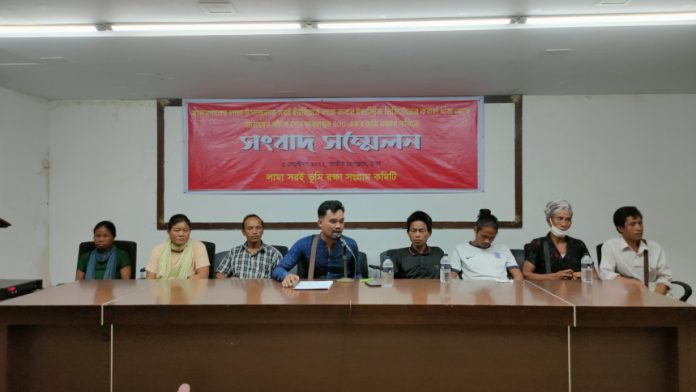 Hill Voice, 6 September 2022, Dhaka: The Lama Soroi Bhumi Raksha Sangram Committee (Land Protection Action Committee) organized a press conference in Dhaka to demand the protection of 400 acres of land belonging to the indigenous people of Lama Soroi Union of Bandarban Hill District from the encroachment of Lama Rubber Industries Limited.
This press conference was held yesterday (September 5) at 'Zohur Hossain' hall room of the National Press Club.
The indigenous people of Lama Soroi Union of Bandarban Hill District have long been complaining about the dispossession of 400 acres of land. Locals have been making this complaint against Lama Rubber Industries Limited. The Lama Soroi Bhumi Raksha Sangram Committee held a press conference in Dhaka to demand the protection of this land, the last resort of the local residents.
The demands of affected indigenous Jumma peoples put in the press conference include (1) to stop the land grabbing by Lama Rubber Industries and return all the lands expropriated by the company including 400 acres of Jum land traditionally cultivating by Mro and Tripura; (2) to provide adequate compensation to Mro and Tripura affected by the Company's activities; (3) to arrest and punish Kamal Uddin, Moazzem Hussain, Zahir Uddin involved in destroying the natural environment and biodiversity by cutting and burning Jum land and in the attack on Ashok Buddhist monastery, vandalism and looting of Buddha statues and attack on Rangdhajan Tripura; (4) to withdraw the false case filed by the company against 11 innocent Jumma villagers and (5) to cancel all land leases given to various individuals and organizations including Lama Rubber Industries Limited for the purpose of rubber and other plantations or tourism development in Bandarban.
Written statement in the press conference said that No. 303 Doluchari Mouza of Soroi Union under Lama Upazila has 400 acres of jum land belonging to Mro and Tripura peoples, which is inherited by three villagers Langkom Para (Mro Karbari), Joy Chandra Para (Tripura) and Rengyen Para (Mro), in which 39 families have been continuing cultivation.
On April 9, Chairman of Lama Rubber Industries Limited Moazzem Hossain, Project Director Md. Kamal Uddin, Managing Director Md. Zahirul Islam gang hired more than 200 Rohingyas displaced from Myanmar and took refuge in Bangladesh and tried to occupy the land of the residents of Langkam Para, Joy Chandra Para and Rengyen Para forcibly and cut down various species of trees planted by the local indigenous villagers including fruit plantation such as pineapple, plum, mango, yam, jackfruit and bamboo plantations. Then on April 26, they set fire to the plantations of that land, causing damage to property worth hundred thousand taka, including the environment and bio-diversity.
The press conference also said that vast tracts of land in the Lama were once fully under the collective ownership of the Mros and Tripuras. At that time, Jumma people used to earn their living by cultivating Jum. At that time there was no land belonging to company or individual in the name of any institution or outsider.
But due to the district administration disregarding the traditional land laws of indigenous people of CHT in the 80s and 90s of the last century, the people of Mro and Tripura communities started to be evicted from their ancestral Jum land.
With the help of the administration, influential land grabbers took lease in the name of Mannan Bagan, Maqbool Ukil Bagan, Clifton Agro, Meridian Agro, Gazi Group, Lama Rubber Industries, Nizampur Agro Products Limited, Hamela Hossain Foundation, Paharika Plantation, etc. As a result, Jumma people were evicted from those lands. Fayong Para and Nguyen Para were destroyed in 1988 due to the creation of rubber plantations. There were more than 80 families living in those two villages.
According to the research data, Lama Rubber Industries Ltd. has taken lease of 400 acres of land in the name of 16 shareholders in 1988-89 amounting 25 acres per person; another 700 acres of land in the same Mouza in the name of 28 persons amounting 25 acres per plot in 1993-94 and more 100 acres of land in the name of 4 shareholders amounting 25 acres per plot in 1994-95 in Doluchari Mouza. In other words, a total of 1200 acres of land was alloted in the name of 48 people in Doluchari Mouza.
Moreover, 16 shareholders total lease of land totaling 400 acres amounting 25 acres per plot in Soroi Mouza of the same union. That is, Lama Rubber Industries Limited took lease of land a total of 1600 acres in two mouzas (1988-1994) in the name of 64 people for 40 years. However, it was alleged in the press conference that the land leased in the name of Lama Rubber Industries Limited is 1600 acres, but in reality the company occupied more than 3000-3500 acre of land.
Lama Rubber Industries Ltd. has not stopped even after grabbing such a huge amount of land in various ways and its hunger for land has not been quenched. Now the company has greedy eyes on the land of Langkom Para, Joychandra Para and Rengyen Para located in the east. They also want to create a rubber plantation on this land. 28 conditions were given to the lessees in the lease agreement but none of them were complied with.
In the press conference, the affected indigenous hill people also said that after the destruction and arson of 400 acres of Jum farming land of Mro and Tripura people, a 5-member investigation committee headed by member of Bandarban Hill District Council Mozammel Haque Bahadur was formed at the initiative of the Hill District Council to solve the problem. The committee visited the affected area on 10 May 2022 and spoke to the residents.
Based on their report, Chairman of Bandarban Hill District Council Kyew Shwe Hla on May 19, 2022 sent 4-point recommendations to the secretary and parliamentary standing committee of the Ministry of Chittagong Hill Tracts Affairs, including canceling all leases of Lama Rubber Industries Limited, providing support for Jum cultivation and development of plantations to the affected Mro and Tripura, and arresting the arsonists.
Then on May 21, 2022, a hearing was held by the Bandarban district administration at Soroi Union Parishad office in Lama on the initiative of a 5-member committee headed by Deputy Director of Local Government Department Md. Lutfar Rahman to resolve the dispute related to 400 acres of land. During the hearing, the Jumma villagers rejected the offer of 5.0 acres of land per family to 39 families.
Last August 16, 2022, in another hearing under the chairmanship of CHT Affairs Minister Bir Bahadur Ushwe Sing at the initiative of the district administration, it was proposed to give 5.0 acres of land to each family as before. But the aggrieved hill people again rejected this unfair proposal.
Pointing out that our backs are against the wall, Rangdhajan Tripura said, "We have no place to go back. We have no option but to protest and resist to save our last resort of 400 acres of land. We are subjected to face threats, false cases and attacks while protesting against these injustices of land robbers."
On July 13, 2022, land grabber Kamal Uddin, Moazzem Hossain, Uhir Uddin gang attacked the convener of Bhumi Raksha Sangram Committee Rangdhajan Tripura at the Doluchari Headman's office with aa intention to kill him. He was seriously injured and had to stay in the hospital for 5 days. Land grabbers attacked the newly constructed Ashok Buddhist monastery in Rengyen Karbari Para, vandalized the monastery property and looted 2 Buddha idols.
Rangdhajan Tripura, convener of the Lama Soroi Bhumi Raksha Sangram Committee, answered various questions of the journalists at the press conference. Member secretary of the Committee Langkom Mro, joint convener Rengyen Mro, joint convener Phadram Tripura, joint convener Songle Mro, member Mothi Tripura, member Ruipao Mro were present at press conference. Also, various political parties, human rights organizations, leaders of student organizations and various professionals were present in the press conference.