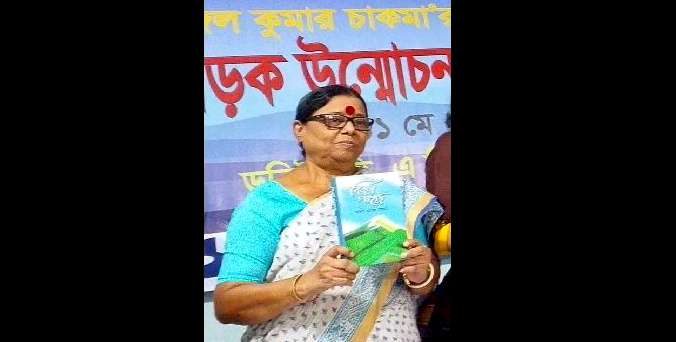 Hill Voice, 7 April 2020, Assam, Guwahati:  Human rights leader and Joint General Secretary of Bangladesh Mahila Parishad, freedom fighter Rakhi Das Parakayastha is no more. She was 68 years old. She died on Monday 6 April 6:25 pm at Guwahati Apollo hospital, Assam, India. The Second Joint General Secretary of Bangladesh Mahila Parishad seema Salem has confirmed this information to the media.
Ms. Rakhi Das Purakayastha is the wife of Pankaj Bhattacharya, president of Oikya NAP. The husband of her younger sister, Manas Bose told the media that she went to India on March 4, for her treatment. She was suffering from liver problems. She died this evening during treatment at Guwahati Apollo hospital. She was born on 4 February 1952, at Dariya Para in Sylhet.
Manas Bose said that during her career, she was joint secretary of Bangladesh Agricultural Development Corporation of the Government of Bangladesh. During her student life, she was elected Vice-President (VP) for three consecutive terms at Eden College, Dhaka. He completed master degree in Mass Communication and Journalism from Dhaka University. She was elected as Vice-President (VP) of Shamsunnahar Hall of Dhaka University. She was also involved with politics of Student Union of Bangladesh.
Rakshi Das's younger sister, Bornishika Das Parakayastha, told news media, "My sister was a brave person, social conscious, responsible for the society. At any stage, she was in the front line. Her role in the realization of human rights was immense. '
Rakhi Das was vocal for the establishment of rights of indigenous women as well as the rights of indigenous peoples and against violence against indigenous women.
Bangladesh Indigenous Peoples Forum, Madals, Bangladesh Indigenous Women's Network, Kapeeing Foundation and Bangladesh Indigenous Student Action Council expressed deep condolences over the death of Rakhi Das Purkayastha.