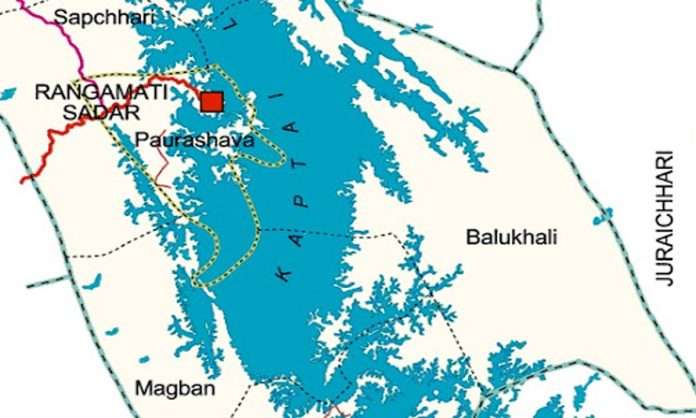 Hill Voice, 1 November 2021, Rangamati: It has been alleged that the houses of 6 Jumma villagers have been searched and harassed by the army in Balukhali and Bandukbhanga areas under Sadar upazila of Rangamati district.
According to local sources, at 11.00 pm on October 30, 2021, two group of army numbering 50/60 personnel along with Manabendra Chakma (Manenda) from Rajmoni Para (Morichya Bil) army camp in Balukhali Union of Rangamati Sadar Upazila under Banjogichara army zone under Jurachari Upazila went out on a search operation.
When the army members reached Kharikshyong of Bandukbhanga Union via Kaindya Mukh, a group of army personnel took up position at Duttang Government Primary School at around 4.00 pm.
The another group of army went to a village named Kaindya Moshkabachara in Balukhali Union and surrounded the house of Nila Kumar Chakma (55), son of Ananda Chakma.
Then the army entered the house, tied up Nila Kumar Chakma and searched his house. At that time, army members including Manabendra Chakma (Manenda) harassed Nila Kumar Chakma interrogating him unnecessary. They asked that a terrorist group of 12 people was staying here on October 29, where are they now? How much money did you give them? etc.
After interrogation, the army along with Nila Kumar Chakma went to the house of Bhrama Lal Chakma and then surrounded the houses of 5 villagers including the house of Bhrama Lal Chakma. The army tied up the homeowners and searched their homes.
At that time, the army members mentally harassed the 5 detained villagers by interrogating and threatening them.
The victims of the search in Moshkabachara village of Balukhali union are- Gyana Lal Chakma (32), son of Meghaborna Chakma; Jyoti Lal Chakma (30), son of Meghaborna Chakma; Jyotimoy Chakma (26), son of Prabir Chakma; Bhrama Lal Chakma (48), son of Prabir Chakma and Shantimoy Chakma (42), son of Prabir Chakma.
In the name of searching their houses, the army started throwing their belongings indiscriminately. On the other hand, the army interrogated some villagers including Shantimoy Chakma, at gunpoint.
According to the local sources, the villagers are all farmers and seasonal workers. They have expressed outrage at such attacks and harassment while sleeping at night after a day of physical exertion, and urged for an end to such human rights abuses.
Panic is reported in the village and surrounding areas after the incident.
On 31 October 2021, the army released all the detainees and left for the army camp at around 9.00 am.