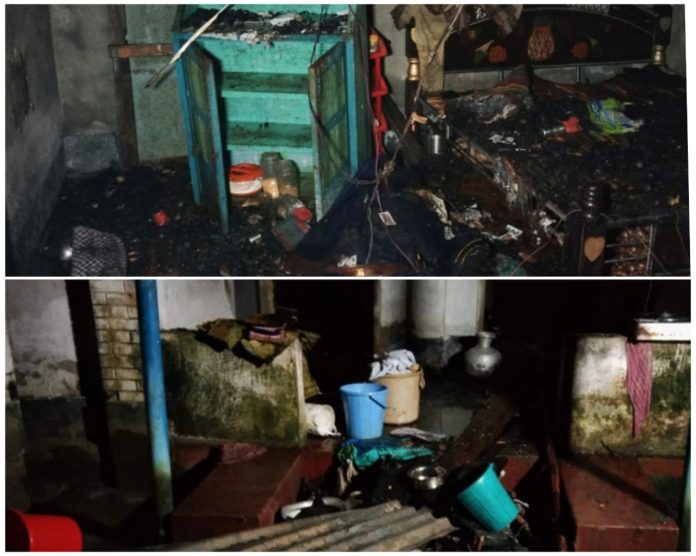 Hill Voice, 16 July 2022, Narail: Agitated Muslims were allegedly to have vandalized and looted 6 shops, looted gold ornaments along with cash vandalizing furniture in four houses and set fire to a house and a temple belonging to the Hindu community in a local market in Dighalia Sahapara of Lohagara Upazila in Narail raising allegation of blaspheming the Holy Prophet on Facebook.
The incident took place at Sahapara area of Dighalia village in Lohagara on Friday (15 July 2022) evening.
It is reported that the incident started centering the allegation of posting on Facebook by hurting religious sentiment by Akash Saha (18), son of Ashok Saha in Dighalia Sahapara.
Yesterday evening, after Jumar prayer (Friday prayer), agitated Muslims formed a human chain demanding the arrest of Akash. Later they ransacked and looted the grocery shop of Nitya Dulal Saha, Anup Saha, Ashok Saha, Sanjid Saha and sweet shop of Govinda Kundu and Goutam Kundu in Dighalia Bazar.
In addition, the houses and furniture of Gaur Saha, China Rani Saha, Biplab Saha of Sahapara were vandalized and their gold ornaments and cash money were taken away. The mob set fire to Nadu Gopal's residence and ransacked it. They also set fire to the Akhrabari Sarbojanin Pujamandap at around 9:00 p.m.
Apart from this, agitated Muslims pelted bricks and stones and vandalized chairs and sound boxes of the Sahapara temple.
Lohagara police, DB police, upazila executive officer, local UP chairman and political leaders tried to bring the situation under control. Later, at around 9:30 pm a team of RAB-6 and Narail Superintendent of Police Prabir Roy went to the spot.
Haran Chandra Pal, Inspector (Investigation) of Lohagara Police Station said, 'The situation was brought under control by firing a few rounds of blank bullets from shotgun and tear gas. Upazila administration officials, local public representatives and politicians are working to resolve the issue. The accused student's father has been taken into police custody. However, the student is absconding. Attempts are being made to arrest him.'
Lohagara Upazila Nirbahi Officer Azgar Ali said, 'We have not found the accused student yet. So, I can't say anything in detail about his post. This is not an organized attack. Dighalia being a big market, it was an isolated attack. We have the situation under control. Some bricks were thrown at the temple.
As of writing this report, no one has been arrested and no case has been filed in connection with these vandalism, looting and arson attack of Hindu community houses.