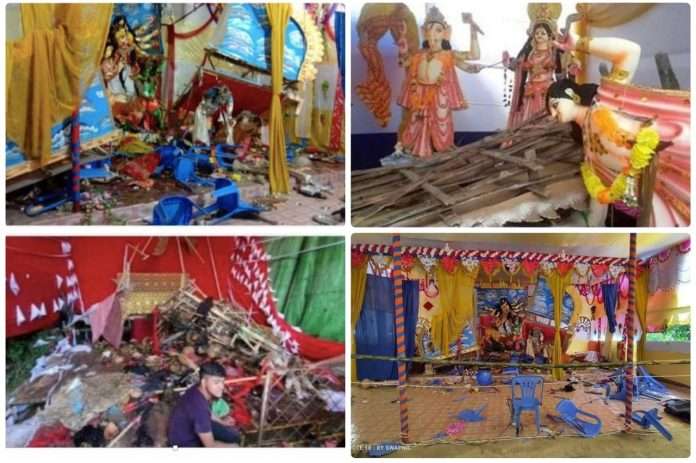 Hill Voice, 15 October 2021, Special Correspondent: Muslim people have carried out massive attacks and vandalism at Durga Puja Mandap and Hindu temples in different districts of the country, alleging "demeaning the Holy Quran" in Comilla.
On October 13, Wednesday, around 11 am, suddenly the news spread that the Holy Quran was kept in the idol of a puja mandap in Nanuardighi area of Comilla city. As the news spread quickly, madrassa students and local Muslims began protesting. At one stage, various Durga Puja mandaps of Comilla city have been come under attack. However, it is known that the police also took action at the same time.
Then on 14 October 2021 massive attacks on puja mandaps and vandalism of idols took place in Comilla, Bandarban, Habiganj, Khulna, Chandpur, Cox's Bazar, Laxmipur, Gazipur, Kurigram, Chittagong, Noakhali, Chapainawabganj, Brahmanbaria, Rajshahi, Zakiganj of Sylhet, etc. Anti-puja protests have been held in various cities. It is learnt that BGB has been deployed in 22 districts to control the situation. Tensions have spread to at least 15 districts.
Muslim people attacked several puja mandaps in Comilla town as widespread propaganda to desecrate the Qur'an began on social media. Nirmal Pal, secretary of the Puja Celebration Committee, complained that "Those who carried out the incident by placing the Qur'an on the idol, deliberately to thwart the worship, they are now staging anti-puja protests across the city.
On the other hand, on Wednesday night, the Muslim people attacked the temple with processions in Hatia of Noakhali district and Banshkhali and Patia of Chittagong district, local police said.
Several temples have been attacked in Hajiganj of Chandpur district. During this time, the attackers clashed with the police. Police confirmed that 4 people were shot dead in the clash.
After a protest rally at Lama Bazaar in Bandarban on Thursday morning, Muslims repeatedly attacked the Lama Central Hari Temple. More than 50 people including police were injured in the clash. At least 40 business establishments and six houses of the Hindu community in the Bazaar were vandalized and looted. General Secretary of Lama Upazila Awami League and Mayor of Lama Municipality Zahirul Islam, general secretary of Upazila Chatra League Md Shaheen and Olama League leaders are said to have led the attack.
Around 4/5 hundred people brought out rally with sticks and made attack on three temples and vandalized various goods including idols in Gazipur district. Locals arrested 19 people involved in the attack and handed them over to the police.
The Sri Sri Ram Thakurangan temple at Ramgati in Laxmipur district was attacked and vandalized by the Muslims. Nine people, including two sub-inspectors of police, were injured in the clashes with the attackers. Police have filed a case against 250 unidentified people in the incident.
There were incidents of vandalism and arson in 7 temples of 3 unions of Ulipur in Kurigram district. Police have arrested 18 people on charges of being involved in these incidents. Member of Parliament of Kurigram-3 constituency Professor MA Matin alleged that there was not enough security from the police. Rather the police had played a mysterious passive role during the attack.
The Muslim people have attacked the Hari Bal Tagore temple in Nabiganj of Habiganj district. At least 20 people, including the officer-in-charge of Nabiganj police station, were injured in the incident.
Puja Mandap and Hindu Palli in Cox's Bazar were attacked and set on fire. There have been three separate cases of vandalism and arson. Police have arrested 9 people on suspicion of involvement in the incident.
18 bombs were recovered from the entrance of the Rupsha Maha Shmashan Ghat temple in the old Rupsha Ferry Ghat area of Khulna city. It is thought that some vested elements may have put these bombs to destroy communal harmony.
The high-speed mobile internet was first shut down in Comilla on Wednesday after clashes erupted over allegations of insulting the Quran in Comilla. After that, internet was gradually shut down in five more districts namely Chittagong, Cox's Bazar, Brahmanbaria, Rajshahi and Chandpur respectively.
In a statement on Wednesday, the government said it was investigating the incident of desecration of the Holy Qur'an in Comilla.
Students of Dhaka University have organized a silent protest against the attack on Durga Puja mandap and vandalism of idols in different districts.
According to the BBC report, the discovery of the Holy Quran in a puja mandap in Comilla and the attacks on several temples in Bangladesh and clashes between the attackers and police have caused a huge backlash on Indian social media.
Leader of the Opposition in the West Bengal Legislative Assembly and BJP leader Shuvendu Adhikari has urged Indian Prime Minister Narendra Modi to take urgent steps to protect the Hindu people from attacks by religious extremists in Bangladesh.
Many have mentioned that the festival of Durga Puja has turned into sadness for the Hindus of Bangladesh as a result of simultaneous attacks on puja mandaps and vandalism of idols in different districts of the country.
The Ain O Salish Kendra said in a press release on Thursday that such incidents were recurring due to lack of proper investigation and trial of previous incidents of religious intolerance and terrorism through various propaganda, which lead to creating insecurity and fear among the country's religious minorities.