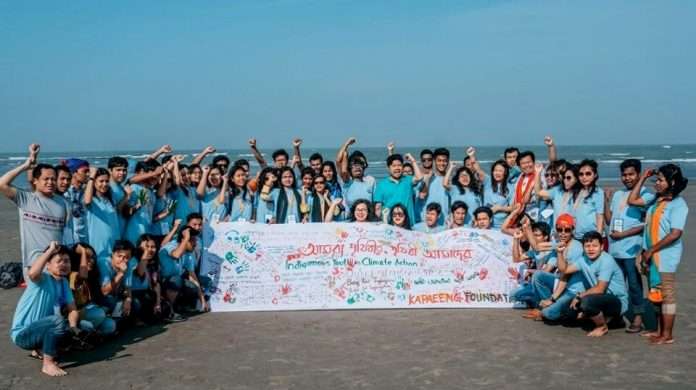 Hill Voice, 17 March 2020, Cox's Bazar:  Kapaeeng Foundation with the support of Embassy of Switzerland, International Lobour Organization (ILO) and Manusher Jonno Foundation (MJF) has successfully organised National Indigenous Youth Conference 2020 in Cox's Bazar from 14-16 March 2020 with the theme Indigenous Youth for Inclusive Society and Institutions. The conference facilitated strong solidarity and enhanced capacities among a bunch of rising indigenous youth leaders of Bangladesh. The youth leaders expressed their strong commitment to engage themselves for the development of their communities and establish a vibrant network in order to work for a better future of indigenous youth in Bangladesh. This year a total of 50 indigenous youngsters belonging to 17 indigenous groups from across the country attended the event. Kapaeeng Foundation has been organizing the national conference of indigenous youth since 2012.
On 14 March, the Conference was kicked off with the national anthem followed by a traditional opening ritual of Rakhaine indigenous people where Professor Dr. Mizanur Rahman, former chairman of National Human Rights Commission of Bangladesh inaugurated the conference. General Secretary of Bangladesh Indigenous Peoples Forum (BIPF) Sanjeeb Drong, UNDP Christina Nilsson and President of BIPF Cox's Bazar chapter Tui Aung were present among others while Executive Director of Kapaeeng Foundation Pallab Chakma presided over the session. A video message from Thomas Baumgartner, Head of Political, Economic and Cultural Affairs of the Embassy of the Switzerland, was presented in the opening session.
The main objective of the conference was to enhance unity and capacities of indigenous youth for inclusive society and institutions. For this reason, the conference accommodated sessions on human rights and inclusiveness; leadership; diversity; indigenous youth and advocacy; gender inequality and youth; active citizenship and voluntarism; climate action and indigenous youth; indigenous rights movements and engagement of youth; current youth leadership: trend and opportunities; and, adoption of youth action plan formation of a vibrant youth network to implement the action plan in the country.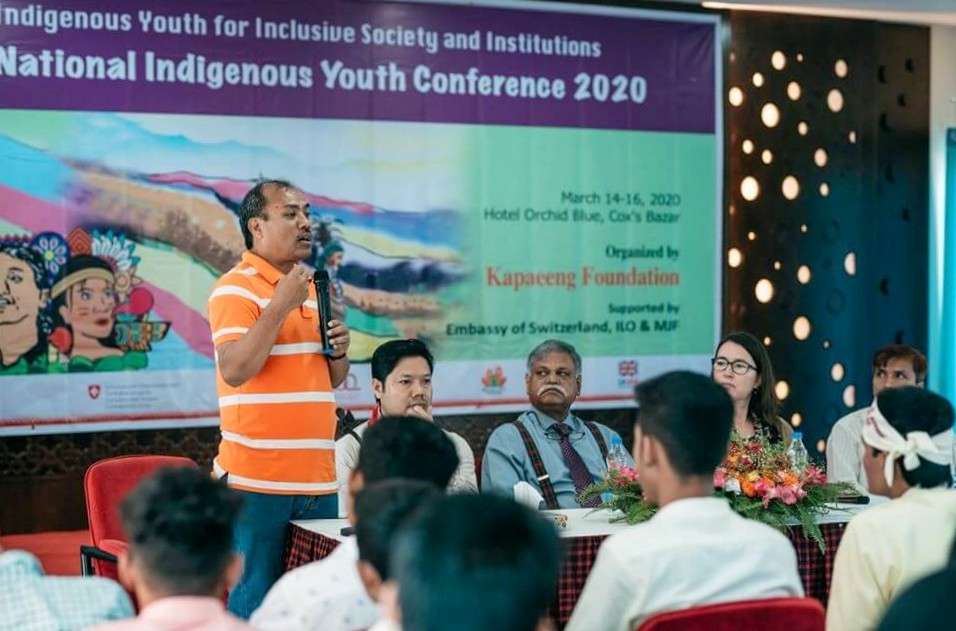 There was also a solidarity cultural night where the youth showed their cultural talents by performing traditional music, dances and songs with their traditional attire.
As parts of a formal session, the youth leaders also took part in a debate on the topic entitled 'women face gender discrimination in the family, society and state' and in a demo TV talk show titled 'youth issues should get priority in the national agenda'. In both lively sessions, the participants who were selected based on their ethnicity and geographical locations, nicely articulated their respective arguments and made the show interesting.
Moreover, the indigenous youth conference incorporated a fire-chat with young professionals from indigenous communities, where the indigenous youth had an opportunity to learn and interact with Priyanka Chakma, a young indigenous entrepreneur; Mathews Chiran, a young indigenous journalist of The Daily Star, one of the mainstream medias; Titas Chakma, a prominent artist from the indigenous society.
Besides, a dialogue with two grassroots indigenous leaders, namely, Rabindranath Soren, the president of Jatiyo Adivasi Parishad and Dipayon Khisa, information & publicity secretary of BIPF was demonstrated where indigenous youth knew the human rights situation of indigenous peoples, struggle and movements of indigenous peoples in Bangladesh.
Aside from these interactive sessions, there was an outdoor session on Indigenous Youth and Climate Action where an activity was done in the nearby beach. In this activity, participants were allowed to illustrate a painting on diversity in one canvas and in another canvas, they were asked to write messages/commitments on climate action in their respective indigenous languages. This was a wonderful experience for the participants where they committed and wrote in 17 indigenous languages to save the mother earth by doing several climate actions.  Later, there was a discussion on how indigenous youth could contribute in response of climate change.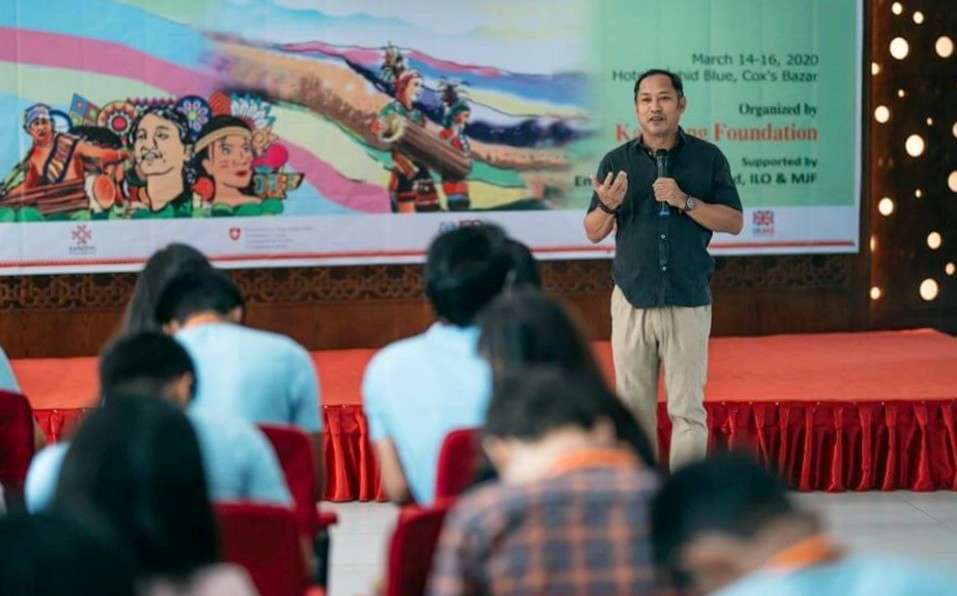 This conference was conducted with a view to bringing indigenous youth under an umbrella and reforming the Bangladesh Indigenous Youth Network for more cooperation and networking among the indigenous youth in Bangladesh. The conference also aimed to formulate an action plan to address the youth issues in coming days. In this regard, two separate sessions were conducted and finally an action plan was adopted by the conference.
On the other hand, by discussing with the regional representatives, the conference formed a 13-members new Coordination Committee of Bangladesh Indigenous Youth Network. The newly formed committee committed working together and making bridge among the indigenous youngsters across the country for the greater interest of the indigenous society as well as for the country.
Source: Kapaeeng Foundation