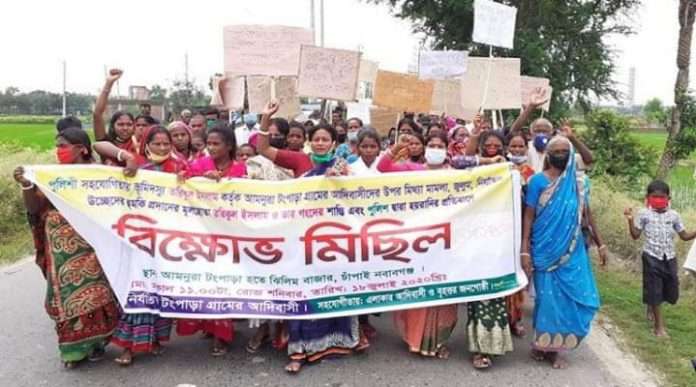 Hill Voice, 19 July 2020, Chapainawabganj:  In Chapainawabganj, the oppressed indigenous people of Tongpara village have staged demonstrations and protest rallies against the attacks, lawsuits, torture, eviction from land and occupation of ponds and police harassment against the indigenous Rajowar people.
On 18 July 2020 Saturday at 12 noon, the protest procession was held on the Nachol-Amanura road in Chapainawabganj. Later, they staged a protest gathering in Tongpara village.
In their speeches, the speakers complained that the indigenous Rajowar community have been living on khas land in Tongpara of Nachol for hundreds of years. But a fraud ring has been trying to evict them from there for a long time with various conspiracies, attacks, lawsuits, torture, indecency and attempts to seize the pond.
The program also demanded proper investigation and speedy submission of reports of 17 false cases against indigenous Rajowar people.
The speakers alleged that on 23 May 2020 an attempt was made to abuse Kanchana Rajowar. On 25 June 2020, indigenous leaders Bishwanath Mahato and Bangapal Sardar were attacked with sharp weapons. The police did not accept a case in these incidents.
The speakers further said that if legal action is not taken against T Islam gang without delay, they will announce to launch a larger movement in the future.
Hingu Murmu, president of the North Bengal Indigenous Forum, Bimal Rajowar, organizing secretary of the Jatiya Adivasi Parishad, Bishwanath Mahato, president of the Adivasi Mukti Morcha, Mazharul Islam, indigenous affairs researcher, Joynal Abedin Mukul and Bangapal Sardar addressed the protest.