Sumit Banik and Promit Banik
Amtali Thanchangya para is a remote village in Sadar upazila of Bandarban Hill District. There is a lack of modern civic amenities. The people here dream of living in the midst of pure nature. Just as nature has bestowed many natural beauties on the three hill districts, including Bandarban, in its love, so the lives of those people are highly dependent on nature.
Jharna Tanchangya (pseudonym) is the daughter of Surendra Tanchanga of the same neighborhood. She was 7th class student in a local school, age 12. The day was Sunday; she was appearing in her math exam. During the exam, she suddenly felt severe pain in her abdomen. In the suddenness of the incident, Jharna returned home after completing the exam swiftly. She noticed blood on her legs after she had returned from her school. Besides, there were blood stains on her uniform. Without any mental preparation, this is the first time Jharna acquainted with menstruation in her life. For which there was no external preparation.
Merely, hearing from her older sisters that such physical changes can occur during puberty was her preparation. In addition, she got an opportunity to learn how to use and change clothes in this situation, from the older sisters in the community. Neither the family gave her any required information, nor did they provide any means of preparation to address the matter. It is mentionable that, when she was a student of 6th class, her mother died of a heart attack. Then she was compelled to move in her aunt's house for continuing her study.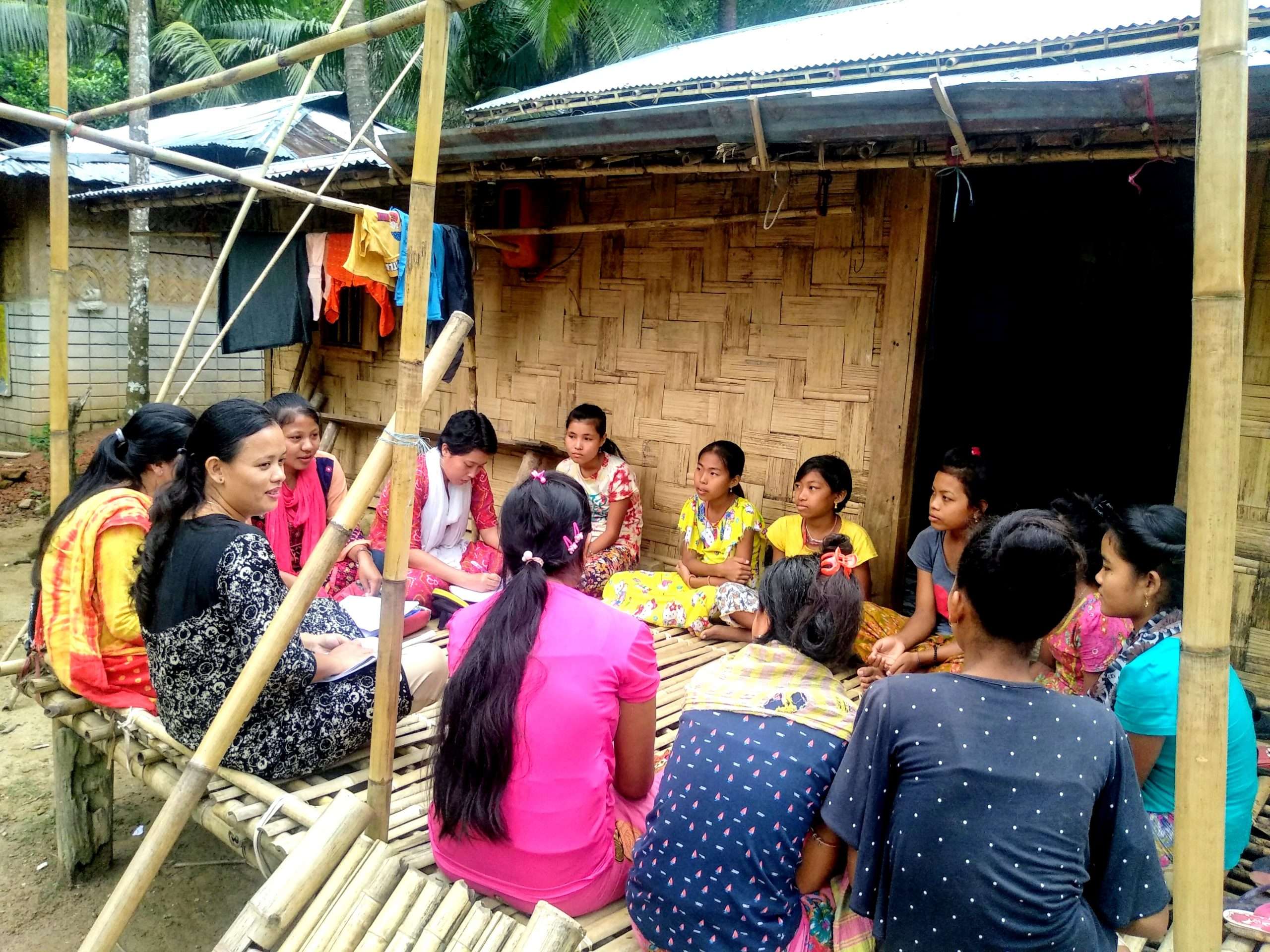 A miserable darkness descends on the life of Jharna. A massive rhythmic decline occurred in Jharna's life in absence of her mother. During the next menstrual period, in the absence of her mother, Jharna became a bit confused. Although she was hesitant, she shared her real experience with the older sisters who reside in the same locality. They provided some piece of advice to Jharna in light of their experience. However, Jharna did not know why menstruation occurs or what happens if it does not. But one thing Jharna knew for sure was that after certain period of age every girl starts menstruating naturally and that is very common phenomenon.
Though it was the first incident in her life, she did not feel the need of consultation with a doctor, nor did anyone in her family think about it. Jharna continued her menstrual management with little knowledge she had about it. From very beginning of her period, she accustomed to use old clothes at home. In addition, washing of clothes that used during menstruation was a matter of bit embarrassment for her. On account of her embarrassment, she tried to wash clothes covertly during menstruation, so she opts to wash the used clothes in the folds of other large clothes. As the time goes on, she decided to share her menstrual feelings with her intimate peers.
A few days later, a new tragedy happened in her life. Since inception of her first menstrual period, the first one or two months were regular, but later she starts menstruating twice a month. Due to irregular menstruation, she begins to feel physically weak. Being hapless she seeks the guidance of a local health worker. She (local health worker) advised her to seek the consultation of a gynecologist in Chattogram. Later, taking cognizance of her sickness, the doctor provided her with a prescription. After intake of regular medication, the menstrual cycle returns to normal (once a month).
When she was student of eight, Jharna participated in a menstrual health awareness meeting organized by a local NGO. They were the first to demonstrate how to manage their menstruation properly; moreover they taught her, clothes used during menstruation should be dried in the hot sun. Furthermore, when drying in a shady place, many germs are likely to remain in the used clothes. According to the prevailing social custom in hill districts, the senior female members of the household usually forbade girls visiting the Bihar (temple) during menstruation and asked them refrain from performing worship. It is mentionable that she did not get any prohibition in this regard from the religious leader (Bhante). Besides she heard from others that, it is forbidden to eat tamarind during menstruation. The reason behind that eating tamarind at that time lower the concentration of blood, therefore, Chance of bleeding increases.
The abovementioned incident is the story of the first menstrual experience in the life of a Jharna in Bandarban Hill District. However, the experience of the first menstrual period in the lives of most girls in remote areas of Bangladesh is almost same. There are thousands of such Jharna in every nook and corner of Bandarban Hill District. These unheard stories of first menstruation are much more tragic and touching than this. There are many girls like Jharna around us whose lives have been ruined just because of unhealthy menstrual management, or whose future days have become fragile for rest of their life.
It's encouraging that, with the financial aid of European Union (EU) extensive work is being carried out since 2019 by Simavi Netherlands and Bangladesh Nari Progati Sangha (BNPS) in collaboration with 10 local development organizations in Chittagong Hill Tracts. 12 thousands unprivileged young women & adolescent girls of Bandarban, Rangamati and Khagrachhari hill districts have been implicated through 'Our Lives, Our Health, Our Futures' (OurLHF) Programme. Through this programmatic initiative, it is working to support and empower young women & adolescent girls in the CHT to manage their menstruation with dignity and fulfill their sexual and reproductive health and rights without violation, coercion & discrimination.
According to Bangladesh National Hygiene Baseline Survey (BNHBS) 2014, only six percent of girls received any education session related to menstrual hygiene at school. The study also indicates only 36 percent heard about MHM before their first period (menarche). As a result, many girls have to go through embarrassing situations. In this case, it is the responsibility of the family, especially the mothers, to inform their teenage daughter about this. At the same time, it is necessary to ­­­create a supportive environment in the educational institutions as well as to play a conscious and sensitive role in this regard.
Again, a large portion of women and adolescents use unclean clothes. Only 10 percent of adolescents and 25 percent of older women use sanitary napkins or hygienic sanitary pads during menstruation. According to gynecologists, sanitary napkins need to be changed every 6 hours. Otherwise, there is a risk of bacterial infection besides various life threating diseases of the reproductive organ can occur.
Another joint study by government and non-government organizations found that, only 9 percent of school-going girls in rural areas and 21 percent in urban areas use hygienic pads. And overall, 8 percent of teens use old, dirty clothes. Research has shown that, there is still a lack of awareness in the society about menstrual hygiene. The mentality of open discussion with family members on the issue has not yet been formed in our society.
Unhealthy menstrual health care, unavailability of materials needed for healthy management and poor sanitation infrastructure are hampering the educational opportunities, health and social status of women and girls around the world. As a result, millions of women and girls are being prevented from reaching their full potential.
Every year May 28 is celebrated globally as World Menstrual Hygiene Day to break the silence and raise awareness and change the negative social norms surrounding menstruation. The celebration of this day was started in 2013 by the German-based non-profit organization 'Wash United'. Since the first celebration in 2014, the demand for this day has been increasing rapidly all over the world. The theme of the day in 2020 is 'Pandemics do not stop menstruation: it's time for action'. On the occasion of this day, national and local government agencies, individuals, non-governmental organizations and the media jointly launched a campaign to increase political priorities and take effective measures by highlighting the developmental aspects of menstrual health to the concerned authorities.
However, children and adolescents are less likely than others to become seriously ill with Covid-19 (Corona virus). Yet they can't go to school, play outside with friends or meet with kith and kin outside the family. So, they are becoming a bit anxious mentally. At the same time, due to the corona virus, the social and economic situation is stagnant and people are being unable going to the health center and deprived of getting proper health care. At the same time, it is not possible to ensure the easy availability of necessary materials and proper hygiene. Above all, the obstacle is proper menstrual management which is disrupting the overall life of women. Admittedly, this is a major obstacle to the success in the country's health sector and the achievement of the Sustainable Development Goals (SDGs).
There is no end to the shame and embarrassment of a common and natural phenomenon like menstruation in the society of Bangladesh. The expected change is impossible without a conscious and sensitive role in this regard. It is very difficult to change this situation without government initiative, help and support. We hope that the government, the private sector, the active role of the media will change this long standing stalemate.
Author: Sumit Banik, Public Health Activist and Trainer and Promit Banik, MPH (In Course), NIPSOM. Email: sumit.bnps@gmail.com