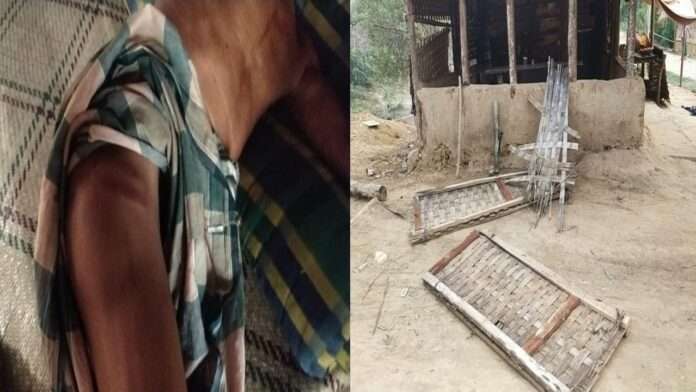 Hill Voice, 24 April 2021, Rangamati: A group of Bengali settlers led by Rassell Chowdhury, Chairman of Amtali Union Parishad in Baghaichhari Upazila under Rangamati Hill District, reportedly carried out a communal attack on Jumma village called Perachhara in Ward 7 of the neighboring Sarboatali Union. Three Jummas were injured in the attack and one shop and one Buddhist monastery were vandalized and looted.
The attack took place between 3:00 pm and 4:00 pm today on Saturday, April 24, 2021. As of the writing of this report, the situation in the area including the incident site is reported to be tense.
According to local sources, at around 9:00 this morning, Md. Rob Mia, a Bengali settler from Amtali area, went to graze cows on the paddy field of Kalachokha Chakma in Perachhara village of nearby Sarboatali and the cows destroyed Kalachokha's paddy field. At that time, Kalachokha Chakma saw it and asked Md. Rob Mia not to graze cows in his paddy field. Md. Rob Mia was angry with this and insulted Kalachokha by using abuses on the contrary. As a result, there were arguments and clashes between the two. At one point, Md. Rob Mia threatened to take a look at Kalachokha Chakma and left. It is also learnt that Md. Rob Mia used to graze cows in and around Kalachokha Chakma's paddy field in Perachhara village and the cows always destroyed Kalachokha's paddy fields. In addition, many times he used to eve-tease and misbehave Jumma women on the way.
It may be mentioned that after the incident this morning, Md. Rob Mia returned to his village and informed the matter to the Chairman of Amtali Union Parishad Rassell Chowdhury.
Later, today at around 3:00 pm, 20-25 Bengali settlers, led by Rassell Chowdhury, Chairman of Amtali Union Parishad, by a jeep, armed with sticks and sharp weapons, attacked the Jumma-inhabited village of Perachhara without any consideration.
Three indigenous Jummas of Perachhara village were injured in the attack. The injured were- (1) Tushar Bindu Chakma (45), son of Motilal Chakma; (2) Shanta Chakma (23), son of late Ramesh Chakma; (3) Purnachandra Chakma (55), son of Joy Singh Chakma. Tushar Bindu Chakma is said to be an elected ward member of the local union council.
At that time the Bengali settlers attacked Purnachandra Chakma's shop and looted the money and goods of the shop.
The assailants then attacked a Buddhist monastery called 'Naba Karunapur Banavihar' in the village. They also carried out extensive vandalism and looting in monastery. At that time, Chulakal Bhikkhu, the principal of the Buddhist monastery, fled elsewhere in search of survival.
It is learnt that at one stage Jumma villagers also tried to resist. On the other hand, after carrying out the attack for about an hour, the settlers led by Chairman Rassell Chowdhury returned to Amtali.
A local Jumma leader said Chairman Rassell Chowdhury had an extreme communal attitude and he himself took part in the attack. Some Bengali people tried to stop Chairman Rassell Chowdhury but he himself instigated the attack. Chairman Rassell Chowdhury is also the Information and Publication Secretary of Baghaichhari Upazila Awami League.
It is learnt that at one stage of the incident, a group of BGB members went to the spot to bring the situation under control. But even though they were there, it is known that they could not give any solution till the writing of this report.
A villager, who did not want to be named, said that BGB members sometimes threatened them with guns.
The situation in the area is still tense.
Some villagers demanded the administration to immediately arrest Chairman Rassell Chowdhury and other attackers and take appropriate action against them.