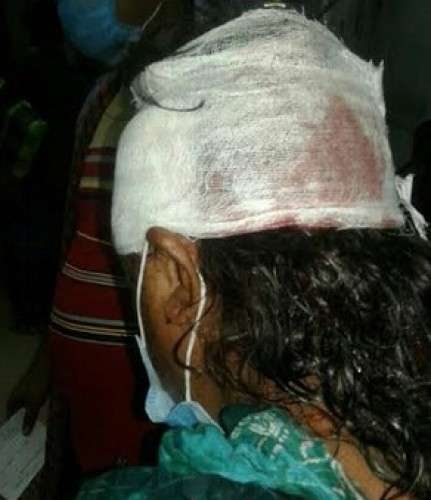 Hill Voice, 4 August 2020, Mymensingh:  A group of terrorists beaten to wound members of a minority family to evict them from their homestead in Gafargaon upazila of Mymensingh district.
The incident took place on Sunday night, August 2, 2020 at Rasulpur village in Rasulpur union of Gafargaon upazila. Five people, including three women, were injured. They were rescued and taken to Mymensingh Medical College Hospital.
Members of the minority family said Abdul Hai, an influential person from the same village, and local terrorists had their eyes on a homestead belonging to a helpless minority Hindu community in Rasulpur village. They had been inflicting various mental tortures on this minority Shil family to take over the land.
Hafizul, 25, son of Abdul Hai, came in front of Shil's house on Sunday afternoon and was talking obscenely to the women of the house. The people of Shil's family put the incident to local UP chairman Haji Saiful for seeking for justice.
On their way back from the chairman's office, around 7:15 pm, 4/5 terrorists led by Hafizul and Sirajul, who were already approaching the Rasulpur post office, blocked the road and threatened to kill them if they were not evicted from the area.
At the night around 8 pm, 7/8 terrorists led by Hafizul and Sirajul (23) attacked the family of Anjali Shil of Shil Bari with local weapons. The terrorists severely injured the men and women of Shil's house by beating them with sharp weapon and beating them with rods.
Five persons including Anjali Shil (62), Amal Shil (28), Subal Shil (45), Prarthana Rani Shil (40) and Moni Rani Shil (14) were seriously injured. The terrorists also looted Shilbari. At that time, the locals rescued them hearing their screaming and sent them to Mymensingh Medical College Hospital.
Rasulpur UP chairman Haji Saiful Islam said an arbitration meeting was scheduled for Monday morning. Earlier, a riot broke out at Shil's house on Sunday night.
OC of Gafargaon Police Station Anukul Sarkar said the police went to the spot after receiving information through various channels. Police are investigating the matter.
Source: Janakantho