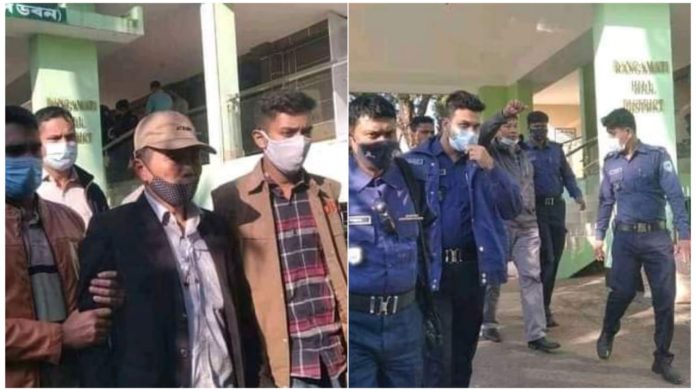 Hill Voice, 25 January 2022, Rangamati: It has been alleged that four newly elected chairmen of four Union Parishads under Nanyachar and Sadar upazilas of Rangamati district have been arrested by the police from the premises of the Deputy Commissioner's office after taking oath.
According to local sources, police arrested four newly elected UP chairmen from the Deputy Commissioner's office in Rangamati on Tuesday (January 25) at around 2:00pm.
The arrested four UP chairmen are Promod Khisa, chairman of No. 3Burighat Union Parishad, Supan Chakma, chairman of No. 1 Sabekhyang union and Amal Kanti Chakma, chairman of Ghilachhari union under Nanyachar upazila and Kanan Chakma, chairman of Kutukchari union under Rangamati Sadar upazila.
They were all elected for the second time as independent candidates in the fourth round of UP elections held on December 26, 2021.
It is learnt that the newly elected chairmen were sworn in at the Rangamati Deputy Commissioner's Office on Tuesday. They appeared there and took the oath. Police arrested them at around 2pm shortly after the swearing-in.
Superintendent of Police of Rangamati Mir Moddasser Hossain said they had been arrested by the police as a warranted accused in a case filed in connection with the murder of Nanyachar Upazila Chairman Shaktiman Chakma.
Rangamati Superintendent of Police said that they were handed over to the court after their arrest.