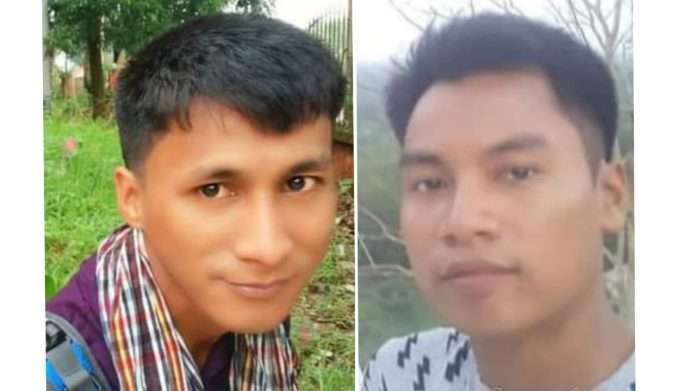 Hill Voice, 16 March 2023, Bandarban: Two leaders of the Parbatya Chattagram Pahari Chatra Parishad (PCP), released on bail from Bandarban jail, have allegedly been re-arrested from the jail gate by the Bangladesh Army.
Yesterday, March 15, 2023, around 7:30 pm, the two student leaders were released from the jail and the army arrested them again from the jail gate.
The two student leaders were released from the Bandarban Jail yesterday on bail by the High Court after spending almost a year in jail after being detained by the army and subjected to false charges. But as soon as they came out, the two student leaders were again subjected to illegal arrest by the army.
The two victimized student leaders are PCP Central Committee Vice President Thuimong Prue Marma (TM Prue Marma) and Central Member Thuinumong Marma. TM Pru Marma's house is said to be in Headman Para of Thanchi and Thuinumong Marma's house is in Paindu Union of Ruma Upazila.
It is to be noted that on May 19, 2022, around 2:00 p.m. on the Bandarban-Rangamati road, the army arrested the two student leaders from in front of the Chemidalu Para army camp in Sualak Union area of Bandarban Sadar. The student leaders were going to Rangamati by motorcycle to attend the 33rd founding anniversary and 26th central council function of PCP to be held in Rangamati town.
Later, the army falsely implicated the two student leaders in the murder case of Senior Warrant Officer Habibur Rahman in an incident dated February 2, 2022 and handed over the two student leaders to the Ruma police station of Bandarban on May 21, 2022. Later the police sent them to Bandarban Jail.
It is known that the names of the two student leaders were not included in the list of accused in the warrant officer Habibur Rahman murder case filed on February 10, 2022, but the army conspired to involve them in the case.