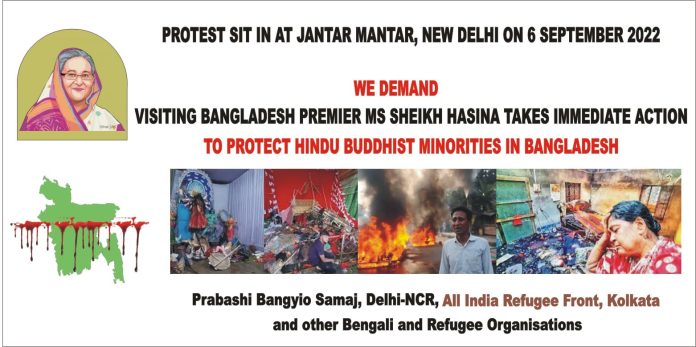 Hill Voice, 2 September 2022, International Desk: Protest sit-in is going to be held at Jantar Mantar in New Delhi on 6 September 2022 to demand that visiting Bangladeshi Premier Ms. Sheikh Hasina takes immediate action to protect Hindu Buddhist Minorities in Bangladesh. The demonstration will be organized by the Prabashi Bangyio Samaj (PBS), Delhi-NCR, All India Refugee Front (AIRF), Kolkata and other Bengali and Refugee Organisations. The press information signed by A K Pal of PBS and Mohit Roy is given below:
Press Information
PROTEST SIT IN AT JANTAR MANTAR, NEW DELHI ON 6 SEPTEMBER 2022
TO PROTEST AND DEMAND THAT VISITING BANGLADESH PREMIER MS SHEIKH HASINA TAKES IMMEDIATE ACTION TO PROTECT HINDU BUDDHIST MINORITIES IN BANGLADESH
Prabashi Bangyio Samaj, Delhi-NCR, All India Refugee Front, Kolkata and other Bengali and Refugee Organisations.
Ms Sheikh Hasina, the Prime Minister of Bangladesh is coming to India on 5 September. She will be in New Delhi till 8 September to discuss on various matters with Indian Prime Minister and other officials. We take this opportunity to place our demands to Sheikh Hasina and demand her personal assurance to stop the continuous atrocities on the minority Hindus and Buddhists of Bangladesh.
During Durga Puja festival last year 2021, there were about 200 incidents of attacks on Hindu temples and community throughout Bangladesh. Now Puja season is coming and already there have been a number of incidents of damaging Durga idols. Besides as many as 79 Hindus have been killed in Bangladesh in the last six months. In the last six months alone, there have been 501 organized attacks on Hindus, 56 temples were attacked and 50 idol thefts.
In addition, 13 Hindu community members were raped, 10 were gang-raped, three were killed after the rape, 19 rape attempts, 95 were converted, 21 were tried for conversion and 63 incidents of hurting religious sentiments happened in the country. Hindu teachers are being beaten and harassed with shoe garlands around their necks. In Dhaka, Narayanganj, Gopalganj, Narail, Savar and other places, one incident after another is happening non-stop. Bangladesh government remains a mute spectator only. Even the cases are filed by police, no conviction for communal harassment by Muslims taken place in last 50 years.
In the Chittagong Hill Tract area Buddhist Chakma community is also continuously harassed, attacked and conversion is going on. The recent census of Bangladesh shows that percent of Hindu population has gone further down to 7 percent only.
We also feel that Government of India has failed in its duty to protect Hindus of Bangladesh. While one comment in an insignificant TV show can organize a number of Muslim countries to threat India, our Government does not show that courage for Hindu cause.
During the devastating attacks on Durga Puja festivals last year, the response of India Government was too feeble, even certifying Bangladesh Government for their nonexistent protective action. We expect Government of India corrects that stand and reminds Bangladesh PM her duty to protect the minorities. During this visit Government of India's actions should also send a supportive message to the Hindus of Bangladesh.
We want to remind Ms. Sheikh Hasina that Bangladesh was created on the blood of thousands of Indian soldiers and 2.5 million lives of the Bengali Hindus. So, we insist respectfully that She should –
1)    Stop all atrocities on Hindu Buddhists communities
2)    Arrest and convict all the criminals related to communal violence
3)    Stop harassing Hindus in the name false blasphemy cases.
4)    Apologize to all Hindu teachers and withdraw all false cases.
5)    Stop the anti-Hindu campaign in Islamic Waz and Mehfil
6)    Implement Chittagong Hill Tracts Accord of 1997 fully.
Contact: Mr. A K Pal, PBS, Delhi – 9811625884 and Dr. Mohit Ray, AIRF, Kolkata – 9831085215