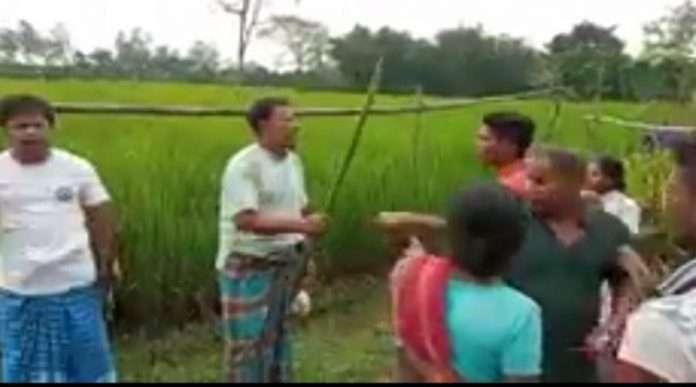 Hill Voice, 8 October 2020, Dinajpur: It has been alleged that the land belonging to Santals have been tried to occupy Barkona in Parbatipur of Dinajpur district. At that time, the land grabber attacked on Santal. Five Santal women were reportedly injured in this attack. The Santals have lodged a written complaint with Parbatipur police station.
According to the complaint, on 8 October 2020, Tuesday at around 9:30 am, around 50 unidentified armed terrorists led by Md. Mahabur Rahman, son of late Abdul Jabbar equipped with local weapon (Da, Shabal, spear, stick) for occupying the land with forcedly.
At that time, when theindigenous Santals tried to oppose them, Md. Mahabur Rahman hit Santal women Shiuli Murmu, wife of Marshall Mardi with sharp weapon (dao) and cut the finger of her right hand. Besides, Minati Mardi, Eva Mardi, Martina Hembrum and Golapi Murmu were also injured in the attack. Among them, Shiuli Murmu and Minati Mardi were also seriously injured and two of them were undergoing threatment at Haldibari Health Complex.
The statement further said that the land grabbers have repeatedly tried to occupy the lands owned by the Santals. On 4 September 2020, the accused also tried to irrigate their planted Aman paddy with shallow machine for the purpose of occupying land of Santal. That time, they also lodged a written complaint with Parbatipur Model Police Station.
Land owner Niren Mardi said they have been occupying in total of 0.75 acres of land including 0.60 acres of land with Khatian 699 of 2059 and 0.15 acres of land with Dag 2062 of Khatian 876 of Bara Chandipur mouza of the upazila since the time of forefathers. But for some time, Md. Mahabur Rahman has been trying to occupy the land by claiming that it has been leased. After searching the land office, they came to know that Mahabur Rahman is not the owner of the land. This land belonged to the indigenous Santal people. So, they are still in possession.