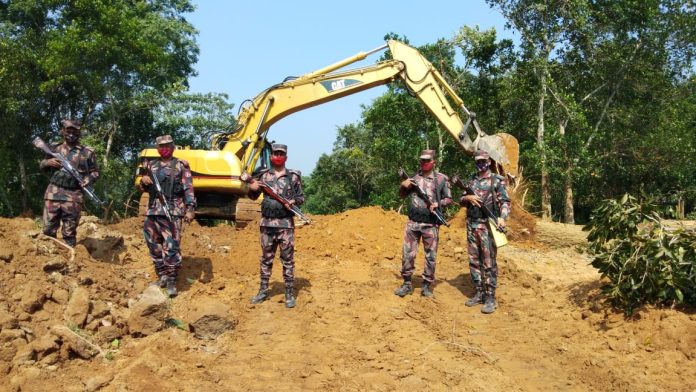 Hill Voice, 7 February 2022 Rangamati: It have been alleged that some teak plantation of Jumma villagers have been cut down in the construction of border road from Ghaskabachhara BGB camp to Srinagar Bazar in 160 No. Toibang mouza of Ward No. 5 of Harina union in Barkal upazila of Rangamati district.
The victims whose teak plantation have been cut down are Rebati Ranjan Chakma (70), son of late Surendra Chakma, Prem Kumar Chakma (42), son of late Hema Ranjan Chakma, Sneha Kumar Chakma (43), son of late Bira Kumar Chakma, Sushil Bikash Chakma (44). son of late Prasanna Kumar Chakma, Pratibha Ranjan Chakma (50), father deceased Jyotish Chandra Chakma, Shantimoy Chakma (46), son of Lalit Kumar Chakma and Sudipta Chakma (42), son of Surja Sen Chakma.
According to local sources, 25 teak trees belonging to 7 Jumma villagers were cut down by the BGB under the leadership of BGB Ghaskabachhara BOP Camp Commander Mohammad Haider during the construction of a 10 feet wide 3 km border road from Ghaskabachhara Camp to Srinagar Bazar. Its present market value is above taka 1 lakh.
It is to be mentioned that before cutting the hills for the road, the camp commander Md. Haider talked to Gyanashree Chakma, a local Karbari from Srinagar Bazar, about the road but the Karbari requested the camp commander not to cut the hills considering the damage to the local villagers. But it is learnt that BGB is currently constructing the road without considering the loss and compensation of the villagers.
On the other hand, out of fear the affected villagers did not want to make any complaint or protest. At present the logged off trees are known to have fallen there.
The road currently under construction will be constructed from Srinagar Bazar to Dhebachhari BGB BOP Camp, from Srinagar Bazar to Shuknachhari BOP Camp and from Srinagar Bazar to Southall BGB BOP Camp.