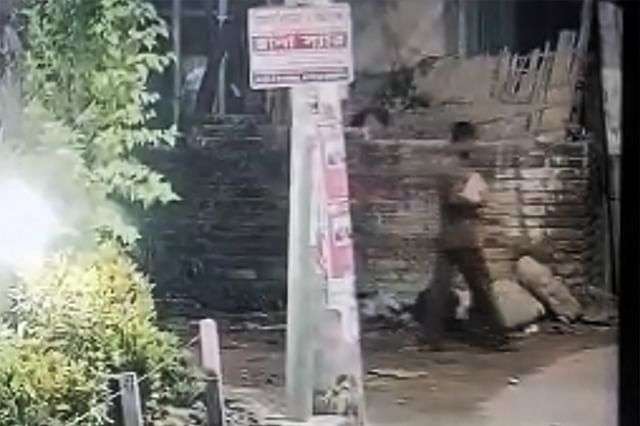 Hill Voice, 21 October 2021, Special Correspondent: Police have finally identified the person who kept the Holy Quran Sharif in the puja mandap in Comilla. It is learnt that his name is Iqbal Hossain (35) and his father's name is Nur Ahmed Alam. His home is in Sujanagar area of Comilla city.
According to police sources, Iqbal Hossain has been identified by examining the CCTV footage. Comilla Superintendent of Police Farooq Ahmed confirmed the matter.
Investigations by multiple police agencies have reportedly made this dramatic progress. The person is currently on the run. Police said they were trying to arrest him.
According to CCTV footage, a young man came out of the Darogabari mosque in Comilla at 2:10 am the night before the incident with something in his hand. An hour later, the same man was seen wandering the streets on the north-east side of the Nanuadighi temporary Puja mandap. 
The youth was identified by examining the CCTV footage, the responsible source of the police said. According to the police and the people involved in the puja mandap, the person carried out communal provocative activities between 2:00 am and 6:30 am.
It may be mentioned that the Holy Quran can be seen in the temporary puja mandap set up by Darpan Sangha on the north bank of Nanua Dighi in Comilla town on Wednesday morning, October 13, the day of Maha Ashtami of Durga Puja. After that, the Muslim devotees attacked various puja mandaps in Comilla city including that mandap alleging insult to Quran Sharif.
After that for three days, massive attacks on puja mandaps and vandalism of idols, business establishment and houses of Hindu community broke out in Comilla, Bandarban, Habiganj, Khulna, Chandpur, Cox's Bazar, Laxmipur, Gazipur, Kurigram, Chittagong, Noakhali, Chapainawabganj, Brahmanbaria, Rajshahi, Sylhet, Rangpur etc. It is learnt that at least 6 people including 3 of Hindu community have been killed in the violence.