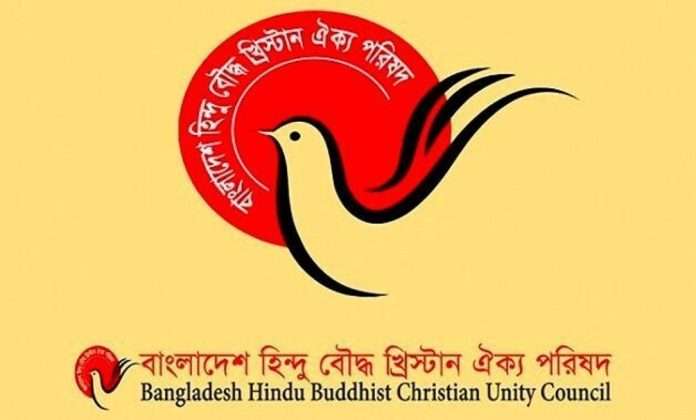 Hill Voice, 7 October 2023, Dhaka: Bangladesh Hindu Buddhist Christian Oikya Parishad strongly demanded to place and pass the 'National Minority Commission' bill in the next session of the Jatiya Sangsad that was promised by Kabir Bin Anwar, Co-chairperson of Election Management Committee of Awami League as well as representative of the head of the government, during the mass hunger strike and mass sit-in event at central Shahid Minar in Dhaka.
Today (October 7, 2023), the demand was made in the resolution adopted at the central committee meeting of Oikya Parishad.
Advocate Rana Dasgupta, general secretary of the organization, delivered his opening speech in the event that was held with prof. Dr. Nimchandra Bhowmik in the chair. Among others presidents and secretaries of all districts and metropolitans along with central leaders spoke in the event held at the Kochi Kachar Mela Auditorium of Segunbagicha in the capital.
In the resolution adopted in the meeting, a concrete roadmap was expected to announce in the speech of the Leader of the Parliament in order to immediately implement the promises made for implementing the minority-friendly various pledges declared for religious-ethnic minorities in the 2018 election manifesto.
Apart from this, on the eve of the upcoming Sarbajajin Durgo Puja festival, the resolution strongly demanded to take proper measures to stop the ongoing communal violence and attacks. It also condemned such unwanted speeches made centring the festival and demanded to withdraw them.
In the central committee meeting of the Oikya Parishad, it has strongly been demanded to reschedule the grand gathering announced by the Awami League at Motijheel in the navel of Dhaka on the upcoming Sharadiyo Durga Puja Day, on October 23.
In the meeting, leaders and activists were called upon to make the grand gathering at the historical Suhrawardy Udyan on November 4, 2023 a success. In this regard, it was decided to call preparatory meetings in all districts, cities, upazilas and form a coordination committee with all the organizations belonging to the Minority Oikya Morcha including Puja Udjapan Parishad at the district level and organize preparatory meetings with representatives of all organizations.
Highlighting the preparations for the upcoming grand mass meeting, Ranjan Karmakar, Coordinator of the Grand-gathering Preparation Committee and presidium member of the organization, spoke in the meeting. In addition, among others, Adv. Gloria Sarkar Jharna MP, Councillor Chitta Ranjan Das, Manindra Kumar Nath, Adv. Shyamal Kumar Roy, Sagar Halder, Mihir Ranjan Howlader, Atul Chandra Mandal, Kripesh Pal, Subhash Chandra Saha, Adv. Dipak Kumar Ghosh, Adv. Dilip Kumar Majhi, Liton Kumar Saha, Subir Chakraborty, Dr. Samir Kumar Das, Freedom Fighter Dilip Kumar Nag, Dipak Chandra Ghosh, Adv. Bikash Roy, Principal Tapas Bakshi, Rotarian Naresh Chandra Bhowmik, Adv. Ranjit Roy, Birendranath Ghosh, Shyamal Das, Prof. Pranab Sarkar and Subhash Chandra Saha spoke in the meeting.