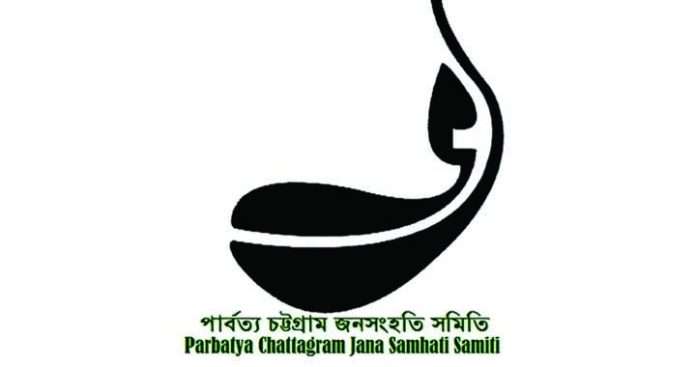 Hill Voice, 27 July 2023, Rangamati: The 11th National Conference of Parbatya Chattagram Jana Samhati Samiti (PCJSS) is going to be held in Rangamati from tomorrow.
According to sources of the PCJSS, the 11th National Conference of the Jana Samhati Samiti will begin at 10:30 am on Friday (July 28) at the Rangamati Khudra Nrigosthi Cultural Institute. This conference will continue till July 29.
Sources have also informed that around 450 representatives and observers comprising representatives of District, Thana and Union branches of Jana Samhati Samiti and members of the Parbatya Chattagram Mahila Samiti, Pahari Chatra Parishad, Hill Women's Federation, Parbatya Chattagram Jubo Samiti, Girisur Shilpi Gosthi, Pahari Sramik Kalyan Forum as observers will attend this national conference.
The conference will begin with the performance of national anthem, party anthem and mass music by Girisur's artists.
Jyotirindra Bodhipriya Larma, president of Jana Samhati Samiti, will hoist the national flag in the opening ceremony of the conference and Menosingh Marma will hoist the party flag.
Apart from this, Jana Samhati Samiti vice president and former MP Ushatan Talukder will deliver welcome speech and Bijay Ketan Chakma, President of MN Larma Memorial Foundation and retired Deputy Secretary and also President of Chittagong Hill Tracts Branch of Bangladesh Adivasi Forum Prakriti Ranjan Chakma will deliver speech.
According to sources, the 10th National Conference of the Jana Samhati Samiti was held in 2015. The 11th National Conference was scheduled to be held in 2018 as per the provisions of holding the National Conference every three years. But due to the prevailing situation and the global corona pandemic, the 11th conference of the organization is going to be held after 8 years.
It is to be noted that on February 15, 1972, Jana Samhati Samiti was established with prominent politician and philanthropist Birendra Kishore Roaza as the president and Manabendra Narayan Larma, the pioneer of the national awakening of the Jumma people of Chittagong Hill Tracts and member of the Constituent Assembly at that time, as the general secretary.