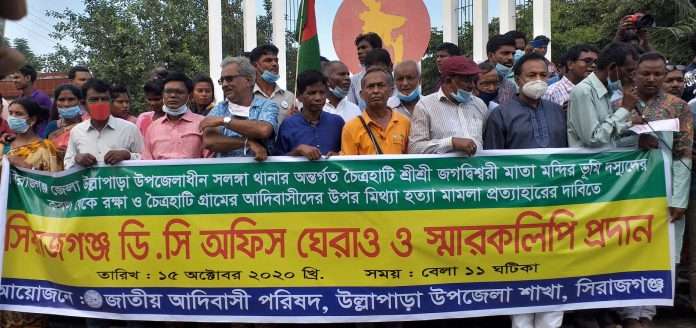 Hill Voice, 16 October 2020, Sirajganj: Sirajganj DC office was surrounded and a memorandum to Prime Minister (PM) was submitted for 10 points demands including withdrawal of false murder case against Idigenous munda community and protecting the Sri Sri Jagadwishwari Mata temple from Land grabbers at Chaitrahati village under Salanga police station in Ullapara upazila of Sirajganj.
Yesterday on 15 October 2020 before submitting the memorandum, a demonstration was held at Mukti Sopan Chattar adjacent to Bazar Station in Sirajganj city on the initiative of Jatiyo Adivasi Parishad, Ullapara Upazila Branch.
Jatiya Adivasi Parishad Ullapara Upazila Committee convener Sushil Mahato presided over the programme while Jatiya Adivasi Parishad Central Committee President Rabindranath Saren, General Secretary Sabin Chandra Munda, Organizing Secretary Bimal Chandra Rajwar, Adivasi Chhatra Parishad Central President Nakul Pahan, Communist Party of Bangladesh Sirajganj District President Siraj Hossain , Workers Party Sirajganj District President Abdur Razzak, Bangladesh Socialist Party (BSD) Naogaon District Coordinator Joynal Abedin Mukul, Bangladesh Puja Udjapan Parishad Pabna District Vice President and Dilpasha Union Parishad Chairman Pranab Kumar Ghosh spoke among others.
Speakers said that indigenous Munda, Unrao, Kurmi, Mahato, Bedia, Mahato, Ganju, Malo, Ghasi Malo, Rabidas, Rai and Bhumij communities have been living in Ullapara, Raiganj, Tarash of Sirajganj, Chatmohar and Bhangra upazilas of Pabna district since ancient times from generation to generation. The people of these communities are devotees of Chaitrahati Sri Sri Jagadvishwari Mata. There is 342 acres of land property in the name of this temple. Hindu religious persons coming from different districts and even from India worship here. Some local land grabbers have seized the temple property forcibly. They are trying to occupy more. They are continuing to attack and fight the indigenous people for the purpose of land grabbing. On April 13 this year, more than a hundred people led by Altab Hossain the former chairman of the Ramkrishnapur Union attacked on the Indigenous community. 6 people were injured. One of them died at the hospital. Meanwhile, on the contrary indigenous people are being harassed with murder cases.
The Munda men have been on the run for six months due to the lawsuit. Alokesh Murari died on October 14 at Bogra Shaheed Ziaur Rahman Medical College Hospital after being injured in an attack by the land grabbers. The family of dead Alokesh Murari strongly demanded punishment for the killers and withdrawal of false murder cases filed in the name of indigenous people and provision of security. At the end of the rally, when the indigenous people with a large procession marched towards to the DC office for surrounding the office, the police barricaded them and then indigenous people hold a sit-in programme with slogans in front of the Shaheed Minar in the street. Later, some delegates went and submitted a memorandum to the deputy commissioner.