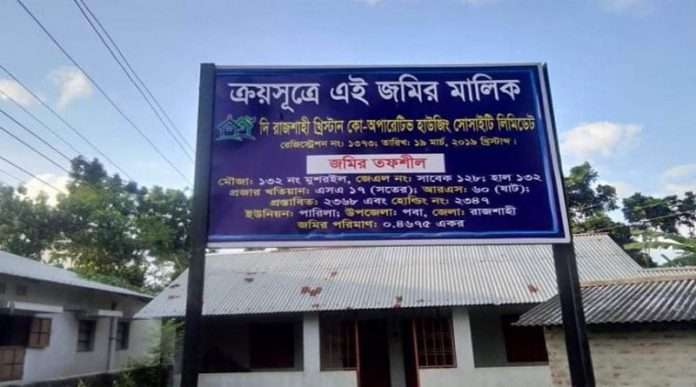 Hill Voice, 10 September 2020, Rajshahi: The Indigenous peoples of Rajshahi have submitted a memorandum to Deputy Commissioner (DC) of Rajshahi district on 9 September 2020 Wednesday morning demanding an end to the eviction of the indigenous people of Mushrail in Ward No. 9 of Pariba Union in Paba Upazila of Rajshahi district.
According to memorandum, indigenous people have been living in Mushrail village for 21 years. Father Paolo Chicheri, the Italian Pime in charge of the Rajshahi Good Shepherd Cathedral, assisted in the settlement of the indigenous people by purchasing the land for housing for the poor and helpless indigenous people. Since then 120 indigenous families have been living in this village.
But on 19 August 2020, a signboard was hung on the property. From this they know that their place of residence has been purchased by The Rajshahi Christian Co-operative Housing Society Limited.
The memorandum further states that Bishop Xavier Rosario of Rajshahi Dharmapradesh sold the property without informing the villagers. Since then the housing society has repeatedly threatened to evict them from their villages. The villagers are suffering from extreme insecurity. Although he requested the bishop in writing to address the matter, no action has been taken so far.
They demanded that the property be registered in their name for free, in the same way that Father Paolo Chicheri bought the land for their residence and gave it to them. They submitted a memorandum to the Deputy Commissioner to make this arrangement.
Other villagers including Ratan Biswas, Edward Marandi, Milton Biswas, Dhiren Biswas and Shankar Kisku of Mushrail village were present during the handing over of the memorandum.