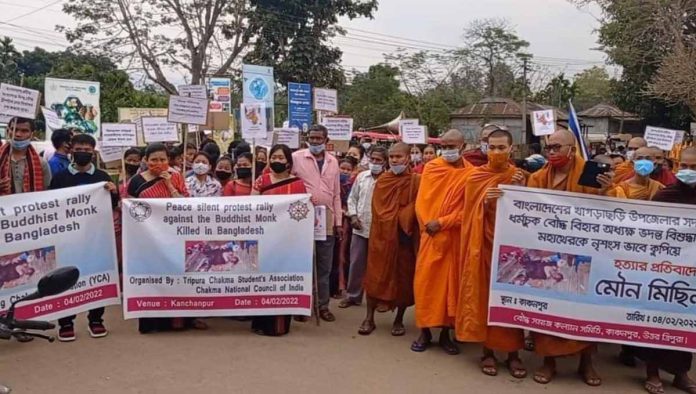 Hill Voice, 5 February 2022, International Desk: Condemning and seeking justice for the brutal stabbing to death of Bishuddha Mahathero in Khagrachari and the attempted stabbing to death of Jnanajyoti Bhikkhu in Chittagong with a sharp weapon, a memorandum was simultaneously submitted by the Tripura Students Association to the Prime Minister of Bangladesh Sheikh Hasina through local Sub-Divisional Magistrate (SDM) in three places.
On Friday (February 4) the memorandum was handed over to Kanchanpur SDM, Longthorai SDM and Kailashahar SDM at the initiative of three of the eight branch organizations of Tripura Chakma Students Association. It is also informed that the other five branch organizations will submit the memorandum within 2/1 days.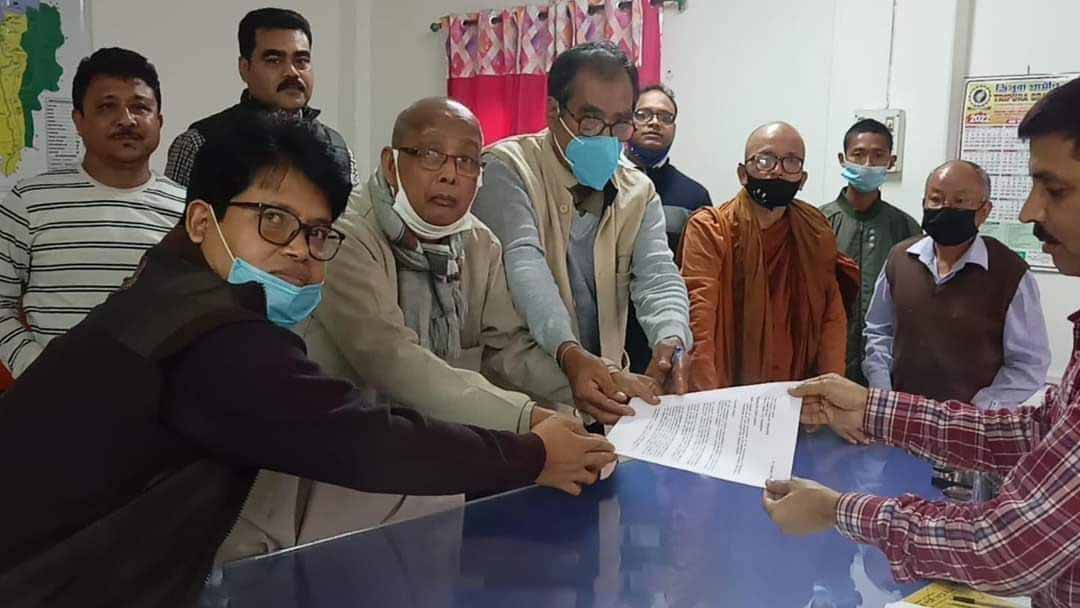 In the memorandum, it has been strongly demanded to take measures to save the lives of non-Muslim population including the indigenous peoples of Bangladesh. The event was attended by TCSA members including Executive Secretary Jadan Kumar Chakma, Rupak Chakma and Subal Chakma, Pradip Chakma from Young Chakma Association (YCA) and Subha Ranjan Chakma from Chakma National Council of India (CNCI).
It may be mentioned that on January 30, Ven. Bishuddha Mahathero, the founder and principal of Dharmasukh Bihar was brutally hacked to death in Khagrachhari Sadar and an attempt was made to stab Bhadanta Gyanjyoti Bhikkhu, the principal of Jumma Chadigang Buddhist monastery in Chittagong with a sharp weapon with an aim to kill.
It is mentioned in the memorandum that oppression, rape, murder and vandalism of temples of Hindus including indigenous peoples by Muslims have become a daily occurrence in Bangladesh. It is demanded to bring under under the law and appropriate punishment of those who are involved in all these crimes. At the same time, Prime Minister Sheikh Hasina was urged from various countries including India to take action on behalf of the government. But no initiative was taken by the government and the police force could not punish the accused under the law.