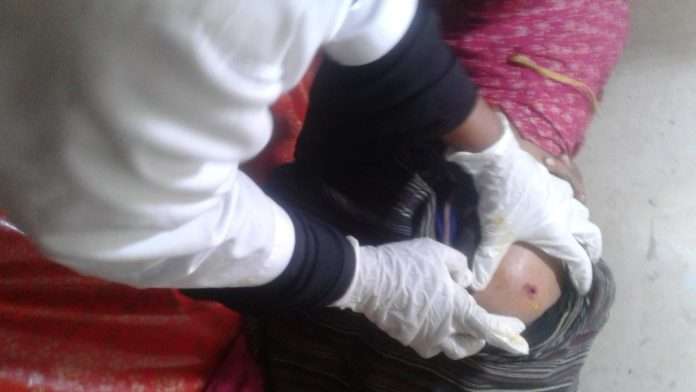 Hill Voice, 16 April 2023, Rangamati: It has been alleged that a pregnant woman has been injured in the training firing of Army and Ansar forces of Karalyachari Army Sub-Zone under Longadu Army Zone of Longadu Upazila under Rangamati District.
The injured Jumma woman has been identified as Nandita Chakma (20), wife of Vishnu Chakma, Village-Karalyachari, Atarakchara Union, Longadu. The bullet reportedly pierced the woman's right buttock.
According to local sources, a group of Army and Ansar personnel of Karalyachari Army sub-zone under Tejaswi Bir Longadu Army Zone was conducting shooting training (target shooting) at one of their firing spots from 8 am today (April 16). After some time, Nandita Chakma, finishing her jum work, was returning home at a distance of at least 300 yards from the firing spot. At that time, one of the bullets fired by the army and Ansar personnel hit Nandita Chakma in the upper part of her leg. Nandita Chakma fell on the spot.
Later, the injured Nandita Chakma was taken to Mainimukh National Hospital in Longadu Sadar where the bullet was extracted by operation. The injured Nandita Chakma is said to be 4/5 months pregnant.
It is to be noted that even earlier in Chittagong Hill Tracts, innocent Jumma villagers have been shot and seriously injured several times in such target shooting by army and BGB.
READ MORE
Even on eve of national festival of Jummas, army's raids and oppression continue in Bilaichari
Extensive search and harassment in Jumma village by army in Bilaichari
Headman signature taken forcibly by army constructing border road in Jurachari