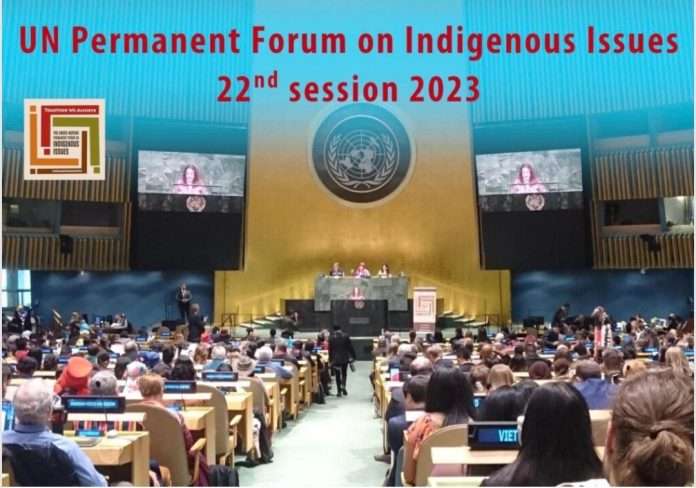 Priti B Chakma
Recently I went to New York to attend the 22nd session of the United Nations Permanent Forum on Indigenous Issues (PFII) which is taking place from April 17 to 28, 2023. I attended it from April 17 -20 and saw a huge number of Indigenous peoples from around the world came to attend it.
The Permanent Forum was established by the United Nations General Assembly in 2000 of which session takes place every year usually between April and May. The Permanent Forum works as a high-level advisory body to the Economic and Social Council with the mandates to deal with indigenous issues related to economic and social development, culture, environment, education, health and human rights and of course, self-determination.
The Permanent Forum consists of 16 expert members comprising eight government representatives and eight indigenous representatives. Representatives of indigenous organizations, academics, human rights activists, representatives of UN specialized agencies, representatives of Member States can attend the sessions of the Permanent Forum as observers and deliver 3 to 5 minutes of statement according to the agenda items.
Since the United Nations is the home of universal human rights, the indigenous peoples can express their hopes, expectations and grievances freely without any fear in the session of the Permanent Forum. Indigenous peoples express their agonies they have, human rights situation they face, development they carry out or they can't carry out, the self-determination they enjoy and everything they want to say.
The member states also attend the session of the Forum where both parties are eager to listen to one another's issue or solution. It is a good platform to say something about which when one cannot express it in his/her own country because of that country's rule and regulation, suppression, oppression and many more factors. The Permanent Forum as well as the United Nations is a platform where indigenous peoples and member states can reconcile gaps, disputes and challenges between them.
I belong to the Chakma community of Jumma Indigenous peoples of Chittagong Hill Tracts (CHT) who have political, economic, social and cultural issues in the country called Bangladesh. I thank Bangladesh for signing an Accord popularly known as CHT Accord with the Parbatya Chattagram Jana Samhati Samiti (PCJSS) in 1997 which could resolve all issues of our Jumma Indigenous peoples if implemented fully in this duration of 25 years.
As the government is playing dilly-dallying trick, the implementation of the Accord is not progressing at all which means our Indigenous peoples' struggle for self-determination is yet to be ensured. That's why I also went to attend the 22nd session of the Forum this year to raise our sufferings and present human rights situation of the CHT in regard to implementation of the CHT Accord. Of course, I would go to say something in favor of the government if it is really doing something good for us.
Bangladesh army, having participation in the UN Peace Keeping Missions, is serving for maintaining peace and human rights in various countries. But the dichotomy is that inside the country, it is the same army and army intelligence agency DGFI (Directorate General of Forces Intelligent in Bangladesh), which have been erecting obstructions against the process of peaceful solution of CHT problem through obstructing the implementation of the CHT Accord and frequently conducting criminalization of indigenous rights activists including the members and supporters of the PCJSS in the CHT.
As a result, the army and DGFI have been committing arbitrary arrest, implicating them in false cases and sending them to jail, extrajudicial killings in the name of crossfire, detention and torture in camps, house searches, violence against women and girls, etc.
I am very aware that the agents of DGFI (Directorate General of Forces Intelligent in Bangladesh) or militaries play crucial role in not implementing the Accord which is very open secret to all. I also know that they criminalize and make surveillance on the Indigenous persons who is vocal for rights, say something that goes against the draconian policy of the government, talk or accompany with foreigners, etc. But I never know that they also go to the Forum and go after the Jumma Indigenous persons who go to attend the Forum.
Here I am explaining what happened when I went to attend the Forum:
On April 18, I gave speech in the afternoon session on Item 3: Special Theme of the Session: Indigenous Peoples, human health, planetary and territorial health and climate change: a rights-based approach. I was not aware if the Bangladesh intelligence agents were following me, but I saw the secretary was listening carefully.
On April 19, Chanchana Chakma, a Jumma activist, was to attend the morning session on Item 5 (d) Human rights dialogue with the Special Rapporteur on the rights of Indigenous Peoples and the Expert Mechanism on the Rights of the Indigenous Peoples. She saw a delegate of Bangladesh government was sitting behind her seat. So, she went to inform the UN staff. The staff came and asked him to show his identity and found that he a member of the delegates of the Bangladesh government.
It is to mention that we were already informed from Bangladesh that a DGFI man, an NSI man and a representative from Prime Minister's office in addition to Secretary of CHT Affairs Ministry Mosammot Hamida Begum and Chairman of the CHT Development Board Nikhil Kumar Chakma were in the delegation. The UN staff asked the DGFI person to move away and sit in the government delegate area.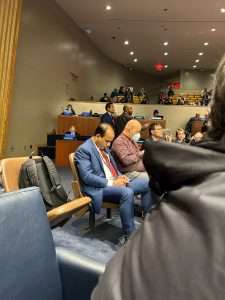 In the after session on the same Item on the same day, I delivered speech. Two Bangladesh agents videoed me.
On April 20, we, the Jumma delegates gathered near the venue where the Permanent Forum takes place. An agent started videoing us. As I came to know about it, I didn't delay to take his picture too and once he saw I was taking his picture, he left the place immediately. Later when we were going to see someone, he followed us up to the lift. Here is his picture:
My writing on this issue is not attacking of the persons of these pictures, but suggesting to use their common sense as they run the country or become distinguished delegates of the government. The Permanent Forum is an open platform for all and everybody speaks whatever he/she want to and the speech or video can easily be found in the google search.
So, why do they go after us? In the CHT, Jumma people cannot to talk to foreigners and if and when they talk, the DGFI agent is sure to go after that Jumma to know what he /she said to the foreigners. But, this Permanent Forum in New York is not the CHT where we cannot talk to foreigners because they all are foreigners. Even the five delegates of the Bangladesh government are also foreigners. So, why do they go after us?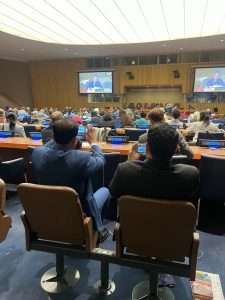 I find some interesting reasons: 1. The way the CHT issue is handled by these agents is not productive at all because they have the brain of suppressing tendency only, not the good way for a good solution. As they have suppressing tendency and racist mindset, they even go to the Permanent Forum where they are not knowledgeable that they can not carry out such activities there, 2. They are paid agents and hence they want to show something great they did and will have a chance of promotion with higher pay, 3. They want to satisfy their bosses  and these bosses' mentalities are almost same as those who are working under them , 4. They are happy to go to New York for shopping with the government money. Even when the government authority asks them to kill us, they are ready to do so. These agents must not be surprised that I already informed the UN authority of the DGFI's nuisance in the Forum venue.
During 2nd world war, there was gestapo of the German Nazis and they were everywhere in Germany. If one said anything against the Nazis, he/she was eliminated. As a result, fall came to them they never expected. If I consider the whole Bangladesh, I find there are gestapos (DGFI, NSI, DB, RAB, etc.) everywhere. I don't want to compare our Prime Minister or Madam Sheikh Hasina with Rudolf Hitler. I respect her a lot as a daughter of the creator of Bangladesh and as Head of the government. She is the only leader who came forward to solve the CHT issue, I must thank her. But, problem is that she is entangled with these brainless DGFI agents and that's why Implementation of the CHT Accord is at deadlock now. Who knows because of these brainless agents, her fall has also become imminent.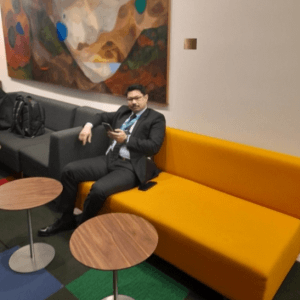 According to the United Nations' preventing and addressing acts of intimidation and reprisal, Member States have a primary responsibility to prevent and refrain from acts of intimidation and reprisals and also have an obligation to protect individuals against reprisals.
As a member state of the United Nations where Bangladesh has an obligation for the protection of individuals against reprisals, sending intelligence personnel (DGFI and NSI) to conduct surveillance on indigenous rights activists in global forums like the United Nations raises the question of whether it is consistent with the human rights principles.
In fact, what the government is doing is never consistent with international human rights principles. This can be said to be a violation of international human rights laws adopted by UN member states including Bangladesh. The Bangladesh government's sending of DGFI and NSI personnel to the United Nations for surveillance of indigenous rights activists has exposed the government's repression on indigenous peoples and can be said to have revealed the government's undemocratic and autocratic policies.
Read More
UNPFII: PCJSS delegate demands development that aligns our culture, environment and CHT Accord