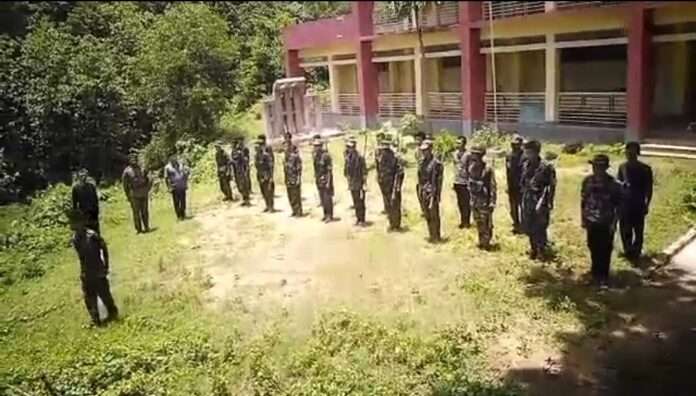 Hill Voice, 8 October 2021, Rangamati: It has been alleged that an innocent Jumma was picked up from Raikhali Union area of Kaptai Upazila under Rangamati Hill District by the army-backed Mog Party and Awami Juba League terrorists and handed over to a nearby army camp. It is learnt that the army later handed over the victim to Chandraghona police station.
The victim as identified as Apan Tanchangya (40), son of late Swapnamoni Tanchangya, from Chakoa Para of Ward No. 7 of Raikhali Union. Apan Tanchangya is known as a farmer by profession.
According to local sources, a group of terrorists led by Sabuj Marma, commander of the Marma National Party known as Mog Party and Pranta Ghosh, a member of the Awami Juba League, dragged Apan Tanchangya away from Karigar Para Bazar in Raikhali Union on 6 October 2021 at around 5:30 pm. Apan Tanchangya was selling vegetables of his farm in the market at that time.
After that, the terrorists of Mog Party and Juba League took Apan Tanchangya on a motorcycle and handed him over to Md. Abdul Kuddus, commander of newly established army camp at Narangiri Mukh Para in Raikhali Union. Narangiri Mukh camp is under the control of Lt. Col. Md. Anwar Zahid, zone commander of 56th Bengal Regiment of Kaptai army zone. The army later handed over Apan Tanchangya to the local Chandraghona police station around 12:00 pm on the same day.
The victims' families do not know why the Mog Party and Juba League terrorists took Apan Tanchangya away and handed him over to the army and the police station later. They suspected that the army has handed over innocent Apan Tanchangya to the police by implicating him in a false and fabricated case.
It is to be mentioned that the local people have been alleging for a long time that the members of the terrorist organization Mog Party with the direct help and cooperation of the army and the local Awami League are stationed at Powaitu Para in Gaindya Union of Rajasthali Upazila. From there, they carry out various terrorist activities in the vicinity and elsewhere, including killings, kidnappings and extortion.