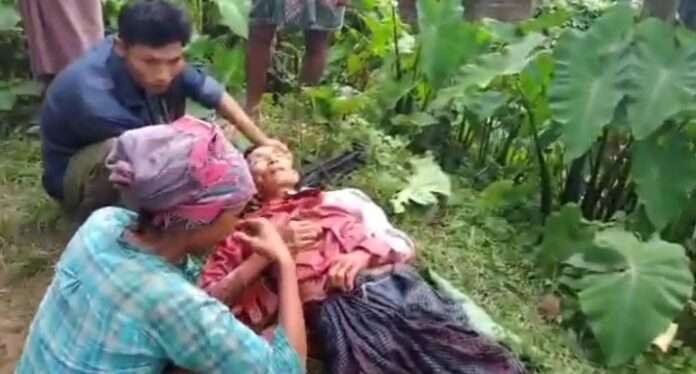 Hill Voice, 30 August 2021, Rangamati: It has been alleged that an innocent Jumma was killed in Wagga Union area of Kaptai upazila under Rangamati Hill District in the firing of Reformist terrorists backed by Bangladesh army. It has been reported that this incident took place on 30th August 2021 at around 5:00 pm-5:30 pm.
The deceased have been identified as Thowai Aung Prue Marma (60), s/o late Thowai Sau Marma from Kukimara Para in Wagga Union.
According to local sources, an auto-rickshaw driver named Sumon Tanchangya (25) from Baratali Para asked a youth of Kukimara Para over telephone today this afternoon to stop a black micro-bas coming toward Kukimara Para.
According to Sumon Tanchangya, a youth from Kukimara stood on the side of the road to stop the microbus and tried to stop the vehicle when it reached there. At that moment the microbus stopped after going some distance. At that time, the Reformist terrorists in the microbus indiscriminately fired at the youth with automatic weapons. However, the youth, who was trying to stop the microbus, was not shot and 60-year-old Thowai Aung Prue Marma, who was standing nearby, was shot dead on the spot.
Immediately after the incident, the people in the area immediately gathered and chased the microbus. The vehicle stopped at the BGB check post in Murali Para and the villagers chased the vehicle till there. At a stage, Reformist terrorists got out from the micro-bus with AK-47 and M-16 rifles and said to the villagers, "Anyone who comes in front will be shot and his skull blown off." After that, the unarmed people could not move forward.
Meanwhile, BGB members at the Murali Para BGB check post were watching the incident and did not play any role, said some villagers, who did not want to be named.
According to eyewitnesses, some Bengalis were also seen in the vehicle with the Reformist terrorists.
However, when some eyewitnesses were asked about the identity of the Reformist members and the Bengalis, they did not agree to say anything about it.
some villagers, who did not want to be named, said that after the killing of an innocent person by a group of the Reformist terrorists expressed deep concern and outrage at the role of BGB members of Murali Para BGB checkpost pretending not to see the incident despite the Reformists being equipped with arms stayed at the checkpost during incident.