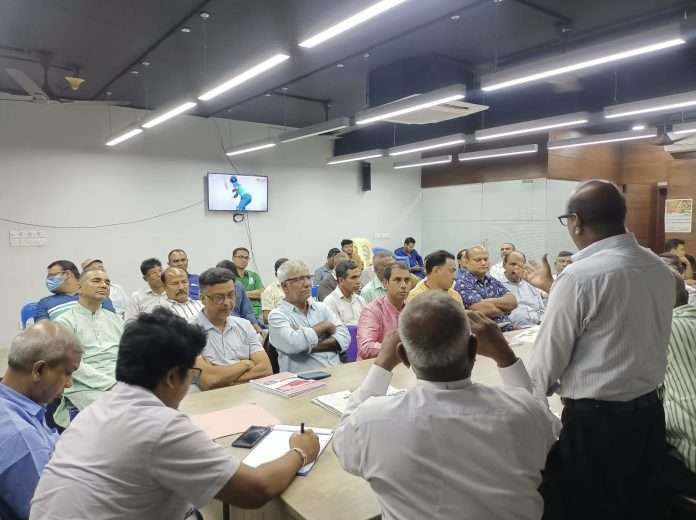 Hill Voice, 15 September 2023, Dhaka: Opinions are expressed in a view-exchange meeting of Dhaka South Metropolitan of Bangladesh Hindu-Buddhist-Christian Oikyo Parishad on mass hunger strike and mass sit-in as well as mass grand rally that if the electoral promises of the ruling party are not fulfilled, the anger of the minorities will affect the elections in the forthcoming parliamentary election
A press release signed by the Office Secretary, Bangladesh Hindu-Buddhist-Christian Oikyo Parishad, Mihir Ranjan Hawlader said that a view exchange meeting of Dhaka South Metropolitan of Oikyo Parishad was held to make the 48 hour mass hunger strike and mass sit-in on next 22-23 September at Central Shahid Minar and mass grand rally program on 6 October at the historic Sohrawardy Udyan to be held success, demanding realisation of the minority interest-friendly commitments made in the last election manifesto of the government, yesterday on Thursday, 14 September in the afternoon.
Chitya Ranjan Dash, President of Dhaka South Metropolitan of Oikyo Parishad, presided over the meeting. Acting general secretary of Metropolitan South Matilal Roy moderated the meeting while Central Joint General Secretary Ad. Shyamal Kumar Roy, Ad. Kishore Ranjan Mandal, Rabindranath Bosu, Cooperative Affairs Secretary Tapan Chakraborty, Assistant Professional Affairs Secretary Subir Dutta, Assistant Organizing Secretary Bappaditya Basu, Dhaka Metropolitan South Leaders Pradip Kumar Das, Chandan Bhowmik, Ramanand Das spoke there. In addition, leaders of different thana committees including Wari, Sutrapur, Kotwali, Lalbagh, Hazaribagh, Chawkbazar, Sabujbagh, Mugda, Shahbagh, Paltan, Demra, Shyampur, Motijheel also spoke in the meeting.
In the meeting, the leaders, expressing their intense anger and dissatisfaction over the non-implementation of the minority-friendly pledges promised in the previous election manifesto of ruling Awami league, said that all the political parties of the country have been using the religious and ethnic minority communities as a pawn of their politics. By abandoning the secular and non-communal ideals of the liberation war, they have turned Bangladesh into a communal state again.
A discriminatory state has been made by abandoning Bangabandhu's state, constitution, legacy and everything. Minorities have been made victims of various political events in an independent state. All the political parties keep silent on the question of the rights of minorities even though minorities are used in the vote politics.
Last election, Awami league made several minority interest pledges in their election manifesto. But they have not yet come forward to fulfil the promised commitments, though another election is about to happen. If the pledges are not met before the upcoming national parliamentary election, the anger in the mind of the minority people would have a negative impact on the imminent election.
In the view exchange meeting, it is called to make a success the 48-hour mass hunger-strike and mass sit-in at Central Shahid Minar to be held on 22-23 September and the grand mass gathering at the historic Suhrawardy Udyan on 6 October 2023.