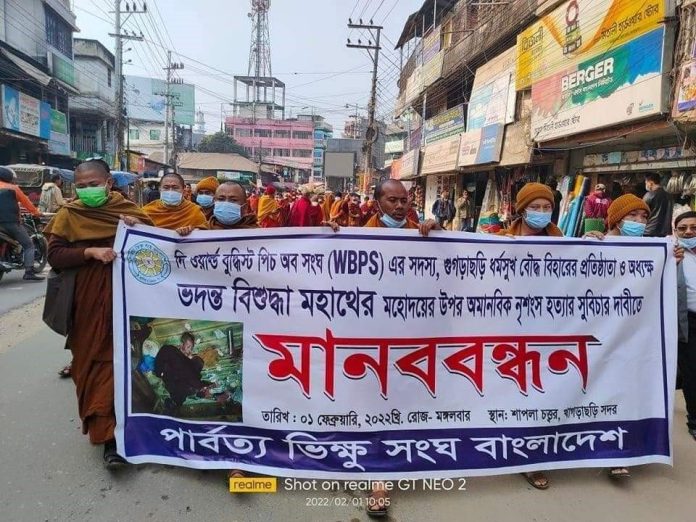 Hill Voice, 1 February 2022, Khagrachari: Parbatya Bhikkhu Sangha Bangladesh has demanded a fair trial for the murder of Bishudhananda Mahathero by expressing solidarity with 10 different Buddhist organizations in a joint human chain held in Khagrachari.
It may be mentioned that Ven. Bishudhananda (Sariputra) Mahathero, the principal of Dharmasukh Bihara in Khagrachari Sadar, was brutally murdered in his own monastery on January 30, 2022.
Besides, attempts have also been made to stab Ven. Gyanajyoti Bhikkhu, the principal of Jumma Chadigong Buddhist Temple in Chittagong, on January 31, 2022, with a sharp weapon in his head. He is currently undergoing medical treatment.
In order to demand a fair trial for this heinous incident, monks and Buddhist men and women devotees from all walks of life participated in a peaceful human chain under the banner of various Buddhist organizations at Shapla Chattar in Khagrachari at 9:00 am today.
Ven. Sugatalankar Thero, General Secretary of the Central Committee of Parbatya Bhikkhu Sangha Bangladesh, along with Panchari Upazila Branch, Matiranga, Laxmichari, Guimara Upazila Branch, Mahalchhari Upazila Branch, Baghaichari Upazila Branch and Longadu Upazila Branch of Khagrachari Bhikkhu Sangha participated in this human chain.
Starting from Shapla Chattar, after going around Khagrachhari Press Club, the protest procession gathered at Shapla Chattar again and the protest rally was held there. In the protest gathering which was presided over by Ven. Sumana Mahathero, President of the Board of Trustees of Parbatya Bhikkhu Sangha Bangladesh and a member of the Advisory Council, various organizations demanded for speedy arrest and exemplary punishment of the perpetrators by expressing strong condemn of the incident.
The Parbatya Bhikkhu Sangha Bangladesh demanded a speedy investigation into the incident and exemplary punishment for the perpetrators.
On the other hand, in a statement signed by Rana Dasgupta, General Secretary of Bangladesh Hindu, Buddhist and Christian Unity Council, the organization protested against the killing of a Buddhist monk in Khagrachari, attempted murder of another monk in Chittagong and forcible occupation of Hindu land by MP Shah Alam.
The statement further said that The Bangladesh Hindu-Buddhist-Christian Unity Council has strongly condemned and protested against killing of Ven. Bishuddha Mahathero, principal of Sadar Dharmasukh Buddhist Temple in Khagrachari of Chittagong Hill Tracts and Balram, a driver of Mishuk in Noakhali's Kompaniganj in the last 36 hours, and vandalizing the Saraswati idols in different parts of the country in the last few days and the eviction of some Hindu families from their lands by Shah Alam, MP of Banari Para in Barisal.