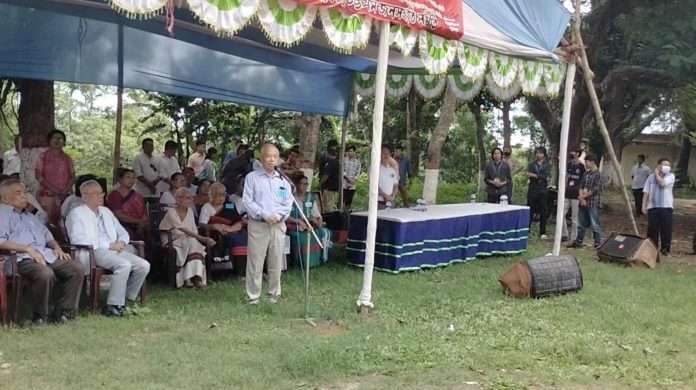 Hill Voice, 28 July 2023, Rangamati: Ushatan Talukder, vice-president of Parbatya Chattagram Jana Samhati Samiti (PCJSS) and former Member of Parliament said that now the hill people are forced to live in a suffocating and extremely insecure conditions. He made this speech at the opening ceremony of the 11th National Conference of the party which started at Rangamati.
Today (Friday, July 28) at 10:30 am the inaugural session of the conference was held at the Rangamati Khudra Nrigosti Sangskritik Institute. The conference will continue till tomorrow July 29.
Jyotirindra Bodhipriya Larma, president of Jana Samhati Samiti hoisted the national flag at the opening session of the conference, while Meyonching Marma hoisted the party flag. At the end of the inaugural session, Jyotirindra Bodhipriya Larma inaugurated the conference by releasing a bunch of balloons. However, he did not speak in the event.
Madhabilata Chakma, central member of Jana Samhati Samiti, presided over the event and Vice-president of Jana Sanhati Samiti and former MP Ushatan Talukder delivered the welcome speech. Among others spoke in the event were Bijoy Keton Chakma, president of MN Larma Memorial Foundation, retired deputy secretary Prakriti Ranjan Chakma, president of Bangladesh Adivasi Forum, Chittagong Hill tracts Branch and Shishir Chakma, eminent cultural organizer and poet.
Vice-president Ushatan Talukder in his welcome speech said that 'Though there are fundamental rights, right of assembly, right to operate political activities in the constitution of Bangladesh, we cannot operate our political activities properly. Especially, after signing the Accord we including the hill people hoped that there would be a good and democratic life that we would support to operate our activities properly. But it happened completely opposite. We cannot do that. So, after 26 years, the CHT Accord remains still unimplemented. The CHT Accord implementation process is kept aside. So, today if we notice their face of the hill people, the Jumma people, and the mass present here today, it easily realised that they are forced to live in a suffocating and extremely insecure life.'
He also said that 'At present on one hand the Accord is not being implemented, the situation is in turmoil all over the world. There is no saying for certain when the nuclear war or the third world war will start because of the war between Ukraine and Russia. On the other hand, due to this war there is economic depression all over the world. Because of that, economic recession has been in Bangladesh too. Resulting, people are forced to live a miserable life now due to rising prices of goods and reduced purchasing capacity of people.'
He said, now we will go ahead with the slogan 'Join the larger movement for the implementation of CHT Accord'. We will move forward with the movement to implement this Accord again and will not let it unimplemented. The party and Jumma people had to give a lot of blood for signing the Accord. This blood let not be gone in vain and the party and the Jumma people are determined to bring back rights of the Accord.'
Addressing the government, he said, 'My appeal on behalf of everyone – come forward, no more hesitation, no more delay, no more excuses, no more ego, we are not foreigners, we are citizens of this Bangladesh, we have signed the accord with trust and faith in you. You should not let this trust and faith go in vain.'
He said, 'Hill people are peaceful. We want to live in peace. We, as people want to live with our national existence, land rights and our basic rights, our customs. Nothing beyond that. Only through the implementation of the Accord will it be solved. There is no alternative but to do it.
Prakriti Ranjan Chakma said, 'The CHT Accord is not a matter of hiding thing. It has been spread and known all over the world. This Accord has gained importance not only in our country, but also in Europe and America including our neighbouring friendly countries. We have to come together to achieve our goal.'
Shishir Chakma said, 'Those of us who are living in the Chittagong Hill Tracts are spending the days through great crisis. 26 years of the CHT Accord have passed. Earlier, Jana Samhati Samiti had to go in an armed struggle for the right to self-determination, for the sake of Jumma people's rights, human rights, when their back was stuck against the wall. They had to make huge sacrifice and give blood and life for a long period of time. Manabendra Narayan Larma, the founder of Jana Samhati Samiti also had to give his life.'
He said that 'The Jana Samhati Samiti signed the CHT Accord in 1997 in terms of necessity. It has been done in a special situation and as JSS felt it was necessary, it has been signed. But today, 26 years on, in fact the government is opposing and attempts are now being taken to raise question about its entity.'
Shishir Chakma also said, 'We have lost the right for movement safely in the Chittagong Hill Tracts. Today, that right has been taken away from us. We are insecure today in every moment. A frightening situation has been created in Chittagong Hill Tracts and kept doing it. This situation must be overcome. For this, not only JSS but also every people here must have strong unity.'
As per PCJSS, around 450 representatives and observers comprising representatives of district, thana and union branches of Jana Samhati Samiti and members of Parbatya Chattagran Mahila Samiti, Pahari Chatra Parishad, Hill Women's Federation, Parbatya Chattagram Juba Samiti, Girisur Shilpi Gosti, Pahari Sramik Kalyan Forum as observers are attending this conference.
According to sources, the 10th National Conference of the Jana Samhati Samiti was held in 2015. The 11th National Conference was scheduled to be held in 2018 as per the provisions of holding the National Conference every three years. But due to the prevailing situation and the global corona pandemic, the 11th conference of the organization is being held after 8 years.
It is to be noted that on February 15, 1972, Jana Samhati Samiti was established with prominent politician and philanthropist Birendra Kishore Roaza as the president and Manabendra Narayan Larma, the pioneer of the national awakening of the Jumma people of Chittagong Hill Tracts and member of the Constituent Assembly at that time, as the general secretary.