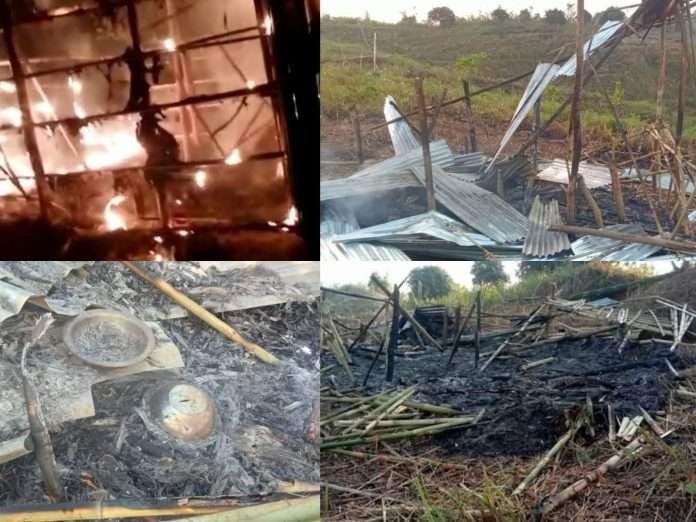 Hill Voice, 2 January 2023, Bandarban: Land grabber lease company 'Lama Rubber Industries Ltd' have again set fire and attacked Rengyen Karbari Para (village) of Soroi Union in Lama Upejlar of Bandarban district. In this attack, 7 houses of Mro villagers of Rengyen Karbari Para were completely burnt down and 2 houses were demolished.
According to local sources, on Monday (January 2) around 1:00 am today, more than 150 outsiders including rubber plantation workers and 4 truckloads of outsider lalborers led by Delwar, Nuru and Mohsin, who are in charge of Lama Rubber Industries conducted arson and attack at Rengen Karbari Para of Sarai Union and vandalized and looted houses.
In this attack, 7 houses of Mro villagers including Chamrum Mro, Singchyong Mro, Langnok Mro and Ringyong Mro of Rengyen Karbari Para were set on fire and the houses of Rengyung Mro and Two Thang Mro were completely demolished. Besides, the attackers looted 3 mobiles, chickens, goats etc. from Mro villagers.
11 time attacks since April 2022:
It should be noted that on April 26, 2022, Lama Rubber Industries set fire to 350 acres of Jum-farmong land, plantations and village forests belonging to the indigenous people of Longkam Mro Karbari Para, Joychandra Tripura Karbari Para and Rengyen Mro Karbari Para in Soroi Union of Lama Upazila.
As a result of the burning of 350 acres of Jum-farming land, plantations and village forests in three villages of Lama, the livelihood of 200 villagers of 39 families is facing a crisis of food and drinking water, while the natural environment has been severely damaged including the death of wild animals.
The arson, assault and conspiratorial misdeeds of the land-grabber Lama Rubber Industries did not stop here. After the 26 April 2022 attack, at least 11 times more attacks and 2 fabricated cases were filed in 2022. These attacks and conspiratorial activities of Lama Rubber Industries are mentioned below-
1. On July 13, Kamal Uddin Moazzem Hossain, Uhir Uddin's gang of of Lama Rubber Industries attacked the office of Bhumi Raksha Sangram Committee convener, Rangdhajan Tripura, Doluchari Headman with intent to kill him.
2. On August 10, hired laborers of the rubber company attacked and looted and vandalized the newly built Ashoka Buddhist Vihara in Rengyen Mro Karbari Para.
3. On August 14, Deputy Manager Abdul Malek Lama filed a case against 11 villagers including Lama Sarai Bhumi Raksha Sangam Committee convener Rangdhajan Tripura with the Senior Judicial Magistrate Court in Bandarban.
4. On September 1, land grabbers looted more than 25 maunds of sweet pumpkins from sweet pumpkin farm of Mro villagers in Longkam Para.
5. On September 4, another false case (CR Case No-313/2022) was filed against 14 villagers including Rangdhajan Tripura and Longkom Mro, who were involved in the land protection movement, by Abdul Malek, Deputy Manager of Lama Rubber Industries Limited.
6. On September 6, rubber company workers attempted to kill Rengyen Mro Karbari villagers by pouring poison into their water source Kalaiya Jhiri in Soroi Union.
7. On September 24, people from the rubber company cut down about 300 banana trees of Rengyung Mro, a resident of Rengyen Mro Karbari Para.
8. On 25 September, SI Shamim of Lama Police Station ordered the villagers engaged in school construction work to stop the construction work.
9. On September 27, the district administration and the police issued a ban on both sides to enter the area due to the dispute between the rubber company and the villagers under section 144/45 and despite the High Court's ban, the people of the rubber company cut the forest on October 2.
10. From October 23 to October 26 the people of Lama Rubber Industries cut down 70 mango trees of Mro villagers and approximately 20 acres of village forest in Soroi Union.
11. On January 2, 2023, 7 houses of Mro villagers in Rengyen Karbari Para were completely burnt down and 2 houses were demolished.
Background of Land grabber Lama Rubber Company:
In the eighties and nineties, land leases for 40 year were given to non-residents in the name of rubber plantations, forest plantation, fruit plantations and horticulture in Bandarban Hill District. Around 40,077 acres of land has been leased to the residents of plain districts (Dhaka, Chittagong, Rajshahi, Khulna, Barisal and Sylhet divisions) in Bandarban Sadar, Lama, Alikdam and Naikhyongchari upazilas against a total of 1605 rubber plots and horticulture plots at 25 acres per plot.
Lease takers include military-civilian officials and their relatives, political leaders, various influential groups. The leased land includes traditional Jum-farming land of indigenous Jum cultivators. Even in some cases, recorded and traditionally occupied lands of Jumma people were also given to lease. As a result, hundreds of Jumma residents are losing their Jumma fields and are being evicted from their homesteads.
An example of such a project is the lease granted to 64 military-civilian bureaucrats and influential persons in Soroi Union of Lama Upazila, who formed a rubber company called Lama Rubber Industries Limited.
The owners of Lama Rubber Industries Limited include a total of 64 military and civilian bureaucrats and influential persons including former chairman of Public Service Commission SM Al Hossaini, former chief secretary KM Rabbani, former secretary Kamaluddin, wife of Dr. Mohammad Farid, KM Rabbani's younger brother Captain (retd.) Habibi Rabbani, former MD of Rupali Bank Rafiqul Karim and four members of his family.
1,600 acres of land in 64 plots of 25 acres per plot were leased to these 64 lessees. But the Lama Rubber Company, under the support of the security forces and the administration, has expropriated about 3,500 acres of land including Jum-farming land, Mouza land and village forests of three Jumma villages in place of 1,600 acres of leased land. Hence, the livelihood and homesteads of 39 families in three villages have now fallen into danger. There is a provision for cancellation of these leases in the Chittagong Hill Tracts Accord of 1997. Besides, there is condition in lease agreement that the lease will be canceled if the land is not used within 5 years after taking lease for the purpose for which it was leased. But as these provisions are not implemented, the lease holders continue to occupy the land illegally.