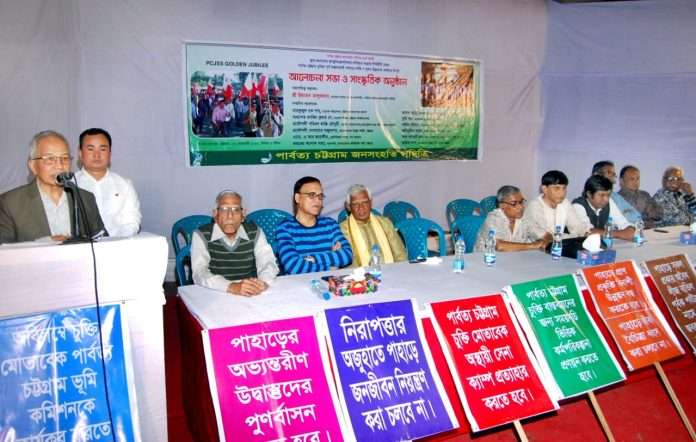 Hill Voice, 18 February 2023, Chittagong: In a discussion meeting held in Chittagong on the occasion of the golden jubilee and 51st foundaing anniversary of Parbatya Chattagram Jana Samhati Samiti (PCJSS), Ushatan Talukdar, Vice-President of PCJSS and former Member of Parliament, said, "Don't push the hill people away, rather hold them close. Don't give only lip service for implementation of Chittagong Hill Tracts (CHT) Accord, it should be implemented in practice.
Tomorrow (February 17) at 3:00 pm, in a discussion meeting organized by the PCJSS marking its golden jubilee and 51st founding anniversary at JM Sen Hall in Chittagong with the motto 'Long live the struggle for self-determination of the Jumma people, the full implementation of Chittagong Hill Tracts is the only way to peace and balanced development in the hills', Mr. Ushatan Talukder said these opinions while speaking as the president of the discussion meeting.
Former Director of Chittagong Chamber of Commerce Mahfuzul Haque Shah, Chittagong Metropolitan President of Bangladesh Hindu Buddhist Christian Oikya Parishad, Eng. Parimal Kanti Chowdhury, President of the Communist Party of Bangladesh Comrade Ashok Saha, Chittagong Metropolitan General Secretary of Oikya Parishad Nitai Prasad Ghosh, Chittagong South District President of Oikya Parishad Tapas Hor and General Secretary Professor Pradeep Kumar Chowdhury, Chittagong General Secretary of Workers Party of Bangladesh Sharif Chauhan, Organizing Secretary of Jatiya Samajtantrik Dal (JASAD) Jasim Uddin Badal, Chittagong leader of Bangladesh Samajtantrik Dal (Basad) Al Qaderi Joy, Chittagong general secretary of Oikya NAP Ajit Das et al. were present as discussants
Dishan Tanchangya, Central Vice-President of Pahari Sramik Kalyan Forum, and Anil Bikash Chakma moderated the discussion meeting.
Vice-president of PCJSS and former MP Ushatan Talukder said, if the CHT are in turmoil, this Bengal cannot remain calm. So, let's involve sixteen crore people of Bengal in our movement for this right. You don't push the Jumma people away, you have to hold them close to your chest. They don't want much. They want to live in their own land with security of life. The way of survival of this Jumma people should not be closed. No more delay, no delay, all of you come forward sincerely to implement the CHT Accord.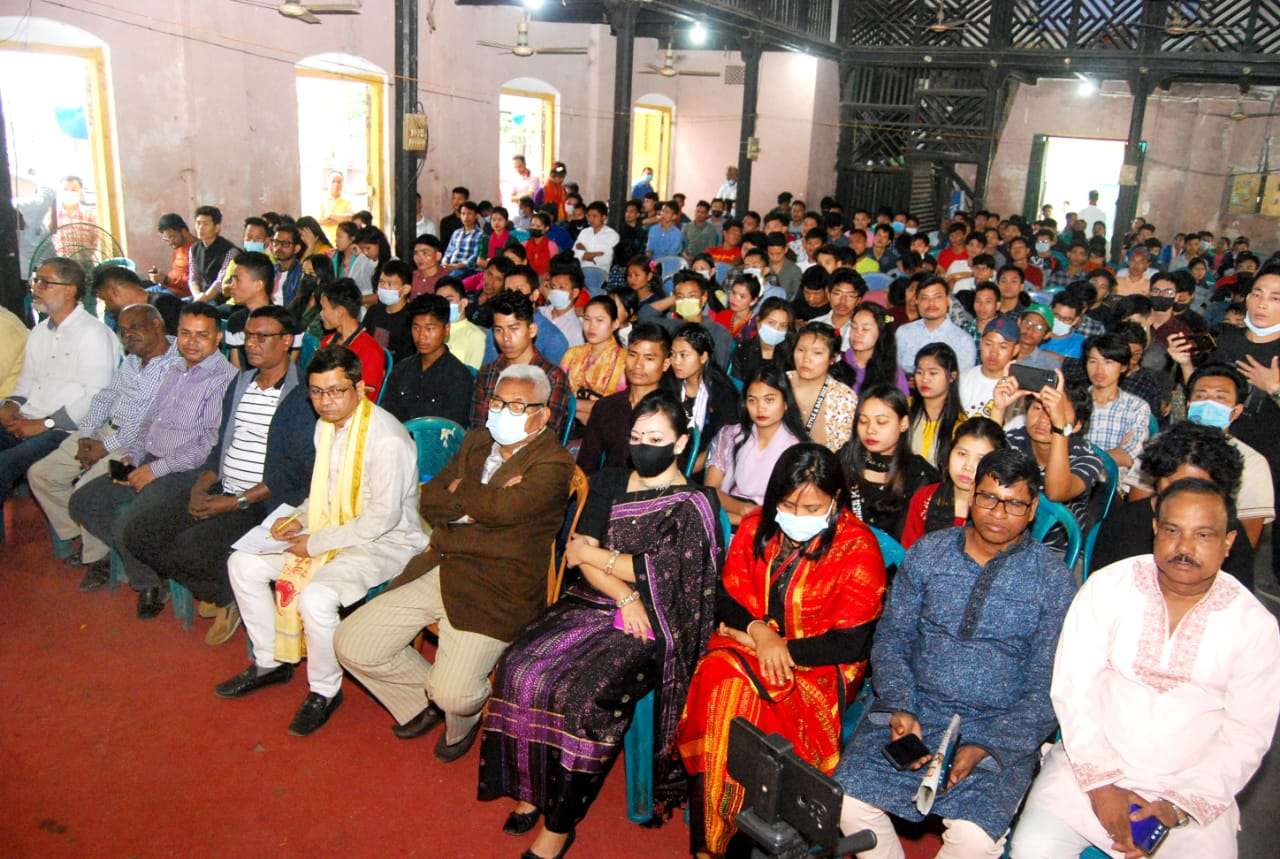 Mr. Talukdar also said, 'Organization is a tool for achieving objectives. A party can establish its political, economic and social rights through organization. The PCJSS was established on February 15, 1972 with that purpose. This party was formed due to the demand of history and due to reality.
He further said that wounds like Partition, Kaptai Dam, Bengalisation of the Constitution plagued the Jumma people. MN Larma and his fellows came forward to save these disenfranchised people from the death trap. After two and half decade long of armed struggle, the historic CHT Accord was signed on 2 December 1997. But it is seen that even after 25 years, the government that signed the agreement itself has not implemented the basic aspects of the agreement. Law and order, forestry, land rights, refugee and displaced family rehabilitation are not provided to Jumma people. It is not enough to say that we are implementing the agreement, but the general public understands what has actually happened. For this, you have to come forward with sincerity.
Mr. Talukdar also said that the situation in CHT is very fragile. Jumma people are forced to leave their land due to insecurity. The problem of CHT is a political problem, the government has also recognized that and it is the demand of time to solve this problem peacefully, democratically and constitutionally. It is possible only through full and proper implementation of CHT Accord. Until the conscious citizens of the country come forward, you and I will have to explain the importance of this agreement. Why this government considers Jumma people as enemies today?
It is to be noted that the discussion meeting was started with the performance of the party song and the National Anthem. On this occasion, the national anthem and party anthem were performed by the artists of the cultural organization of indigenous students of Chittagong University, Randevu Art Group.
After the discussion meeting, the golden jubilee and 51st foundation anniversary program of PCJSS ended with a wonderful cultural program organized by Randevu artist group.