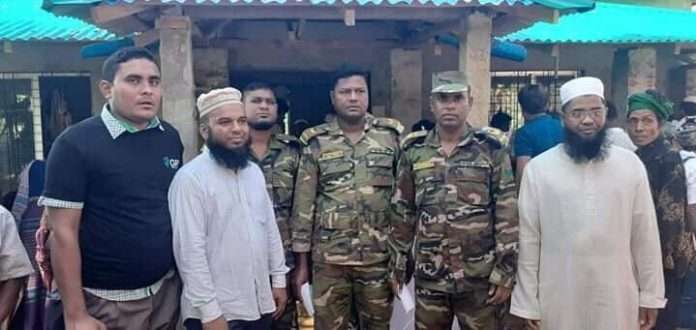 Hill Voice, 14 June 2020, Special Report:  The blue-print directed to bring the indigenous Jumma people under planned conversion to Islam is being executed through some Islamic fundamentalist and anti-Jumma Islamic groups in Chittagong Hill Tracts (CHT). The plan or program has though begun long ago, its gravity of momentous activities seems to have been accelerated to a wide-range extent in recent days. As the conversion process is undergoing locally in the three hill districts of the CHT, so is the process of initiating the indigenous Jumma children to Islam is being carried out by taking them out side CHT by luring their parents to good education.
In 2017, as per the reports and news published through various mass media including the Dhaka Tribune, Buddhistdoor.net and heraldmalayasia.com, within the 7-year span from January 2010 to January 2017, 72 indigenous Jumma children have been rescued by the police alone from the hands of Islamic clique involved in the religious conversion. Apart from this, that many indigenous families and children have fallen prey to the Islamic clique is easy a job to comprehend. It is learnt that the activities of religious conversion have spurred to high degree in recent times.
In recent days, from the reports, data and information published in various domestic and international media, social media, videos and posts the trend has appeared more vividly. During the last a few years, especially, soon after outbreak of COVID-19 pandemic, news has been received on wide-scale conversion of indigenous Jumma people to Islam in various areas including the Alikadam Upazilla of Bandarban hill district wherein, involvement of the army by consent and assistance has been acceded to.
Apparently, the religious conversion process may seem to be an isolated or ordinary affair but a steady inner look will unearth the process to have been a part of planned and well-coordinated lot. That there has been the hands of fundamentalists and communal groups in the program is needless to be mentioned. At the same time, it has also appeared to be crystal clear that the army has been indulging the process closely. On the other hand, it is also paradoxical that these happenings are taking place under the eyes of the local Jumma leaders of the ruling party and authority. Of course, involvement of the army and administration in the acts of conversion and cultural aggression has also been noticed in different course of time earlier.
On 4 June 2020, Nipon Tripura in his Facebook status wrote: 'In Bandarban, the town of communal harmony, while making use of the financial insolvency, the history of unabated conversion of the remote-living Tripuras to Islam is a tale of many years old. But now, that has got increased by many times.
On the same day, Longduksa Mougro M, indicating the issue in his Facebook status wrote: 'The easy and simple minded indigenous Jumma people are being converted to Islam by deception. How to do 'Monajat' (taking pose and saying prayers) is being taught. It is a part of Islamization in CHT. It has been learnt that the government, itself, is involved in the mission. Amid COVID-19 outbreak, a great pomp with the Islamization & Bengalization Project has overwhelmed the atmosphere of Alikadam in Bandarban.'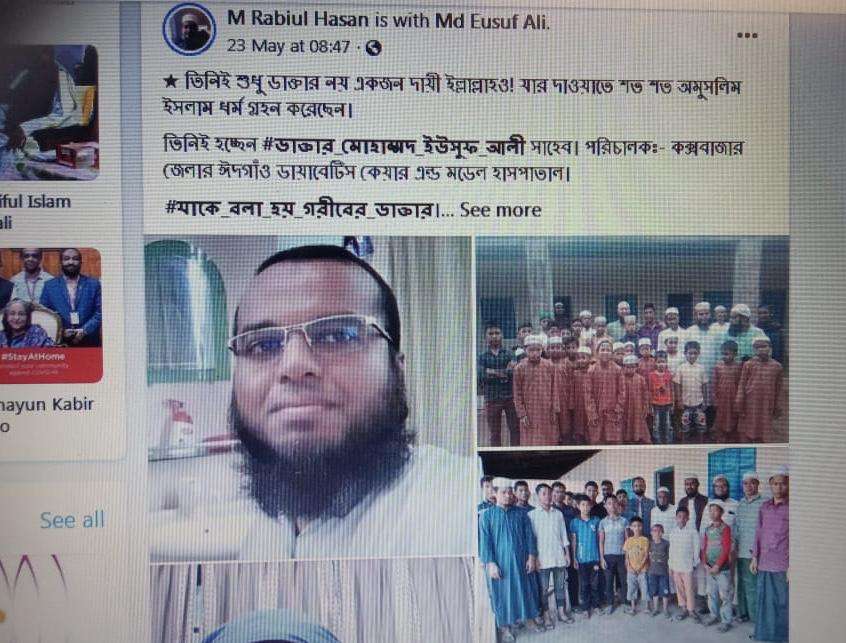 Marginalization, Poverty and Illiteracy: Vulnerability to Religious Conversion
In the country, the CHT is one of the areas that has been, for long, deprived of facilities, economically backward, neglected and politically instable and suppressed. As the region had to become a victim of extreme negligence, exploitation, deprivation and discrimination during the regime of Islamic state Pakistan, even after independence of Bangladesh, so as the holistic lifestyle of people, had to pass all through a fragile situation due to oppression and suppression of political rights and movement of the people of this region.
On 2 December 1997, though the CHT Accord 97 was signed between Bangladesh government Parbatya Chattagram Jana Samhati Samiti (PCJSS) aiming at perennial solution to the CHT crisis, resolution to the conflict and establishing rights of the permanent residents including the Jumma people, even over the last 23 years, the Accord has not been fully and even the key issues have not been precisely implemented. Consequently, solution to the CHT crisis, peace in the localities and balanced development of people and development of political, economic, social and cultural lifestyles of the Jumma people have remained in that of the darkness.
Especially, Awami League, the party that had signed the Accord, despite being in the state power at a stretch for one decade and on top of all, due to stepping upon the role of violating and contradicting to the Accord, there came down uncertainty, instability, despair and resentment along the public life in CHT. In this circumstance, illegal occupation of lands from Jumma people, eviction from their ancestral lands and homesteads, meting out atrocities upon them, deprivation and so on being carried out by various quarters of vested interest have got enhanced. Consequently, this has made the life and livelihood of many other sections of indigenous people go towards marginal condition.
The Islamic fundamentalist clique has derived enthusiasm in implementing their blue-print of religious conversion from the two sides of reality that is, in one hand, marginal condition of the indigenous people, social isolation, financial catastrophy, their illiteracy and ignorance while extended favoritism and patronization of the government, administration and local interest-hunting groups, on the other.
Has Bandarban become a paradise to the perpetrators of religious conversion?
Though all the three hill districts of CHT are the target and working zone to the Islamic fundamentalist perpetrators of religious conversion, yet in the recent days, the activities of getting the poverty-ridden indigenous people converted to Islam has increased to an alarming stage. It appears that Bandarban has become a paradise to the perpetrators of religious conversion. According to one source, in Alikadam, Rowangchhari and Lama including Bandarban municipality, there are more than 10 Jumma Muslim localities in various areas in Bandarban hill district. The converted Jumma Muslims are called 'Nou Muslims' or 'Tribal Muslims.' Centering these localities as the base points and by giving some facilities to some selected Nou Muslims, effort is being made to expand the conversion program through them.
Allegations with various evidences reveal the active involvement of Imam of Alikadam Upazilla Jam-E-Masjid Moulana AKM Ayub Khan, Dr. Yusif Ali, Hafez Moulana Salamatullah, former Chairman of Alikadam Sadar Union Parishad Farid Ahmmed, Chairman of Alikadam Upazila Parishad Abul Kalam, Mohammad Zahid, Sahab Uddin, Moulana Imran Habibi and Mohammad Ayub, among others.
On the other hand, among the Nou Muslims some persons who are actively involved in the religious conversion have been identified as, one converted Chakma Muslim named Mohammad Shahid, Moulavi Helal Uddin Tripura, Vice-President of Upajatyo Muslim Adarsha Sangha (Tribal Muslim Ideal Congregation), converted Muslim Ibrahim Tripura, General Secretary of Upajatiyo Muslim Adarsha Sangha, converted Muslim and Teacher of Muslim Para Model Academy Saiful Islam Tripura, Abu Bakar Siddique (earlier name Atirom Tripura), Mohammad Abdur Rahim (earlier name Vincent Chakma), Mohammad Abdur Rahman (earlier name Bhanda Chakma) and Mohammad Ibrahim (earlier name Bhabat Chakma), among others.
Recently, a video showing some ordinary Jumma people including children and women were being trained on Monajat (a posture of saying prayers) in a banana garden of a contour in Alikadam of Bandarban hill district. In the video clip, Moulana AKM Ayub Khan, Imam of Alikadam Upazilla Parishad Jam-e-Masjid is seen conducting the Monajat event. In this event, some 10/11 Jumma people of various ages including 3 children and 4 females of various ages are seen receiving Monajat training. A good number of Muslim Bengalis also participated in the occasion.
In another video clip recorded and articulated by Moulana AKM Ayub Khan, Imam of the Alikadam Upazilla Porishad Jam-e-Masjid, it is learnt that meanwhile, a village named 'Islampur' has already been established with the converted Muslims at 11 Kilometer-point of Thanchi road and that the 'Muslim Para Model Academy' has been established there. These Masjid and Madrasa have been established there so that the converted Muslims, while forgetting their own tradition and culture, can become orthodox Muslims. An organization named 'Upajatiyo Muslim Adarsha Sangha' has also been constituted. Even the adolescent girls of these indigenous converted Muslim families are being directly encouraged to give in marriage to the Muslim Bengali youths. It is learnt that there are at least 45 indigenous converted Muslim families at 11 Kilometer-point of the Thanchi road.
According to the local source, it is only two-month back, 5 indigenous Marma families of Chhahlawa Para (Shilbandha village) of Aleikhyong Union under Rowangchhari Upazila of Bandarban hill district have been converted to Islam. The converted families are: (1) Aungoching Marma (family members-5); (2) Khyaisathui Marma (family members-4); (3) Regyaching Marma (family members-6); (4) Singnu Maung Marma (family members-5) – a former UP member whose daughter had married a Muslim Bengali man 10-15 years ago; and (5) Loisang Mong Marma (family members-7).
It has been learnt that none of them has accepted Islam to the best knowledge or being keen to become a Muslim. Taking advantage of their poverty, they were converted to Islam by tricking. Two sons of Regyaching Marma and Aungyoching Marma respectively, were admitted to Madrasa luring them to bright future and in exchange, they were included as Muslims. It has been learnt that National Identity Cards of the victims were collected from them on pretext of giving Solar Panel to them following which their names were included as Muslims in the list.
Dr. Yusuf Ali and Moulana AKM Ayub Khan: King Pins?
Based on information and data as received from local and various other sources, in converting the indigenous Jumma people to Islam, the persons who are being noticed to be the most active in recent times are: Dr. Yusuf Ali, an outsider physician and Moulana AKM Ayub Khan, the Imam of Alikadam Upazilla Porishad Jam-e-Masjid. Taking advantage of their neediness and luring them to various facilities, the duo have been trying to convert the indigenous peoples and are extending helps including in doing formalities with Affidavit in the court of law and other legal and financial assistance to the indigenous peoples, the would be Muslims.
On a look into, it has been learnt that Dr. Yusuf Ali's village residence is in Bogura district but he resides in Cox's Bazaar. He is founder of Idgah Model Hospital & Diabetes Center and holding responsibilities as the Executive Director and Residential Surgeon there. It has been learnt that in various other places including Alikadam of Bandarban wherever he gets opportunity, he ensures his active help & assistance, counselling & consultancy and patronization very calculatively and tactfully in converting the indigenous Jumma people to Islam. On the other hand, as he, himself, a physician and financially capable, it is for this, more often he is converting the indigenous peoples to Islam at providing treatment free of cost or some financial assistance.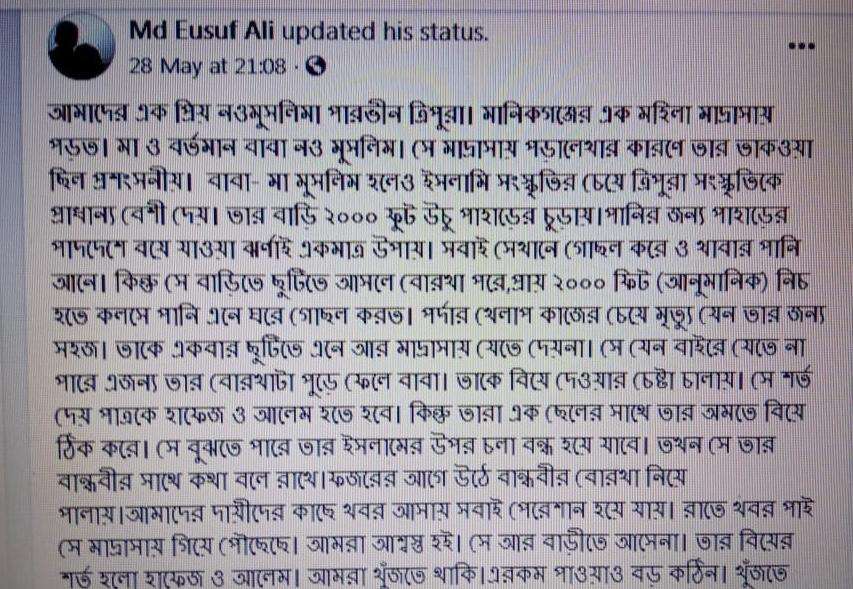 Having a selfie together with Dr. Mong A Nu Chak, on 3 June 2020, Dr. Yusuf Ali posted a Facebook status in which he wrote: 'We hate racism but believe in brotherhood.' But that taking advantage of simplicity, poverty and illiteracy of the indigenous Jumma people, he is imposing Muslim-Bengali racism through converting them to Islam and has been ruining their respective culture – is it that he has lost his very sense of his sinuous deeds? By showering sweet words and under concealment of humanitarian service – is he not doing utterly inhuman and heinous act in middle-age manner?
On 28 May 2020, he wrote in his Facebook status: 'One of our dear Nou Muslims is Ms Parveen Tripura. She would study in a Madrasa in Manikgaunj. Her mother and her present father are also Nou Muslims. For Madrasa education, her Taqwa (with Eemaan or Faith and adherence to the righteous path) has been admirable. Her parents, even though being Muslims, prioritize on Tripura culture in comparison to Islamic culture. …Once, she was taken home on holidays and she was not allowed to go back to Madrasa. Her father burnt down her Burkha so that she could not go out. They tried to give her in marriage. She set a condition that the bridegroom might have to be a Hafez or Alem. But they fixed a matrimonial contract without her disagreement. She could realize that her walk along Islamic path will get closed. Then she talked to her female friend. Before breaking of the dawn, she escaped from home wearing her friend's Burkha. …We received the message of her reaching Madrasa.We got relieved. She comes home no more again.'
Later on, Dr. Yusuf Ali arranged her marriage with Hafez Moulana Salamatullah, the Imam of Cox's Bazaar Idgah Central Mosque.
One Hillary Try Mhvc while chatting in Facebook on Parveen Tripura wrote in Comment box: 'I do pray for her; after 3/5 years on completion of the tenure, Parveen Tripura will not go and stand at the threshold of her father's house.' In reply, Dr. Yusuf Ali wrote: 'Why not? Of course, she will; and she will go on a Mission of Purification. Her younger brother has already begun studying 'Quran Hifaj.' Here, what did Dr. Yusuf Ali exactly want to mean by the words 'mission of purification'? Is it not the clear indication of his words that his so-called 'mission of purification' will be geared up through conversion of those infidel or impure indigenous people with the genre of this Parveen Tripura or Chakma-Marma-turned converted Muslims?
It is under leadership of this Dr. Yusuf Ali the Mosque and Madrasa were constructed in 'Islampur', the village of converted indigenous Jumma Muslims of Alikadam. Under his leadership, sometimes he also organizes events of free medical services with the doctors brought from Baitush Sharif of Cox's Bazaar.
On 13 May 2020, while posting a photograph, Dr. Yusuf Ali wrote in his facebook status: "The child on my right is Ms Saimuna Tripura, daughter of Omor Faruq Tripura; and the child on my left is Ms Ayesha Mro, son of Ibrahim Mro; and at the middle, I am, the Bangali. Many are the differences but two are the affinities. The first affinity is: we are humans and the second affinity is: we are Muslims. In the photograph, he is flanked by the two children. The children are still too innocent to understand and their age will not be more than two and a half years.
Moulana AKM Ayub Khan who is the Imam of Alikadam Upazila Parishad Jam-e-Mosque, is one of the associates of Dr. Yusuf Ali. It is learnt that he maintains a role as one of the coordinators to look after all affairs of the converted Muslims living in 11 Kilometer-point of Alikadam and in conversion of indigenous Jumma people to Islam in Bandarban. He also plays a vital role in preaching and expanding the conversion program.
Recently, a video clip has been uploaded showing a group of ordinary Jumma people including children and women taking initiation and receiving training of practicing Monajat on a contour of a plaintain trees in Alikadam of Bandarban hill district. In this video clip, 10/11 persons including 3 children, 4 females of various ages and indigenous males of various ages were seen. Apart from them, some Bengali Muslims were also seen taking part in the Monajat event. The Monajat and Initiation event was conducted by Moulana AKM Ayub Khan.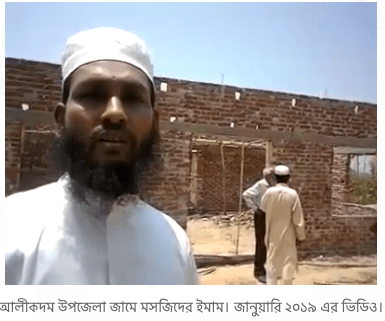 In a video clip recorded towards 2019 and uploaded later in you tube, Moulana AKM Ayub Khan said: "Respected Dwin-E brothers, among you who are watching the video, please take a note. Some days ago, we also uploaded a video in this My Ayub Khan page. It is at 11 Kilometer point of Thanchi road of Alikadam where some of our brothers accepted Islam. Some of their children almost 17-18 are being taught in the Madrasa. We have constructed a mosque for our Nou Muslim brothers, at the will and souab (merit) of one of our Dwini brother's father. Here is the mosque that you are watching, this mosque…"
Further he said: "…If any one of you want something to do, you can come straight and do it. No trouble will be here. We have obtained permission from the army and they cooperate with us." However, it is an issue of yet to be investigated that apart from, who else are the individuals from who they get support and patronization in this mission.
When the aim is Jumma women
To convert to Islam, to expand domination and to bring about racial attrition to the Jumma people, the Jumma woman has been included in the aim as one of the means. Apart from violations of raping, killing after rape, kidnapping and sexual assault, etc., in order to strike the Jumma society, as one of the means the technique that has been taken is to spread out a trap of so-called love or in other words: to subjugate the Jumma women by trapping into pretext of love. To that end, marrying a Jumma woman or taking away under elopement means converting her to Islam.
Committing to violation or conversion after getting married – in all the cases the reality that remains existent is: a drill of indifference, indulgence, support and patronization on part of the government or administration or the state, as a whole. It is for the reason of which, even though raping the Jumma women in hundreds, killing after raping and falling prey to various other violations that took place during both pre-Accord and post-Accord eras, precise and proper judgement was done as illustration to none of the crimes. In recent times, though some of the criminals are taken arrested, finally, they are not awarded illustrating punishment.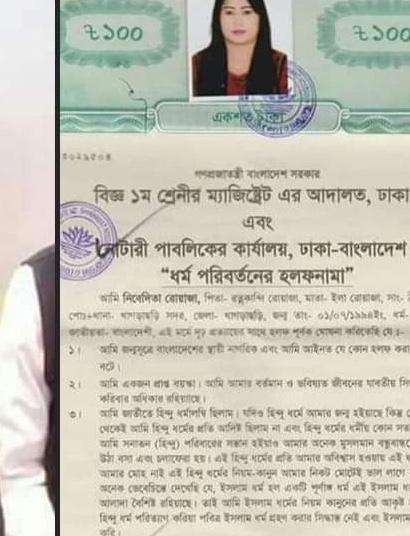 Alongside violations, trapping the Jumma women in love or pretence of love followed by marriage and then converting to Islam or trend of snatching them away from the society what they call 'Love Zihad' is learnt to have increased much in recent days. At this, many Jumma women are being fallen prey to deception and thereby are getting endangered.
In very recent time, an educated Tripura girl fell prey to Love Zihad trap laid by one fraud and perverted Muslim youth. The said Muslim youth took to pretext of love and also developed physical relationship with the girl and deliberately recorded the moments in video clips. At a certain phase, the Muslim youth converted the girl to Islam in a court of law in Dhaka and married her despite disagreement of his parents. Later, the youth tried to involve the girl in various socially unfair activities. During this phase, the girl could realize the ill-motive of the Muslim youth tried to recoil back from him. It is in this very moment, the Muslim youth uploaded the video clips on the social media. As a result, the girl landed in a great crisis.
On 30 May 2020, Pb Chakma Lxr Wangza, shared the post of one Ismail Abir in his Facebook status in which Ismail Abir wrote: "O the Muslim youths, our "Love Zihad" will continue to exist. Our Takia (Liehood) will not be understood by the girls of Hindu, Christian and Buddhist faiths. Apply the weapon called Love to them in such a manner so that they will not be able to realize the motive. So, the mission we had earlier, will have to be updated.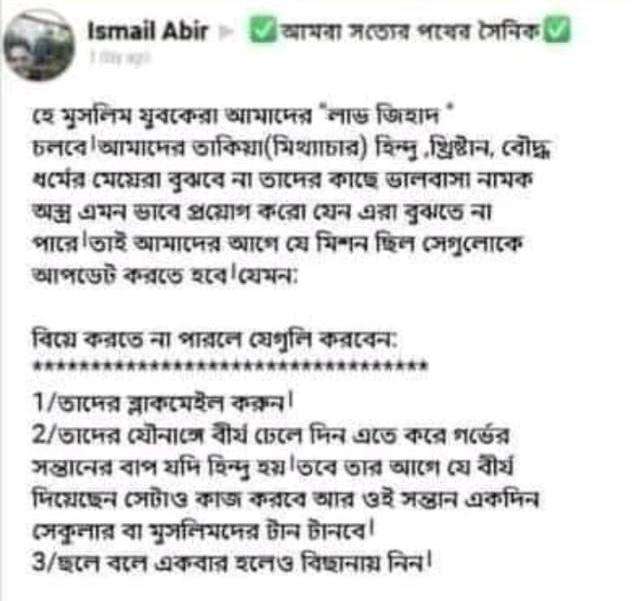 For instances – (1) Blackmail them; (2) it is not suitable to read to many and hence, it has not been mentioned); (3) By some way or the other, lay her in bed for at least once, again, if you can manage to marry her do the followings: (a) marry and convert her to Islam, (2) let her womb carry at least 5 or more children and if you can leave her after letting her carry one more child in womb. Then the girl will find out another Muslim, since, no Hindu man will accept her as his wife; (4) marry infidel girls as many as you can and leave them while carrying child in womb.'
It is to be mentioned that, up till this day, many Jumma women while falling victims to such deception or 'Love Zihad', have become prey to tragedy in their personal, family and social life. In fact, the thought and events are deeply rooted in hateful outlook upon the indigenous community and brutal lust towards the indigenous women.
Religious Conversion: Part of Ethnic Cleansing!
Islam has been recognized as State religion in the constitution. On the other hand, it has also been mentioned in the constitution that the state shall ensure equal status and rights in practicing the Hinduism, Buddhism, Christianity and other faiths. According to the Census: 2011, there are 8.5% people practicing Hinduism and only 1% practicing Buddhism, Christianity and other faiths. But the Islam of Bangladesh, all the more, is set to ruin the existence of this small number of people believing in faiths other than Islam!
Many Jumma people are to allege that the religious conversion drive is being carried out as a part of racial attrition of the Jumma people from CHT by way of turning the non-Muslim region into an absolute Muslim Bangali dominated area and to assert Islamization that way. Even, it cannot be left aside as to whether it is a part of intention or conspiracy to establish an Islamic state of Islamic militant groups by incorporating Arakan, Cox's Bazaar and the three hill districts of CHT.
In fact, the conspiracy of Islamization began soon after independence of the country. However, this program got momentum in early 1980s, which is towards 1979-80 through bringing 4 to 5 lakhs Muslim Bengalis from plains into CHT and rehabilitated in the lands of Jumma people with a mean political objective. With financial support of Saudi Arab and Kuwait, the Islamic missionary organization named 'Al Rabita' was established at Longadu Upazila of Rangamati hill district in 1980. The organization runs a hospital and a college at its own.
Indeed, the specific objective of this organization is to expand Islam and that to provide assistance to the Muslim settlers and alongside to undertake efforts to convert the indigenous Jumma people to Islam. The close relationship of this organization is noticeable with the Jamat-e-Islam and Islam Chhatra Shibir (Islamic Students Camp). Apart from the hospital in Longadu, the organization also owns hospitals in Barkal Upazila or Rangamati hill district and Alikadam Upazilla of Bandarban hill district. In 1990, the Al-Rabita Missionary Center converted 17 indigenous Marma people to Islam in Alikadam.
It is needless to say in a nut shell that the result or consequence of religious conversion, marginalizing the Jumma people to the barest minimal numbers, cultural aggression upon them or destroying their culture, damaging their political, social, cultural and religious lifestyles, turning the non-Muslim area into a Muslim-dominated region, is, above and all, another version of racial attrition of the Jumma people from CHT.