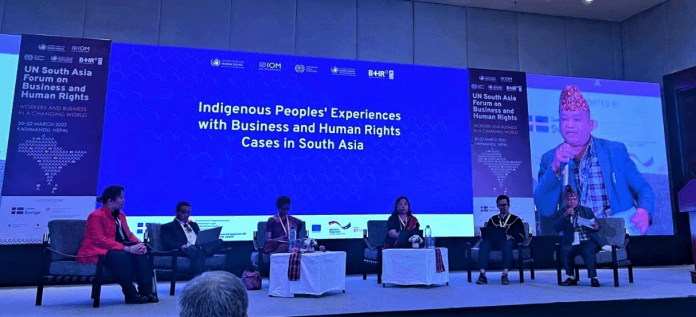 Hill Voice, 21 March 2023, International Desk: Indigenous rights activists have expressed their views at the discussion of the South Asian Forum that business companies are violating the human rights of the indigenous people of South Asia.
The fourth United Nations South Asia Forum on 'Business and Human Rights' has been organized in Kathmandu, Nepal since Monday (March 20). Different levels of people from South Asian countries India, Bangladesh, Nepal, Sri Lanka, Pakistan, Bhutan, Afghanistan have met in the forum in different sessions.
Last year this event was held in Dhaka, the capital of Bangladesh. In this event, the United Nations Development Program UNDP, ILO, various human rights organizations working in the Asia region, government representatives, human rights commission representatives, journalists, indigenous peoples' representatives are participating in various sessions.
The last session of the day at the forum, which was held yesterday at the Hyatt Regency Hotel in Kathmandu, was for indigenous peoples of South Asia. The session focused on the experiences of the indigenous peoples on how business companies are affecting the human rights of the indigenous peoples' livelihood of the region.
Moderated by Jagat Baram, former executive member of Asia Indigenous Peoples Pact (AIPP), the session was attended by AIPP Program Officer Frederick Wilson, Central Member of Bangladesh Indigenous Forum and Coordinator of Bangladesh Indigenous Women Network Falguni Tripura, Nepali Indigenous Lawyer Durgamani Roy, Chairman of the Working Group on UN Business and Human Rights Pichaman Epangton, President of the Indigenous Women's Network of Jharkhand, India, Elina Horo, etc.
Falguni Tripura, Coordinator of Bangladesh Indigenous Women's Network, participating in the discussion, said that recently the indigenous people of Bangladesh are being attacked by various business companies. Human rights of indigenous peoples are being violated randomly. Most recently, we have seen Lama Rubber Company set fire to the Jum cultivation land of Mro and Tripura indigenous community in Lama Upazila of Bandarban, one of the marginal districts of Chittagong Hill Tracts. The houses of those indigenous peoples were repeatedly set on fire and their banana plantations were cut down by the company men.
She also said that we would expect companies to comply with the rights to 'free, prior and informed consent' while conducting business activities in indigenous areas. She also urged companies to focus on 'people rather than profit'. She also mentioned that the Santal, Khasi and Munda indigenous peoples are migrating silently from the plains due to lack of protection of their human rights.
AIPP Program Officer Frederick Wilson said AIPP has recorded 550 cases of human rights violations against indigenous peoples in the Asia region between 2019-2022. We have seen that these incidents were happening even during the Corona period. Indigenous human rights defenders are subjected to various forms of human rights violations while working against business activities in various indigenous peoples' areas that affect the human rights of indigenous peoples. They are being arrested arbitrarily, women are subjected to various human rights violations including rape, oppression, forced disappearance, kidnapping.
He also said that in conducting business activities in indigenous peoples' areas, companies and business organizations to comply with the issue of 'free and prior consent' of the United Nations Declaration on the Rights of Indigenous Peoples. Besides, he demanded the South Asian governments to implement the said Declaration.
During the discussion of the session, the representative of the chairman of the National Human Rights Commission of Bangladesh and the member of the Commission Kongjori Chowdhury, the assistant general secretary of the Bangladesh Samajtantrik Dol and the trade union leader Rajekuzzaman Ratan, country director of Action Aid Bangladesh Farah Kabir, United Nations Development Program of Bangladesh business and human rights expert Mehruna Islam Chowdhury, Assistant Resident Representative of United Nations Development Program Bangladesh Program on Democracy and Governance Anwarul Haque, an indigenous Newar women leader from Nepal Bidiya Shrestha, Deputy Editor of IP News Bangladesh Satej Chakma, indigenous peoples' representative of Arunachal Pradesh of India Bhanu Tatak, indigenous peoples' representative of Mizoram of India Dilip Chakma, et al. Besides, many indigenous representatives from different countries including Nepal, India, Sri Lanka, Bhutan participated in the session.