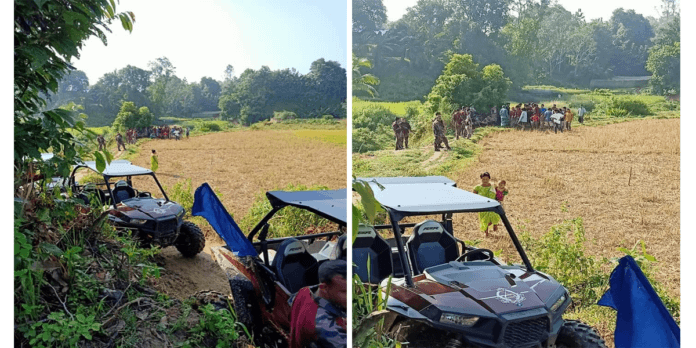 Hill Voice, 27 October 2020, Khagrachari: It has been alleged that BGB members of a local camp in Durgamani (Shankhola) Para of Chengi in Panchhari upazila of Khagrachhari Hill District are trying to forcibly occupy the land of an indigenous Jumma villager.
The incident took place today on 27 October 2020 at around 8:30 am.
It is learnt that Ranga Chakma (35), son of Late Samanya Chakma, the owner of the land has been cultivating the land. The land is recorded in the name of Ranga Chakma's grandfather, the late Bhanga Chakma.
According to local sources, today at around 8:30 am a group of 10-12 BGB members led by Subedar Taher of Shankhola Para BGB camp of No. 2 Chengi Union suddenly started constructing roads on Ranga Chakma's land. At that time the villagers including the family members of Ranga Chakma came there and obstructed the BGB members and protested.
At that time the BGB members had an altercation with the villagers. At one stage, BGB members got excited and strangled Kushtia University student Anupam Chakma, 26, who had taken part in the villagers' protest, and threatened to send Anupam Chakma and others to jail by fabricating them as 'extremist' and by implicating them in the case.
The BGB members even threatened that the villagers would have to come to the place from tomorrow and work on the road without pay.
Such anarchic activities of Border Guard Bangladesh (BGB) have reportedly created anger and panic among the villagers.