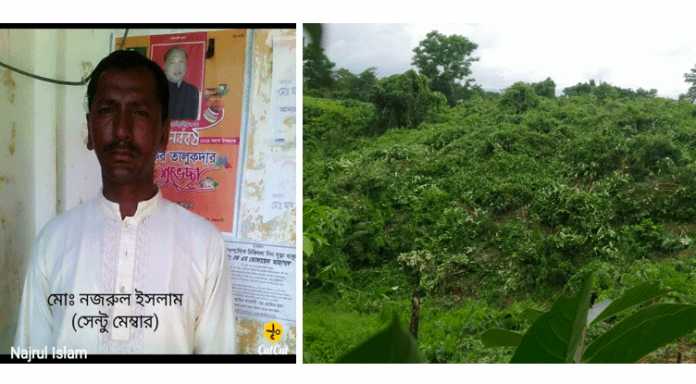 Hill Voice, 12 July 2020, Rangamati:  It has been alleged that attempts are being made by Muslim settlers to grab 3.0 acre of land of another Jumma villager in Bagachatar union of Longadu upazila under Rangamati district. For this reason, the Mulim settlers forcibly cleared the jungle in the land owned by the Jumma and insulted and threatened the owner while he went to prevent the settlers.
According to local sources, on 11 July 2020 at around 8:00 am, a group of Muslim settlers numbering 5-6 persons led by Md. Nazrul Islam alias Sentu, Member of Ward No. 6 of Bagachatar Union, suddenly started to clear the jungle of the land owned by Mahendra Chakma, son of Bikram Kumar Chakma at Ranjit Para under Petanyamachara Mouza of Bagachatar union.
Mahendra Chakma, the owner of the land, rushed to the spot when he got the news of clearing the forest in his land and forbade the Bengali settlers to cut the forest. But settler member Md. Nazrul Islam alias Sentu abused Mahendra Chakma in slang language and threatened him and claimed the land as his own.
It is learnt that the owner of the land Mahendra Chakma and the neighbors informed the headman of the concerned mouza Newton Chakma about the matter.
It is learnt that the settler people who participated in the land grabbing along with UP Member Md. Nazrul Islam alias Sentu have also been identified as Md. Kausar (20), son of Mosharraf Hossain of Petanyamachhara Settler Para; Mohammad Hossain (28), son of Hormuz Ali of same village; Md. Shahid Ali (25) and Md. Ayub Ali alias Langra (45) of Purba Mahajan Para.
It is learnt that Member Md. Nazrul Islam alias Sentu is known as a litigant in the area and is also involved in many land grabbing with his neighbors. He often causes trouble of land disputes with the people of the area by showing fake documents.
According to the locals, Member Md. Nazrul Islam alias Sentu often used various terrorist groups and his brother-in-law Mr. Md. Abdul Barek Sarkar, president and upazila chairman of Langadu Upazila Committee of Bangladesh Awami League to intimidate the people and to fulfil his vested interest.
It is to be worth mentioning that recently Muslim settlers in Longadu Upazila have undertook to occupy the lands of Jummas in different places. Among them, (a) occupation of around 12 acres of land including 3.0 acres of land settled in the name of Nabinchan Chakma by Md. Ali Ahmed Chowdhury and Md. Abdul Alim Sarkar in Bagachatar Mouza; (b) forcible occupation of at least 15.0 acres of land belonging to Jummas in Chailyatli area of ​​Basanya Adam Union by Md. Rafiq, Md. Shah Alam, Md. Babul Mia, Md. Yusuf and Md. Nur Alam; (c) cutting down and destroying of about 5.0 acres of fruit and forest trees of Jumma villagers by the Muslim settlers in Khagrachhari village of Khagrachhari mouza are most remarkable.