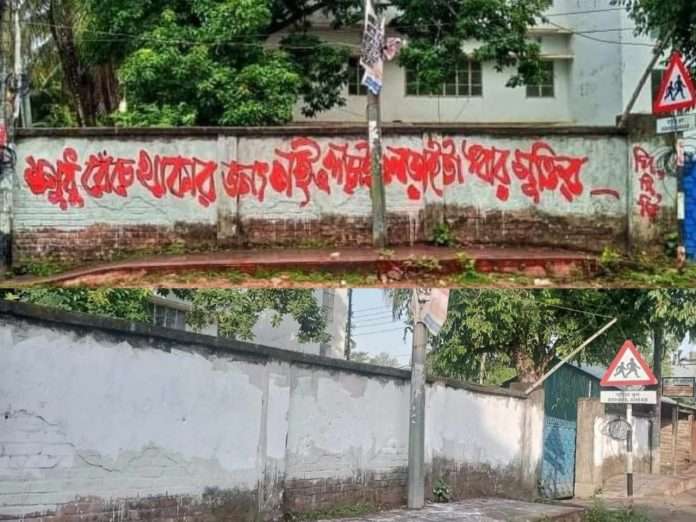 Hill Voice, 17 May 2023, Rangamati: It has been alleged that the army has removed wall writings with various slogans at various places in Rangamati district town which were painted on the occasion of the 34th founding anniversary and 27th Central Council of the Parbatya Chattagram Pahari Chatra Parishad (PCP)
Several local residents and eyewitnesses, who did not wish to be named, termed the army's removal of these wall writings as unjust and undemocratic and as a blatant interference on the rights of freedom of speech and constitutional movement of a well-known, popular and recognized student organization like the PCP.
In this regard, sources of PCP said that on the occasion of the 34th founding anniversary of the coming May 20th, a student-public gathering is going to be organized at the Kumar Sumit Roy Gymnasium ground in Rangamati. Various slogans of the organization were written on the walls adjacent to the road in different areas of Rangamati as part of publicity and public relations on the occasion of the student rally and foundation anniversary program. For example, the slogans written are – '34 years of glorious struggle', 'Ensure safety of Jumma women', 'Stop the so-called development which destroys life and nature, must be stopped', 'According to the CHT Accord, voter list must be prepared with permanent residents' etc.
But today (May 17) from around 12:30 AM, a group of army with 3 armored vehicles from Rangamati cantonment along with some terrorist members first went to Kalindipur area and then removed the slogans written on the walls along the Rangamati-Chittagong road in the town. At that time, the army personnel ordered the pedestrians and any people who were awake by the side to either move or enter the house. Army personnel also asked those who were watching the incident from the window to close the window.
An eyewitness, who did not wish to be named, said that the PCP is a democratic student organization. They have been making their demands to the government like other organizations in Bangladesh. The slogans written on the walls on the occasion of its foundation anniversary did not contain any anti-state or communal incitement. The slogans were on the demand for the implementation of the CHT Accord. The Accord is not against any state, country or government. So why the army deleted the slogans is not understandable.
He said, if this continues, whatever democratic environment there is will be blocked and bring ominous signs to the hills.