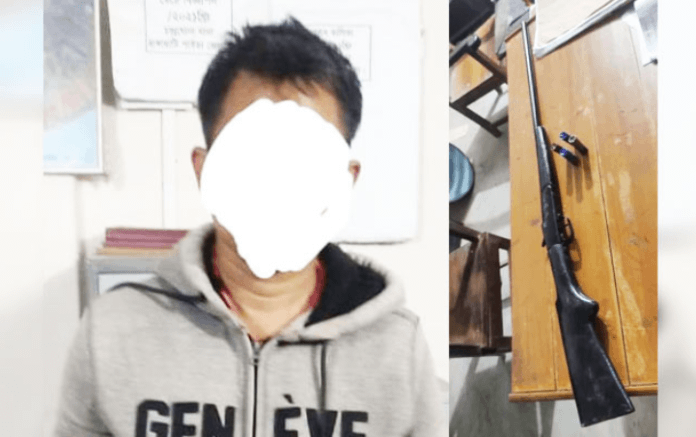 Hill Voice, 15 December 2021, Rangamati: It has been alleged that an innocent motorcycle driver was handed over to the police by the army at Bangalhaliya in Rajsthali upazila of Rangamati district putting an arm with the arrestee.
The victim was identified as Dharmacharan Tanchangya (34), son of Bori Chandra Tanchangya of Ward No. 4 of Rajvila Union of Rajasthali. He is a motorcycle driver and drives motorcicle on rent.
According to local sources, on December 13 (Monday), the victim went to Bangalhalia Bazaar taking passenger and while he reached there, army-backed Mog Party terrorists arrested Dharmacharan Tanchangya and handed him over to the army.
Later on the same day, at 9:00 pm, the army handed Dharmacharan Tanchangya over to the police putting country-made single barrel gun and 4 rounds of cartridge with the arrestee.
It is to be noted that Mog Party, an armed terrorist group under the shelter of the army and the ruling Awami League, has been carrying out terrorist activities including murder, kidnapping, collection of ransom and extortion.
A day after the brutal shooting death of Parbatya Chattagram Jana Sanghati Samiti member Pushwe Thowai Marma at Chimi Dulu Para in Bandarban Sadar Upazila on December 12, Mog Party terrorists abducted Dharmacharan Tanchangya and handed him over to the army.